Former Grizzly soccer star David Bingham shines in goal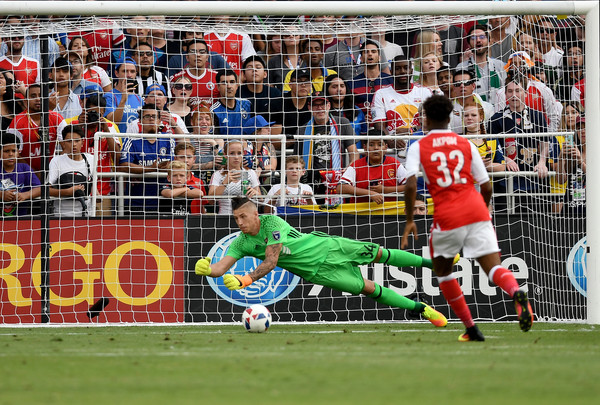 Hang on for a minute...we're trying to find some more stories you might like.
Former Grizzly David Bingham seems to be hitting his stride these days.
The 2007 Cal High alumnus is the goalie for the San Jose Earthquakes and the US Men's National team, and he made his first appearance in the MLS All-Star game in San Jose this past July.
"It's fun, it takes a lot of work, but at the end it is all very rewarding," Bingham said in a phone interview.
After graduating from Cal, Bingham went on to play for UC Berkeley and signed with the Earthquakes in 2011.
"My greatest moment as a soccer player was my first cap with the National team," Bingham said. "The toughest thing was going from playing in every game then moving to another team and not starting right away."
Bingham's mother, Lisa, has her highlight when it comes to her son.
"The proudest moment was when he graduated high school," said Lisa Bingham. "Also, when he gives back to his fans and when he is humble."
At UC Berkeley, where he majored in social welfare, Bingham earned second-team  All-Pac-10 honors after notching four shutouts and leading his team to the NCAA quarterfinals in 2010. By the end of  his 2009 season, Bingham held a 0.95 goals against average.
"You can never be prepared for the amount of work it takes," he said. "There is a huge discrepancy from playing in high school then going to a D-1 college. You end up going to school for your sport, when on light days there's 3-5 hours of practice a day."
If Bingham ever finds free time with his tough schedule of 6-7 days of practice per week, he loves hunting and shooting.
He offered some advice to aspiring soccer players, and high school students in general.
"You need to be motivated, dedicated and work hard," said Bingham. "Get involved, go to dances, and go to games because you can never go back."
During Bingham's senior year at Cal High, he had 13 shutouts and an average of 0.60 goals against. His club team made the Super-Y League National Championships and Bingham became a member of the Super-Y National team in 2006 -07. He also was a member of Bay Area's all-area teams and first-team selection to the All-Tri-Valley team.
His old freshman P.E. teacher, Lenard Matthews, describes him as a very funny, humble and extremely respectful student.
"He was the class clown," said Matthews. "He always tried to make people laugh, but was never disrespectful."
Matthews recalls that even in high school, Bingham was always traveling and playing soccer in Europe.
"He was a great athlete, very soccer based," said Fred Albano, Cal High's former athletic director and long-time math teacher.
Bingham's sister, Kimberly, also attended Cal High and is a great goalie who played for Arizona State and the US Women's National team.
Recently, Bingham suffered a severe back injury during an Earthquakes game against Crew SC.
"The injury could be a major blow for Bingham, who has been in recent US national team camps and was a candidate to be called in by head coach Jurgen Klinsmann for the upcoming World Cup Qualifiers," writes the MLS news.
But knowing Bingham, he'll find a way to come back from this injury and continue to shine.