Students taking part in new CollegeConnect program
District pilot program allows juniors to take classes at DVC during normal school hours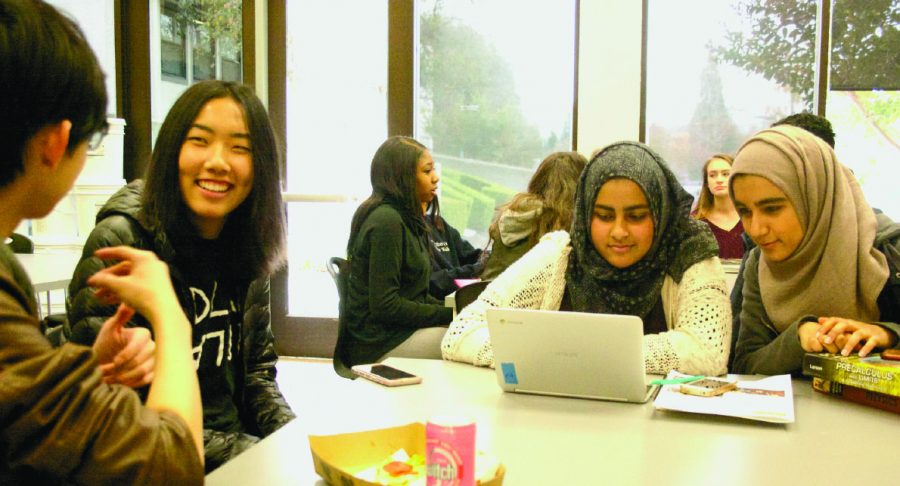 For CollegeConnect students like Ursella Cheung and Ashley Tran, a normal weekday consists of classes at Cal High until lunch before either heading straight for Diablo Valley College or enjoying an afternoon free from any lectures or classwork.
CollegeConnect is a partnership between Diablo Valley College in San Ramon and the San Ramon Valley Unified School District that gives juniors the opportunity to enroll in college courses while concurrently taking their regular high school courses.
"This program allows high school students to get a little bit of the college experience," said Cheryl Youngberg, a Cal guidance counselor. "It's a wonderful opportunity for kids to get their feet wet and learn what college classes are like. It also gives them the opportunity to earn some college level credits as well as earning credits toward high school."
CollegeConnect is in its first year and it consists of 60 students from throughout the district, with 15 students from each of the four high schools in the district participating.
For a student to become involved in the program, an application is necessary to be considered as a participant. This includes transcript records as well as teacher recommendations.
"You need a GPA of at least 3.0, teacher recommendations, and an essay that describes yourself," said Cheung.
Students accepted into the program have modified schedules, consisting of four classes at their primary high schools and two classes at DVC on Tuesdays and Thursdays.
The subjects DVC offers for CollegeConnect participants include English, psychology, and film. Next semester, this list of classes will also include biology and oceanography.
"The whole goal of the courses provided is for students to be able to complete what we call IGETC, which is an abbreviation for 'Intersegmental education transfer curriculum," said Kenyetta Tribble, student services manager at DVC. "It is a general education pattern that all public and a lot of private colleges use."
The courses at DVC, however, differ from those provided at high schools in the aspect of time and difficulty.
"One of the huge differences is that in college classes, you're expected to do more outside of class than you would normally. High school students are used to being told how to do everything. How to get that 'A'," said Tribble. "But in college, professors give you lectures and want you to explore topics based on life experiences, maturity, and critical thinking. And this is challenging to some students. That's where we try to develop them."
Through CollegeConnect, DVC aims to integrate high school students into the college life. To cope with the curriculum, participants go over their schedules and process any constructive information that they have for an hour every Monday with teacher Angela Pimentel, who serves as the school's CollegeConnect adviser.
"A lot of what we do is checking deadlines, making sure everyone is on top of what work they need to be doing, and talking generally about what's coming up," said Pimentel. "Additionally, we also cover some ways to study and take notes, so that way they can feel more comfortable and prepared for taking college-level class."
By successfully completing the courses at DVC, students have the opportunity to earn a maximum of 30 credits. Depending on the classes they take, some students will acquire all 30 units whereas others won't. Students also take assessment tests to determine whether they are placed in a college level class or a basic skills level class.
Many participants were compelled to apply for the program in hopes of graduating early or saving money, as most plan to attend either a four-year university or a community college after graduating.
"I like music and I've been wanting to play for a long time now, and people in the music industry seem to want their musicians young," said Cheung. "But I also want to get my college education and this helps me in graduating early."
Taking college classes alongside high school also proves to letting students in CollegeConnect stand out from the crowd.
"Whether the student decides to stay for another year of community college and transfer or apply to a four-year university, the program is beneficial because if a university sees a high school student taking college classes, it shows that the student is going above and beyond," said Tribble. "These are transfer-level classes they are taking, so the students in the program are going to look more competitive. It shows the universities that they're college ready."
CollegeConnect is also an alternative for those who want to save money.
"I was initially planning to go to community college," said Tran, "so this is a good option because it's a lot less money. It's more affordable for my parents."
The financial option for the program results from the fact that the participants are high school students and don't need to pay the community college tuition fees. The district also pays for the cost of the textbooks.
Even though CollegeConnect is in its pilot year, students and teachers have nothing but praise for the program.
"It's neat to see our students be able to go and be successful at college level classes while they're still high school students," said assistant principal Bob Spain. "It's very beneficial and I think it's been great. I would expect this program to grow exponentially over the coming years."
Students who are part of CollegeConnect agree.
"I would definitely recommend College Connect to other students," said Cheung and Tran, alike. "This will really help in the future."
CollegeConnect, no doubt, is only heading. Sophomores interested in applying for the program next year should talk to their counselors.
"It really helps students in getting prepared for the real world," said Spain. "Finally someone has gotten the right idea with this program and its been executed well."