Castaneda rises in the rugby ranks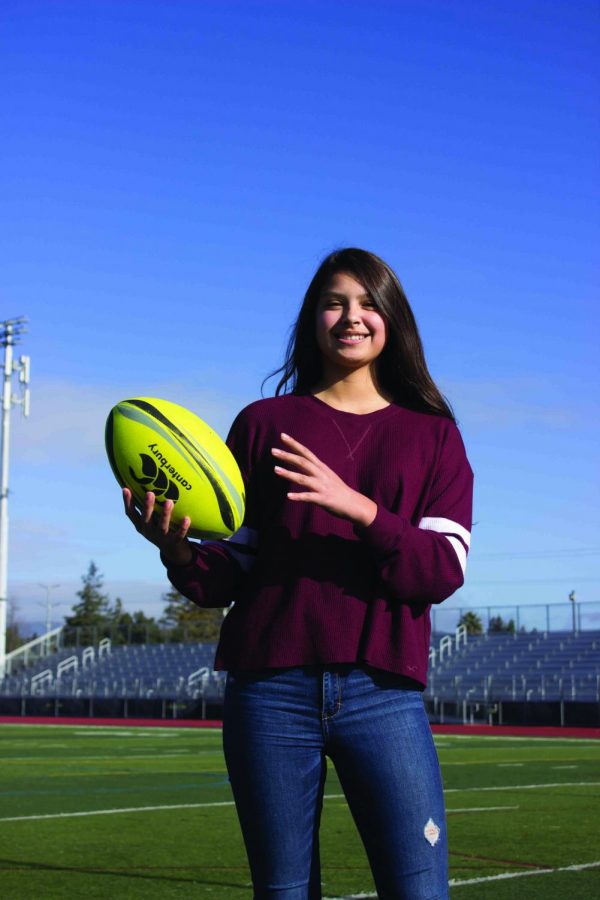 When freshman Diana Castaneda was in seventh grade she began watching her older sister play rugby.
Although Castaneda didn't take to it right away, her sister, Elizabeth, a 2017 Cal High graduate, and their cousin convinced her to play. 
As they say, the rest is history.
Castaneda is starting her first year on the Danville Oaks women's varsity rugby team after playing for two years on the Oaks' middle school squad.
When Castaneda first started playing the uncommon women's sport, she was worried because she said rugby is a difficult game to learn and she didn't know what position would fit her best. 
But now she looks forward to the team's three practices a week and weekend games.
"It's something that helps take my mind off things and helps me off the field," said Castaneda.
The Danville Oaks women's rugby team started in 2012 as underdogs of the Bay Area. In their first year they went undefeated and continued on to nationals, placing seventh in the nation. 
The team has grown since their formation, having both a high school varsity team and middle school team by 2015. The Lady Oaks now boast a roster of more than 50 girls. 
Moving from middle school to high school is a big jump in the women's rugby world. With the low number of participants, middle school fields only seven players on the field, while high school plays with 15. 
"It has been a hard transition going from 7s to 15s, since there are now distinctive positions and plays to learn," said Castaneda. 
Through this learning curve her coaches have had a large influence on the way she plays and practices. 
"They motivate me not to give up even when I'm struggling," said Castaneda.
Head Coach Bob Stephen has already seen three Ruby NorCal Varsity Girls Division I championship appearances in the past four years. There are 18 teams throughout Northern California that compete for the title. The Oaks are in the Bay Division. 
The team hopes to carry that success into this season with a strong sense of family that makes the intense sport unique.
"We come together as a family and we play better," said Stephen. 
This overarching theme of family is evident in the sport as a whole as well. After every match the teams gather and choose a "man of the match" from each team, then eat together and talk. 
Stephen also spoke to the Lady Oak's traditions such as the haka, a traditional New Zealand war cry, which is performed before every game to scare the opposing team coming into the match. 
Castaneda also mentioned a Lady Oaks tradition called "shoot the boot." After a player scores their first try on the team, their teammates pour whatever liquid they can find into their cleat, which they must drink in front of everyone. 
Castaneda looks forward to scoring her first try on varsity, and participating in this tradition, but she's a bit nervous. 
"Everyone has to do it eventually," said Castaneda.
Although this is only her first year on varsity, Castaneda has big goals for the team and expects to be a leader in the future. 
"I am not a leader on my team yet," Castaneda said, " but I want to be later on down the road."
Castaneda played wing for the middle school team and has maintained that position coming into high school. This position is typically held by the fastest players on the team, and requires quick runs to gain yards and score points for the team. 
The Lady Oak's season has only just begun but have prepared for league competition with preseason games and tournaments against teams from Australia, Hawaii, and Sacramento.
During the regular season, which started the first week of February, the team will play against Bishop O'Dowd, Harlequins, Amazons, and many more teams from around the Bay Area and beyond.
Castaneda is ready for the challenges that face her in the upcoming months and hopes to carry the teams dominance into this new season.