Pawsh: Spring fashion trends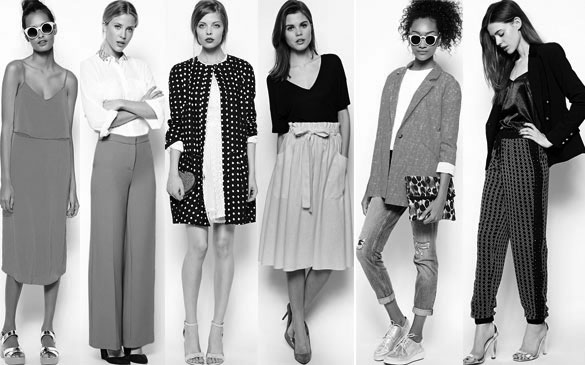 Hang on for a minute...we're trying to find some more stories you might like.
When the sun starts shining a little longer and the temperature rises, we all pull out our favorite shorts, flowy dresses and bring more color into our wardrobes. 
Spring fashion this year calls for vibrant pastels and lots of patterns. When you walk into Forever 21, you're going to see a lot of checks/gingham, polka dots, vertical stripes and floral.
According to Harper's Bazaar, pastels such as yellow and lavender are going to be "the colors" this spring as we'll be seeing them in many styles from streetwear to bohemian fashion. 
Senior Arman Katiby said he has been seeing plenty of "neutrals going around but in the spring it'll be more vibrant and warm."
But on the other side of the color spectrum, red is the new statement color for women's and men's fashion this season. This color can make any item of clothing a statement or be a neutral addition to any outfit.
"I am all for red!" said sophomore Neve Callaway. "Red brings hope for hot summer days and is the perfect hue to accompany the transition from spring to summer. It has this unique ability to compliment any skin tone for its lavish beauty." 
The '90s are making a comeback as we're seeing matching top and bottom sets, dainty choker necklaces and mom jeans this spring. Anything that includes denim is definitely going to be a trend, from overalls to dresses. 
Plaid prints are another staple from the '90s, so go take a look into your dad's closet for an oversized plaid flannel and wear it as a dress with a waist belt for a nice "fit." 
"I don't think the fashion will stick out more than any other year because we're pulling a lot of inspiration from the past instead of coming up with new fashion trends," said sophomore Chinwe Nwankwo.
Gingham is another popular pattern this spring that is from a different era. Gingham has been popular since the 1960s. It's the same print that Dorothy rocks in "The Wizard of Oz" and can often be recognized from thinking about a traditional style picnic blanket. 
This checkered style pattern can be put into the category of "vintage fashion" since it was often the pattern of choice for school uniforms and dresses in the 20th century. 
"The vintage roaring '20s energy of gingham is a classic staple that I hope hangs around for many more seasons," said Callaway. 
This "vintage" trend can be seen this spring from floral designs inspired by the 1920s. We can see these timeless designs on long buttoned-down dresses or collared shirts in stores. In handbags, a purse that looks like a picnic basket has been a staple which is inspired by the '20s and can be found in Zara or Forever 21. 
"I love it," said junior Raneem Merlin. "The vintage styles in everyday looks give such a hip and unique twist to modern fashion." 
From shoes to pants, you can find these prints in most of the shops at Stoneridge Mall, such as H&M and Francesca's. Zara, which is a popular shop for trendy clothes, is opening in the mall by the end of 2018. 
Although spring fashion this year is heavily influenced from the past, high end designers do have unique styles in mind. During New York Fashion Week, models were seen walking the runway in attention grabbing outfits. 
According to Elle magazine, plastic was a material of choice this spring. Many models were seen walking the runway in plastic tube tops, skirts and booties. Rubber has also been a statement on the runway. From jackets to pencil dresses, you'll never look at dishwashing gloves the same way again. 
Transparent or sheer layers of clothing had their fair share of appearances. With this material, you can experiment with the art of layering clothes to make a bold outfit. Models were often seen in sheer long tops with a short, body con dress underneath. 
Fanny packs have become the easy and new handbag by adding a little extra fun to an outfit. Vogue magazine claims the fanny pack to be a perfect accessory because of its "versatility" and how "it will keep your hands free all day long." 
"The clothes on the runway (from New York Fashion Week) are definitely going to be a trend, but I don't think a lot of people can afford those clothes anyways," said Katiby.
On the men's fashion side, they'll be seeing a lot of side strapped jeans and trousers, vertical stripes, dad denim and a lot of tropical print everything. Side strapped jeans have vertical fabric going down the side of the jeans, giving a sporty look. 
"A lot of designers have been going around and reselling Supreme, Calvin Klein and vintage logos are definitely popular," said freshman Chase Watson. "Sportswear is also coming back like New Balance which used to be a brand that no one liked but is popular now." 
On the runway, colorful suits have become a statement as they were found in almost every color from bright indigo to highlighter yellow. Sportswear in pastel colors has also been a trend for a comfy chic look. 
But the real question is if we see any of the teens at Cal rocking the looks from the runway? 
"I want to see some nicer tees with nicer shorts that are more street fashion, but I know I'm going to see a bunch of ugly cargo pants and hoodies everywhere," said junior Jackson Collins. 
Around school, the classic look for ladies will probably be a simple tube top paired with a "old-school" looking high waisted skirt and Vans.