20 athletes from the class of '18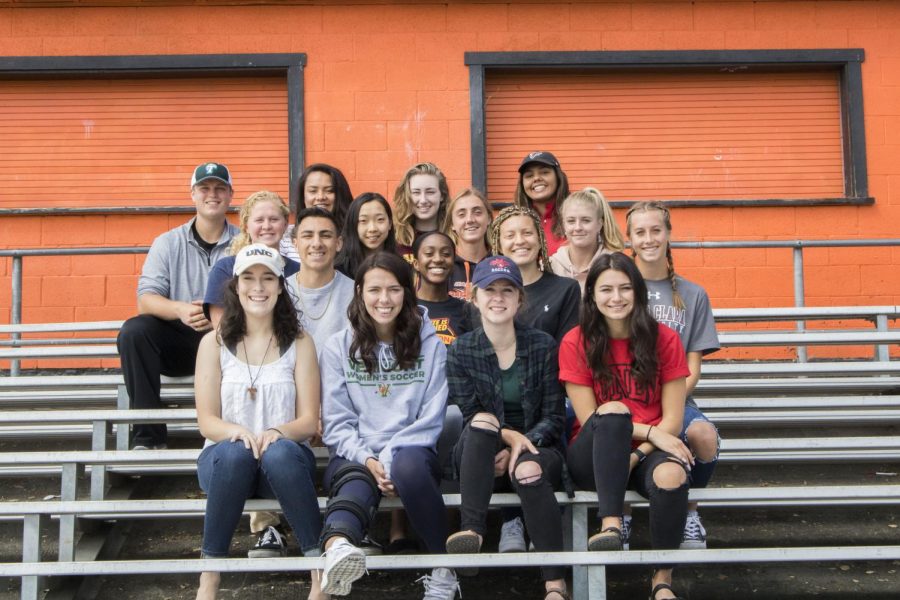 Haia Haidari, Sports Editor
May 31, 2018
For the past few years Cal High women's sports have been taking over the scene with NCS wins and battles at state. This trend continued with 16 females signing to play collegiate sports at prestigious schools. 
Women's soccer dominated the game with six players going across the country to pursue their passion. From Hawaii to Vermont, Cal  players have found their new homes and are excited to see what the future has for them. 
Track and field also shined this year, sending two women to Division 1 schools in California. Both athletes have been committed to the Grizzly  track and field programs for the past four years and are going to miss their supportive coaches and teammates. 
In addition to Cal sending 16 athletes to the collegiate level, four men have reached the top of their sports and plan to continue their athletic careers outside of San Ramon. 
All the athletes feel they have found their new homes away from Cal and are excited to pursue their sports. The unique community and competitiveness of each sport has motivated every athlete to play in college and continue to create new memories. 
Women's Basketball
Women's basketball reached new heights this year and three girls from the team will be playing  for colleges across the country. The women have stood out and have been given the opportunity to find their new home and continue to follow their passions.
 Alexis Hooper plans to attend Reinhardt University in Waleska, Georgia. 
 "I am extremely happy to be going to Reinhardt University and I can't wait to see what has to come," said Hooper, who has been playing for more than nine years and is excited to continue her journey.  
Teammate Mikaela Bismillah plans to play basketball at Chico State University and major in exercise physiology. She loves the atmosphere and felt that she fit right in. 
"I clicked with the girls as soon as I met them and the kinesiology department is very hands on and involved," said Bismillah. 
She has been playing basketball since she was in second grade and continues to enjoy the community connected with the sport. 
"I'm excited for just the whole college experience, basketball and all," said Bismillah. 
Cal has been her home and is sad to be leaving her team. 
Captain Gabriella Edmond is going to be playing basketball at University of California Merced and she plans to major in biology. Edmond loves the competitiveness of the sport and has been playing since the fifth grade.   
"My coaches and teammates have already been extremely welcoming and believe in me," said Edmond. 
Women's Soccer
Women's soccer has stood out this year, sending six athletes to continue their careers at the collegiate level. Each player has chosen unique schools that have fit their checklists. 
Sydney Wilson plans to play soccer at Holy Names University in Oakland and major is kinesiology. 
"I am nervous and excited," said Wilson. "There are a lot of emotions going on because this is going to be a huge change."
Teammate Ashley Franza decided to continue her soccer career at University of Northern Colorado and plans on majoring in Nursing. 
"It felt like home when I visited," said Franza. "It had everything I wanted."
Franza has been playing soccer for more than 14 years and is excited to see where her journey in Colorado takes her. 
Emily Wright is staying close to home and will be attending Saint Mary's College in Moraga.
 "I chose to go to Saint Mary's because I loved the campus and the intense focus on academics," said Wright.  
On the contrary, Abby Pokrzywinski plans on moving far from California, and is heading to the East Coast. Pokrzywinski found her new home at the University of Vermont and is most excited on meeting new people and getting to play soccer at a high level. 
"I am super excited because I have such a great opportunity to study and play soccer at a high level at an amazing university," said Pokrzywinski. 
 Isabella Perez's soccer journey takes her to University of Nevada, Las Vegas, while majoring in kinesiology. 
"I chose UNLV because it encompasses everything I want in a university," Perez said. "Soccer, an amazing community, and a wonderful program for my major."
With all the factors that brought Isabella to UNLV, the excitement to play for the team is at the top of the list. 
Alexis Berlin is moving far from the Bay Area and will be hitting the beaches in Hawaii. Berlin plans on playing at the University of Hawaii, Hilo. She has been playing soccer for as long as she remembers and can't wait to see where the sport takes her. 
"I love the sport, the friendships you make and challenges you face in every game have made me love the sport so much," said Berlin. 
They are all sad to be leaving  Cal and the friendships they have made through the years. The girls are going to miss playing under the lights with the support of their community, but are all excited for a new start and experiences college has to offer. 
Men's Soccer
Israel Mendoza plans to get a little closer to the bay and will be attending Notre Dame De Namur University in Belmont near San Mateo. 
"I chose the school I am going to because the soccer program is great and I know that they will give me a lot of exposure for potentially going professional," said Mendoza. 
He is excited to be playing at the next level and meeting new talented players. Cal's soccer team has been his home for  four years and he is going miss playing with his classmates. 
Football
Cal's football program is sending two players to continue their careers on the gridiron away from San Ramon. 
Ryan Wright is going to Tulane University in New Orleans where he plans to major in business. Wright felt right at home when he visited, meeting all the coaches, players, and students. 
"The thing I am most excited about in college is to travel and play some top notch teams on ESPN like Ohio State, Auburn, and Mississippi State," said Wright. 
Teammate Bryan Friedel has chosen to continue his career at California Polytechnic State University while majoring in industrial technology and packaging. 
"I am excited because I get to play a great sport at a great school," said Friedel. 
He loves the friendship he has made with teammates for the past seven years of his football experience. 
They are going to miss all his friends at Cal and their teammates. But they are  excited to have the opportunity to continue playing football at a Division 1 school.
Women's Lacrosse
Erin Cady is heading down to sunshine and sandy beaches. Cady has officially signed to play lacrosse at San Diego State University. The Division 1 team, academic strength, and unbeatable weather brought Cady to the team. 
"I am nervous to move and I'm excited to play such a high level of lacrosse," said Cady. 
She hopes to major in biology and can't wait to see what San Diego has in store for her but will miss the close friends she has made.
Women's Water Polo
Cal is sending one water polo athlete who has had an impressive career for the past few years. Winning the national championship last summer, Drew Halvorson has committed to play water polo at University of California, Santa Barbara. 
"It is a whole new surrounding and I will be away from home," said Halvorson. "Yet I think I can do really well there and I will know some people already at the school so I think I will be alright." 
Despite the nerves of moving to a new city, Halvorson is excited to meet new people and teammates at Santa Barbara.
Track and Field
Track and field, one of the most competitive sports on campus, has developed three stars these past few years. All of the athletes planning to run in college have committed to top notch Division 1 schools. Their passion for the sport and competitive attitudes have brought them to the top and will continue to take them to the next level. 
Kayla Neumann doesn't plan to run to far from home. Neumann will be running cross country and track and field at Santa Clara University while majoring in psychology and minoring in public health sciences.  
"Running in college was my dream for so long, and now it's my reality," said Neumann. 
Despite the difficulties the sport has she finds a unique joy in running for miles. 
"I love the freedom and happiness I get from the sport," said Neumann. 
She has been part of Cal's cross country and track and field programs for four years, and she said she is going to miss her coaches and teammates who have supported her the whole way. 
Alyssa Brewer has officially made her choice and plans to run on the track and field team at University of Southern California. The high level of academics and its location brought her to the school. 
"I am excited for the high level of competition I will have at each meet from other teams as well as within my own," said Brewer. 
She has made a lot of great memories and beat impressive records through track and field. 
Brewer is sad to be leaving her family and friends to continue her career, but she is excited to see what USC has to offer. 
Robert Poynter is running down to San Luis Obispo. He plans on running track and field at California Polytechnic State University while majoring in psychology.
"Moving on to college is bittersweet because I can't wait to go out and explore all that Cal Poly has to offer, but at the same time I'm nervous to be leaving the place I've grown up in and know so well," said Poynter. 
He loves competing individually and on a relay team. Poynter is sad to miss all the friends, but is excited for the entire college experience.     
Volleyball
Women's volleyball is a competitive sport and two women  who stood out have chosen to continue their careers. The friendship and opportunity that comes with the sport has pushed them to keep playing.  
Teisa Tuioti is heading back to her hometown and is playing volleyball at the University of Hawaii, Hilo. 
"I've been dreaming about the day I'd commit and play volleyball in college since I was a little kid," said Tuioti. "This is a dream come true and I don't feel anything but excitement right now."  
Tuioti has been playing volleyball for five years and is eager to see where the sport takes her next. 
Teammate Jenna Hahn is heading to the other side of the country and plans to play volleyball at Salisbury University in Maryland. 
"I'm most excited for a fresh start and to live somewhere new," said Hahn. "Getting to broaden my perspective and experience a new culture is going to be amazing." 
Hahn is going to miss all the people she has met and the family she met on Cal's volleyball team. But Hahn's excitement to be independent is not stifled. She plans on majoring in business administration but like a majority of students knows that it is probably going to change.
Women's Tennis
Meichen Zhu is also heading to the frigid East Coast and plans on playing tennis at Amherst College in Massachusetts. Her nine years of experience has paid off, taking her to a small liberal arts college where she feels right at home.
"I am excited to explore the east coast and be part of a new team," said Zhu. 
She is going to miss the support and friendship she has created with her Cal teammates, but she is happy to found a school with a strong community where she can easily balance her academics with athletics. 
All information regarding athletes going to college provided by the athlete department.