Triebwasser, Breton and Cooper say farewell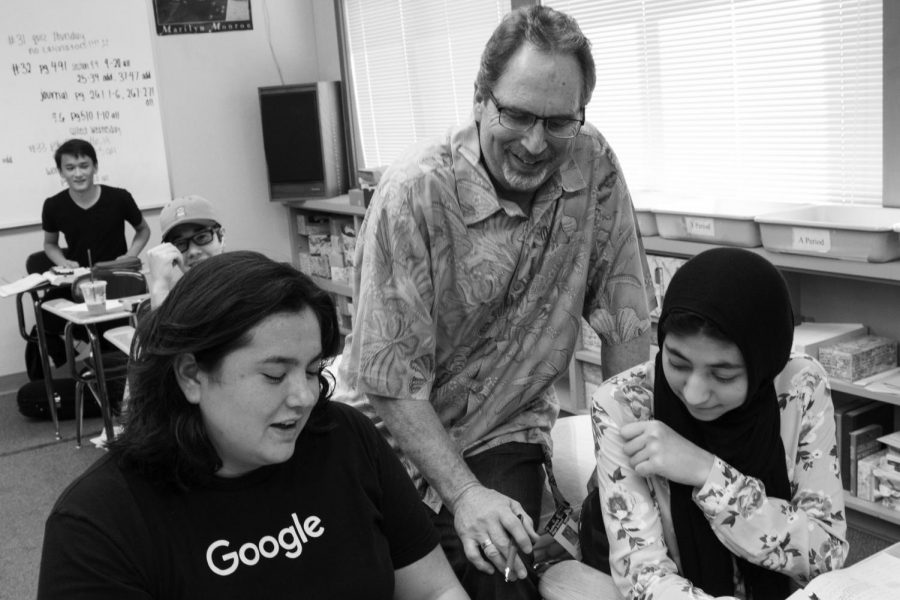 After teaching at Cal High for 42 years, math teacher Gary Triebwasser is finally hanging up his Hawaiian shirt.
Known for his challenging Honor Pre-Calculus classes and Hawaiian shirts, Triebwasser is retiring as one of the longest tenured teachers in school and district history.
Triebwasser a good friend Fred Albano, who retired last year, both taught at Cal for 42 years. There is one teacher in the district who has taught longer.
Triebwasser will continue to teach math at Diablo Valley College (DVC), where he has been working for 32 years.
"It'll be like retirement," Triebwasser explained,"because I won't be doing five classes here and two classes there, seven classes. I'll just be doing two classes."
Triebwasser made it clear that he was looking forward to the much lighter workload.
"I'll be energized, rejuvenated, and having a lot of fun," he said.
But before he continues his work at DVC, Triebwasser will be taking summer and fall off to travel and attend a wedding. He said he will be able to spend more time with his nine grandchildren and "having a little fun," as he put it.
Teaching for over four decades, Triebwasser has not only seen Cal High change in many ways, from the school's size to the landscape of teaching itself.
"The job has change, from when I've started to what it is now. Back in '76 when I started teaching, it was traditional-style teaching, the way I was taught," he said. "It was a lot of fun at school because there was only 35 teacher instead of 150."
Beloved by his co-workers, Jean Dillman, a fellow math teacher, has known Triebwasser for more than 20 years. He even taugth Dillman's children before she began teaching at Cal.
"He's unique and irreplaceable," Dillman said. "He taught every class Cal High has to offer. Whenever we needed someone to take another section he was always willing to step up."
His willingness to teach anything might have been admirable, and it probably single-handedly kept the Lacroix beverage company in buisness. It's his seemingly endless supply of hot caffienated beverages that he also will make him well missed.
"He's brought coffee down to my classroom everyday for me and anyone with an empty cup," Dillman said, gesturing to a silver mug." I don't know whoes going to bring me coffee when he's gone."
Even though Triebwasser has been and will continue to teach, the job of teaching has changed so much since he began. He said he can't give specific advice to those who are thinking of becoming teachers, but he has a general tips for those wanting to teach.
"You better know what you're getting into, and you better like it," Triebwasser said. "If you don't like it, if you're having any self doubt about wanting to do it, don't do it. Go find something you really want to do."
Lisa Breton
Cal High is saying goodbye to several talented and long-time teachers this year, including Honors Physics teacher Lisa Breton.
A friend once told Breton in college that it doesn't matter what you do, you just have to be passionate about it. 
This sentenced changed the course of Breton's career as she found that passion in teaching. 
Breton has been teaching at Cal for 20 years and was 35 when she started teaching. Her credentials include a bachelor's degree in both physical science and mathematics. 
Over the course of her time at Cal, she has played an extensive role in the science department, teaching physics, Honors Physics, chemistry, Algebra 1, and physical science.
Cal is also the only school at which she has taught.
"I don't know how to teach a non-block schedule," said Breton. 
In terms of the direction that the science department is going, Breton said that she is glad to see that the school is returning to "real teaching" with common core.
"I think that we have an incredible team and program common core is the way to go," Breton said. "What we are implementing now is the push I've wanted to see."
Breton said that it has been an honor to teach the best and brightest the school had to offer.
"The thing that I am going to miss most about teaching is the students," she said. "I really can't think of a student that I didn't like," said Breton.
She added that her favorite students were the ones that weren't just the best students academically, but the ones with the best character. 
"It has been a great pleasure seeing [students] mature and do something that they never thought they would be able to do when they started."
            – Julia Tjan
Teri Cooper
Biology teacher Teri Cooper is one of the few teachers leaving Cal High this year. 
Although she has only been at Cal for two years, Cooper has been teaching for 28 years at different schools. 
Cooper decided to teach biology based on her passion for the study of life. 
"I wanted to instill curiousity and amazement about nature to others," said Cooper.
Cooper will retain her attraction to teaching in her retirement as she has recently become a certified yoga teacher. She plans to teach yoga at senior centers and homeless shelters. Cooper also has an adventure planned. She will be taking a 300 mile bike trip in Isarel this October.
"I've always wanted to do it and never been able to because there's school in the fall," said Cooper. "It's exciting that it's finally happening." 
Over the years Cooper has had a variety of experiences with her students. She said the best part of them has been the humor. Many classroom conversations have been a great source of entertainment for Cooper.
"Many times students make me laugh and I say to myself, 'I really get paid for this'," she said.
In her extensive teaching career, she has garnered some important wisdom. 
"Whatever you choose to do, make sure you are following your passion," said Cooper.
                   – Neha Kaul