Cal on high alert after online threat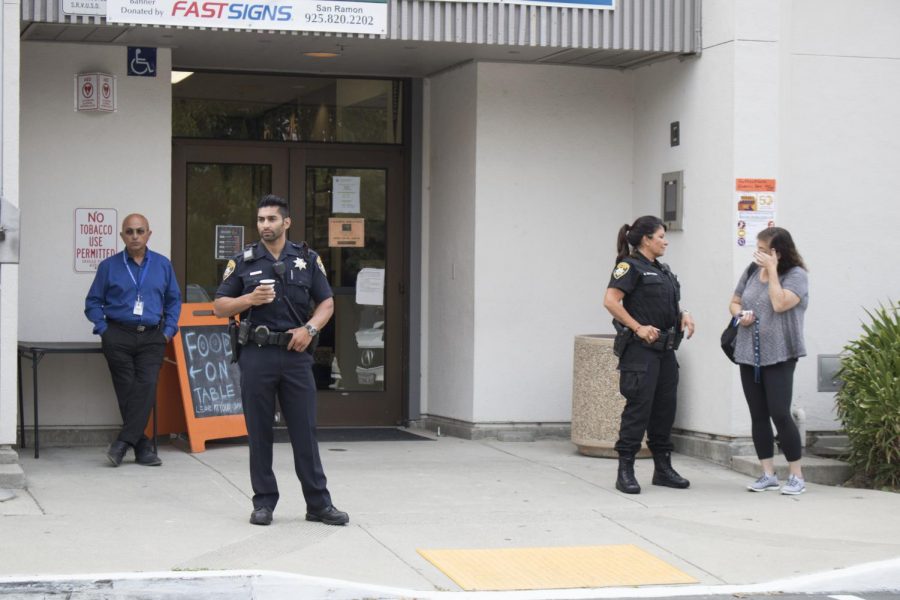 Thursday was a tense day for Cal High students and staff following an anonymous threat posted online on Wednesday afternoon that targeted the school.
In an email the district sent Wednesday afternoon, parents were informed that the San Ramon police and FBI received an unverified report about an online message that threatened the school campus. As a result, there was an increased police presence on campus with multiple officers patrolling the school on Thursday.
"We started investigating [the threat] yesterday, when it came in to the FBI Concord office and eventually, to us," San Ramon police operations Captain Denton Carlson said Thursday morning while on campus. "Someone was threathening violence, and the general message said that 'You're in for a big surprise tomorrow.' It wasn't specific as to what exactly would happen."
In a follow up email sent by school district communications director Elizabeth Graswich on Thursday afternoon, she wrote that the district doesn't believe that the threat extends beyond Thursday. However, the school would maintain an increased police prescence on Friday.
"We're working extra hard and sharing all the information we can with parents, " Graswich said on Thursday morning while on campus.  
The brief online message also included a photo of the California High School sign in front of the campus.
"It could be that the photo posted online of Cal High was just a stock photo," Denton said. "If you pull up a Google search for Cal High images it's something you can take off the internet."
Carlson added to information in the district's email that stated that the IP address of the online message was traced to Europe.
"Yesterday afternoon the FBI was tracking the IP address of the threat and it appeared that it was coming out of Holland," he said. "But we also know through different IP address spoofings that you can make it sound like an IP address is coming from anywhere."
Denton called the threat vague, but mentioned that even though the police hadn't identified the person who posted the message, they couldn't discredit the threat.
Administrators on campus agreed.
"We take every threat seriously. Any threat, whether real or fake, is a big deal. It affects what we do during our day," said assistant principal Andy Briggs. "It's about safety and it's about making sure [students] are in a place where [they] can commit to classes and learn. The official word [about the situation] though, is that we believe our students are safe at Cal High."
Despite a strong police prescence on campus throughout the day, most classes experienced an increase of student absences. What made matters worse was when a fire alarm went off during the end of first period. Although the alarm was activated because of smoke from a culinary arts classroom, dozens of students lined up in the front office at brunch and lunch to check out of school and get picked up by their parents.
Students and staff were assured of their safety with an announcement over the intercom by Principal Sarah Cranford, who explained that the cause of the fire alarm was because of a minor accident in the culinary arts classroom in the fine arts building.
"I was a little scared because the fire alarm went off. I thought, 'Is this part of the plan or something'?" said freshman Alpana Kallianpur, who decided to stay at school.  "I didn't want to miss any of my classes. I can take the risk, it doesn't really matter. It's probably fake."
Although some students didn't attend school or left early because of the threat, many students and individuals on campus decided to remain on campus.
"My initial reaction before I heard that [the threat] was discredited, was that I was a little nervous, but then I remembered all the times that this had happened before with my kids being in school," said academic studies teacher Shirley Darroch. "I'm just glad that people pay attention to the news and information. By being informed we can make sure our community is safe."
Some students also chose to stay at school as to not compromise their learning.
"I had to come to school because I had a math test," sophomore Jordan Vela said.
Despite the unsettling events, police officers and administrators continued to stress the increased police prescence to ensure student safety.
"We take these measures so that students can enjoy their time at school and not be distracted by these sort of things," said Cal High School Resource Officer Abbas Husain.
Officers said they make it their priority to create a safe environment, no matter what the situation is.
"Our priority will always be student safety. We always want to make sure that students here are able to come and have a safe learning environment," said Carlson. "That's our primary goal and it will always be that way."
Managing editor Shirin Afrakhteh contributed to this story.