Cal's Fab Five
Teacher band rocks campus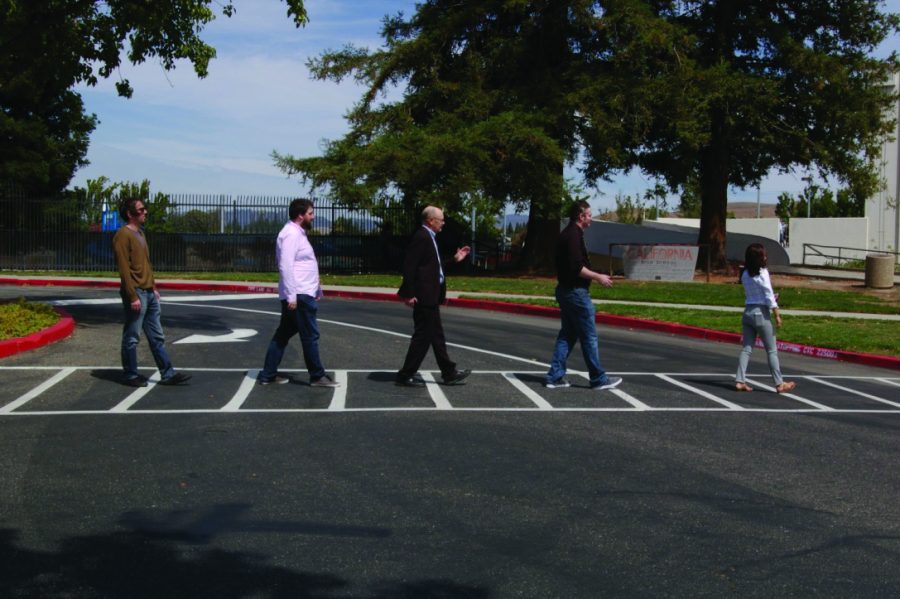 Sam Campopiano and Luca Dicten, Californian Editors
October 16, 2018
It seems that Cal High has become the set for School of Rock 2, as five teachers have started their own band.
Scott Hodges, Anatoly Alexeeff, Hannah Cheng, Nicholas Patton, and Brandon Andrews are the five members of Cal's teacher band.  
The band, which is yet to be named, informally began last year when Hodges and Alexeeff, who had been playing together for the last couple of years, learned that other teachers on campus shared their passion for music and wanted to play together.
"Continuous conversations of music between us sparked this idea that [we] should all play together," Hodges said.
The band consists of four teachers who play instruments (Hodges, Alexeeff, Cheng, and Andrews) and one singer (Patton).  Hodges, Alexeeff, and Cheng play guitar, and Andrews plays the drums. The band plays a mixture of folk and rock music.
By far, the most noteworthy part of the teacher band is their collective enthusiasm and the way they support each other.
"Our band constantly hypes each other up," Cheng said. "We look at each other when we're playing and smile. That's what being in a band's about. You need to find the people you're comfortable playing with and have fun and support each other."
All of the band members seem to love playing together, and they bring that positivity to their classrooms.  Andrews will frequently talk to his classes about the band's "jam sessions," and how they always leave him with excitement.
Another interesting part of the band is the way they pick what song to play.  
"Each member will bring in a song that they want [the band] to play," said Andrews.  "They start playing the song and the rest of us just join in once we get the rhythm."
Rhythm is something that comes easily for Andrews, who has only been playing the drums for one year. 
"The drums are the perfect instrument for me," Andrews said. "Once I get a sense of the rhythm of a song, I can join in pretty easily."
Andrews said he'd like to be an inspiration to any student learning a musical instrument or any student who just wants to learn to play.
"It's never too late to join a band or learn a musical instrument," Andrews said.  "I just started playing the drums last year, and I'm 40 years old." 
Hodges learned to play the guitar in high school but stopped after college.  He started playing again five years ago after a former student recommended a local guitar  teacher.  Hodges still takes lessons regularly.
"For me, the band is about connecting with other teachers from different departments on campus," Hodges said. "Also, practicing with a group challenges me to get better at guitar."
Cheng has been playing guitar since she was eight years old.  She jokes about how her "typical Asian parents" wanted her to continue learning piano.  
Because she wanted to play guitar, Cheng compromised with her parents and continued with both instruments. 
Alexeeff has been playing guitar for 12 years.  He started playing guitar after college with a group of friends who all played the guitar.  
Alexeeff said he was playing violin at the time, and his friends made him want to learn how to play the guitar.
"Music is not a way to prove yourself to others," Alexeeff said. "It's good to want to improve. But music is more about finding the enjoyment in it and discovering the right group of people to play with."
Patton, the latest addition to the group, is the only band member who doesn't play an instrument. But as the school choir teacher, he brings harmony to the group.
"I love participating in the band and feeling the energy and fun," Patton said. "I feel very welcome here."
The staff band has been a new and exciting experience for the teachers, most of whom have never been in a band before.  
"The band is a way for me to de-stress, while still being able to play in a creative environment," Andrews said.
The band also had some advice to give to students who are learning an instrument or currently in a band.
"Practice, practice, practice.  Just one to two hours everyday for a week has made me much better at playing guitar," Hodges said.
Because the band practices alone once a week, they don't have much of an audience (yet).  But that could change later this year.
The teacher band is planning on performing at a spring rally this year, which will be a treat for the entire student body.  
"The best thing about our band is that we can play in a creative zone without any pressure.  We can improve at our own speed and we all support each other," said Alexeeff. "A jam session is a breath of fresh air from a busy day."