Grizzlies football team off to roaring start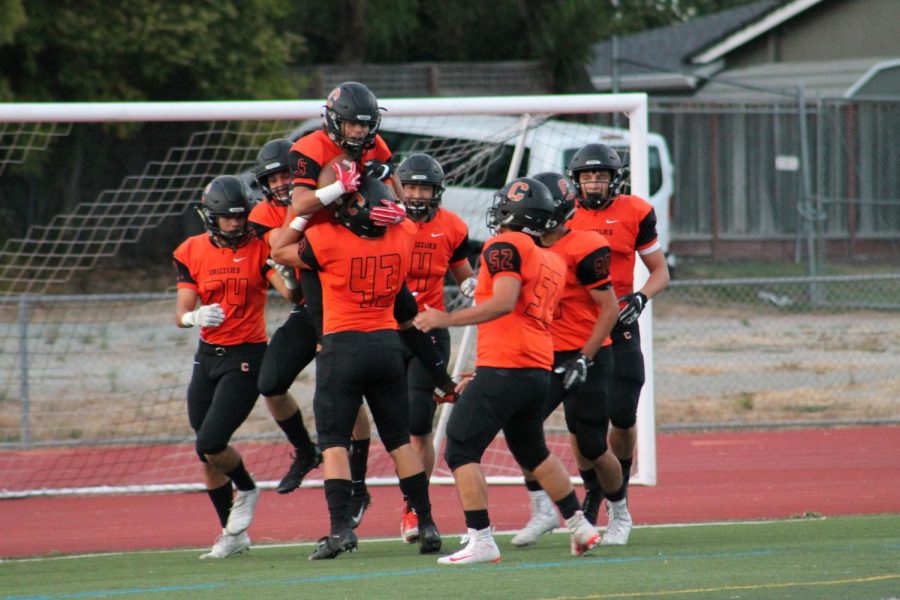 The Grizzlies are in mid-season form as Friday Night Lights are back and in full effect.
Led by Coach Eric Billeci, now in his 10th year, Cal looks to make a run at another North Coast Section title game.
Cal (2-1 EBAL, 5-2 overall) handled Foothill on Oct. 5 with relative ease, securing a  14-3 win behind an outstanding defensive effort. 
Senior play-maker Jahmal Cornwell put Cal on the board with a pick-six against his former high school, a huge momentum shift that provided a much needed spark for Cal.
The bounce-back win secured a playoff ticket for the Grizzlies and provided a confidence boost ahead last Friday's game against rival San Ramon Valley. Results were not available before The Californian went to press.
Monte Vista visited Cal on Sept. 28 and handed the Grizzlies their second loss, and their first in EBAL. The 23-13 score isn't indicative of how close the game was. A fumble in the final minutes sealed the deal for the Mustangs, who scored after the turnover.
Cal was ranked 9th out of 100+ teams in NCS coming out of non-league play, and began league play at home against Granada on Sept. 21.
The highly anticipated matchup against Granada ended in a 24-21 win for Cal. The game looked out of reach for the Matadors to recover, but they managed to outscore Cal 14-3 in the second half, coming up just short of completing the comeback. 
Senior tight end Cameron Fitzpatrick had 95 yards receiving and a pair of touchdowns, while running back Caden Jarvis added a touchdown on the ground for the Grizzlies.
"We played a great first half as a team but we almost let it slip out of our hands in the second half," senior quarterback Matt McCreary said following the game. "But a win is a win especially when you're playing a tough EBAL team."
Senior tackle Adam Newman wasn't afraid to voice his high expectations for the team after non-league play, claiming he'd be content with nothing less than achieving eight wins and reaching the NCS championship game.
"I'm happy with how we've performed in most games but not satisfied because we can be a great team if we continue to improve," said Newman. 
Last year, Cal finished with a record of 7-4 with help from a few athletes that are continuing football in college. Former quarterback/punter Ryan Wright moved on to Tulane University as one of the top punters in the nation, and tackle Bryan Friedel is currently playing at Cal Poly, San Luis Obispo.
Senior players feel as if they've taken on a more significant role with the departures of their former teammates. 
"It definitely brings more pressure to perform well and lead by example," said Newman when asked of his senior role.
Added senior lineman Nate Anderson, "People look up to me and I hold myself to a higher standard." 
 Once again, Cal got ready to dive into a fiercely competitive EBAL. Heading into league, De La Salle (5-0, 12th in the nation), Monte Vista (3-1), Granada (4-0), San Ramon Valley (2-2), Amador Valley (4-1), and Dublin (4-0) all joined the Grizzlies as part of the top 25 teams in NCS.
Cal dominated against non-league competition, a four-week stretch in which the Grizzlies went 3-1 and outscored opponents 147-79. 
"I'm most excited for our game against Dublin because they beat us last year in the playoffs and we all have a big chip on our shoulder," Newman said.