Librarian starts YouTube book talks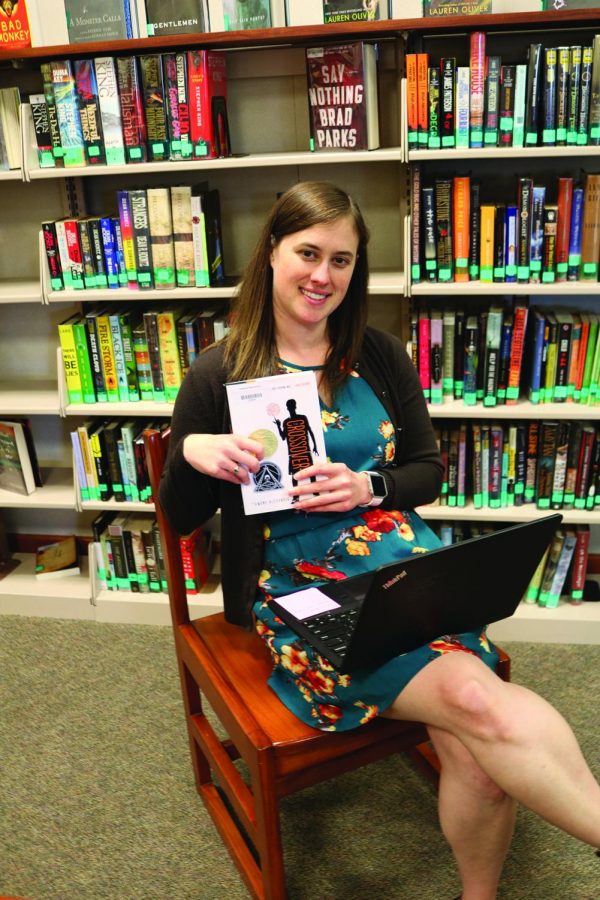 Shhh, quiet please. 
Cal High librarian Nikki Ogden is filming a book talk for her new Youtube channel, CHS Book Talks. 
The channel, which started last month, includes book reviews of various genres of books that are available at the Cal High library. 
Ogden has created nine videos so far, each of which is about two minutes in length.
"They're of me talking about amazing books," said Ogden, describing the videos. "I say what the book is about, read from it, and [who the book would] appeal to."
One of the books that has been featured so far is  "American Wolf," which Ogden describes as the reintroduction of wolves into Yellowstone from the wolves' point of view.
She's also reviewed "My So-Called Bollywood Life," which Ogden described as a novel about a young high school girl in India who breaks up with her boyfriend.
The book talks are based on the current books she's reading, but Ogden will also include a mix of everything, from classics to contemporary fiction, in order to find what appeals to each grade level. 
The film set up is relatively simple. Ogden uses the webcam on her laptop to film the videos. She hopes to upload once a week.
"[I think filming with a laptop] is better, as it's more authentic," said Ogden. 
Despite only having nine videos uploaded, English teacher Stacey Quick has already shown them in her class. Other teachers are also getting ready to include them in their curriculum, giving the students an opportunity to take part in the channel and create their own video book reviews.
Quick, as well as a couple of students from the library services class, have also uploaded videos onto the channel. Students and teachers can upload videos on the channel by emailing the file to Ogden.
The idea for the Youtube channel came to Ogden during the first few weeks of school. 
She was presenting book talk after book talk to English classes when she realized she wanted to expose students to new books in a more approachable way, while simultaneously helping teachers who felt overwhelmed. 
"I can only read so many books, and talk about so many books, so yes, it does help to have another reader contributing to sharing books," said Quick. 
The book talks can help students for academic and recreational purposes. 
"A lot of kids are like, '[I] haven't read books outside of what's assigned at school for a long time'," said junior Jocelyn Gao. 
Gao, who is taking AP Language and Composition, said she thought it would also be helpful for the book talks to include novels that students are assigned to read, such as "The Great Gatsby" and "The Grapes of Wrath."
"It would be helpful if she did book talks on books that are assigned in English classes so you can get a preview of what the book is about," said senior Anh-Tuyet Le. 
This would be beneficial for students in AP Literature and Composition, who are provided with a long list of novels to choose from for their quarter reading. This could help in other English classes where students can select their own books.
While Ogden hopes to continue the Youtube channel throughout the year, she also acknowledged that since the channel is in its first year, it's experimental. 
Ogden hopes to receive feedback to help make the channel as beneficial as possible. 
"I think [high school students] start getting overwhelmed with all the responsibilities and they forget that books and reading are how we learn empathy," said Ogden. "The best way to learn about the world around us is to read a book."