Tailgate club remains a Cal tradition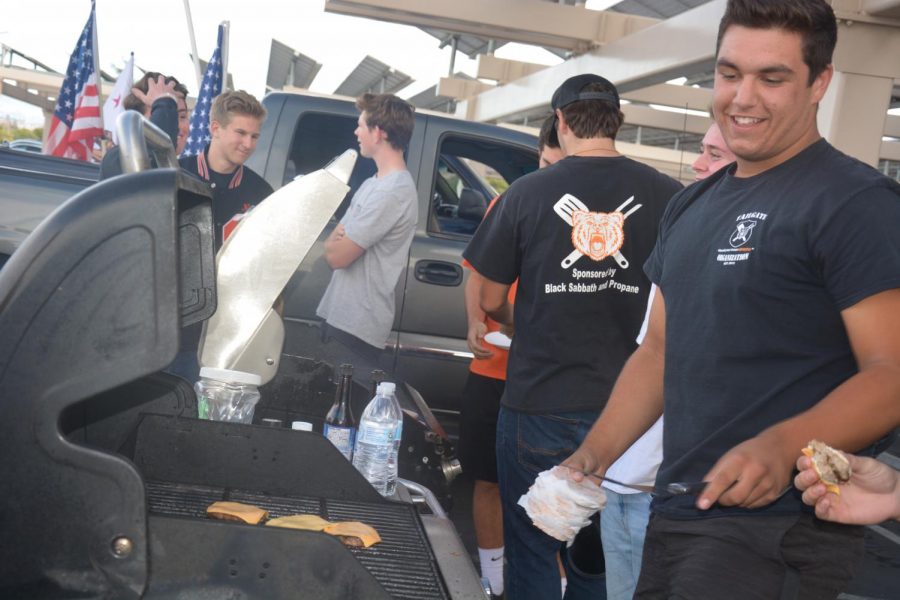 From afar, the smoke billowing from Cal High's back parking lot makes it seem as though illicit student activities are taking place.    
But upon closer inspection, Cal High's tailgate organization is busy carrying on a Friday night tradition for many Cal students.
Filling Cal's parking lot with a sense of community and barbecue smoke, the tailgate organization has been grilling burgers and tossing around the pigskin for the past five years.
The organization was created by several Cal students in 2013 and has grown into a school-wide event which takes place before every Friday home football game in the school's back parking lot.  
A free event, the Friday evening tailgates provide a fun and energetic environment in which students can hang out and reap the benefits of tasty barbecue and good music. 
"Fueled by Black Sabbath and Propane" as one of the organization's T-shirt's used to read, the tailgate organization starts at 4:30 p.m. before varsity football games.  
Tailgates offers a plethora of activities for students to enjoy.  From good company to corn hole, there is something available for everyone in order to get geared up for the game.
"We've got burgers, corn-hole, people bring out spikeball, we're throwing footballs, we've got music just blasting, our tailgates are down, it's just a really great way to unite the school," said second year senior grill-master Josh Giffins.  "The tailgates get a lot of people hyped for the game."
At the tailgate, students will find a great sense of organization.  Trucks are parked neatly in a line, flags flown to code, and games set up strategically so as to maximize the space available. 
"The tailgate is a great way to get to know other people and interact with everyone," said second-year organization president Jack Jones. 
Along with the tailgate itself, the organization has several traditions that it has started and would like to see continue.  One of these traditions is the running of the flags during the football game.  After each Cal touchdown, the American and California flags are ran up and down the bleachers in front of the crowd by members of the organization.  
While the tailgate is free, tips are graciously accepted.  A portion of all tips goes toward buying supplies and food, while some is put into savings for future tailgates.  
At the end of the season, half of the remaining balance that is not used is donated to the Wounded Warrior Project under the name Tailgate Organization.  
Senior Charlie Schmitt has a common reason for attending tailgates.
"I go to the tailgates because it's a good time to get out there and spend time with friends and see people who you maybe don't know too well," said Schmitt.  "My favorite part is getting to eat."
Senior Lauren Diemdowicz agrees.
"I attend the tailgates for class bonding," she said. "I like the food, music, and people that are there."
Overseeing the organization nearly since its creation, teacher Greg Fortayon has served as the adviser since 2014.  He loves the welcoming nature that the tailgates provide.
"I think what is best is that it is a student-run organization with a great sense of school pride," said Fortayon.  "There's no strings attached by attending. It's just about having fun and being part of a community."  
Fortayon is very proud of how far the tailgate has come since its creation.  
"The number of tailgate attendees has definitely gotten bigger since the creation," he said. "There is a lot more structured activities and games now versus when the organization started.  When it first began, everyone would just bring their lawn chairs and sit in a circle and converse as one big group and now people are in smaller groups mingling around all over the place."
Fortayon had some prudent words of wisdom why students should attend the tailgates. 
"If you're looking for a new experience or are simply there to get something to eat, I think everyone is there just to hang out, support each other, and enjoy one another's company," Fortayon said. 
While some clubs and organizations come and go, Jones and Giffins insist that the tailgate organization is here to stay.
"We've already got the next two years presidents in line so it will be continuing on," said Jones.
While the tailgate is monitored Jones and Giffins stress that the tailgate is a student run organization.  From preparation to clean up, the tailgates are completely lead and managed by the group's organizers.
"It's all us," said Jones and Giffins. "We're run for the students, by the students."