Theater 4 goes Hollywood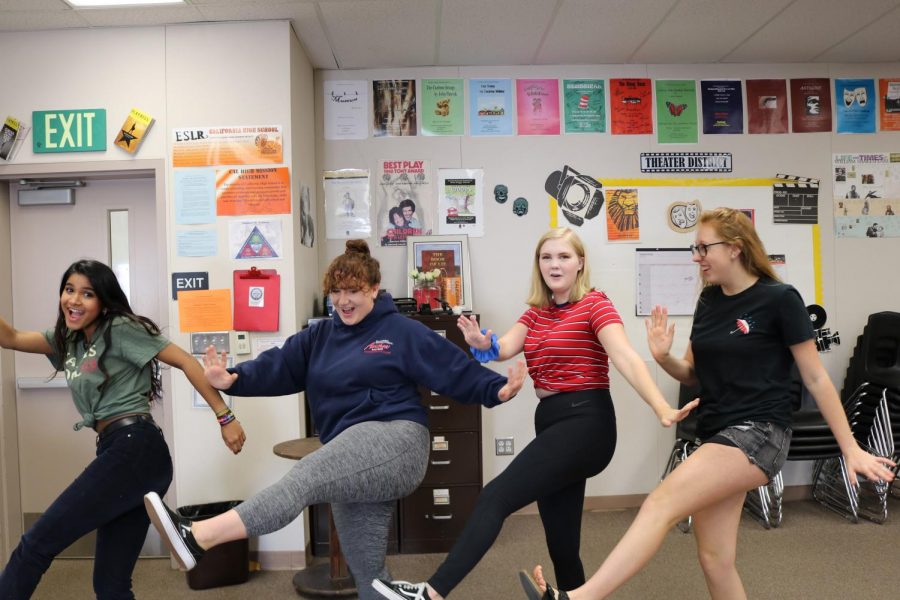 Lights, camera, action! 
With the addition of a Theater Arts 4 class at Cal High, students passionate about drama can now pursue a more advanced level of acting and receive the opportunity to take acting classes in Hollywood.
Unlike other theater classes offered at Cal, the new class allows students to explore on-camera techniques, and not just on stage acting, said drama teacher, Laura Woods. 
For Senior Jonathan Chan, Theater Arts 4 is his first theater class at Cal. After he met Woods to make a short film in Cal's theater, she recommended he take the class.
"She told me to join the class because it revolved around acting, Broadway, and film," said Chan.
For Chan, the new film unit that is part of theatre 4 was especially important, since he has aspirations of being a director.
For students passionate about theater, the class allows them to do what they love while also broadening their horizons. 
Senior Katelyn Reedy has been acting in theaters since childhood, but she's still really looking forward to the film aspect of the class.
"Because I've been doing acting on stage for so long, I want to try something new," said Reedy.
Woods' idea for the class was inspired by the Theater Arts 4 classes already existing at other high schools in the district. Cal now offers Theater 1 through 4 and play production classes
Woods explained that the class is intended for students serious about acting, giving the kids practice auditioning, writing resumes, and taking professional headshots.
The class requires an audition to get in and consists mainly of seniors. This is the first year students can take acting-focused classes at Cal all four years.
Previously, many students would take play production their fourth year, which includes many aspects of theater, such as set design, lighting and acting.
"I was just planning on doing play production," explained senior Madi Wade. "Then [Woods] came out with this really great opportunity to get more time doing something that I love and have more experience and learn new things."
Wade, who has been acting her whole life, chose to take the class because of her interest in acting and for the new experiences the class offers.
"This Theater 4 is part of a new pathway for my CTE classes that's all acting performance based," said Woods.
Career and Technical Education (CTE) classes give students real-world experience and prepare them for careers. Woods explained that because the class is CTE, she could add a film unit as well as a trip to Hollywood. 
The Southern California trip will be from Nov. 29 to Dec. 2. Students will be visiting the 3rd Floor Production House, a post production studio, as well as a downtown theater to see the Broadway tour of "Come From Away." 
Students also will attend a show put on by the Upright Citizens Brigade, an improv troupe started by Amy Poehler.
Woods selected Hollywood as the destination for the trip in order to give students experience with the film industry, connecting with the film unit in the new class.
Woods is particularly excited about the film unit because she gets to learn more about it in order to teach her students.
Part of the trip includes a class where the students act on camera.
"The actors will be in front of a camera reading sides – short scripts – and then we'll have a professional critique them," said Woods.
Junior Michelle Benavides said that she really looks forward to exploring LA, as well as understanding more about camera techniques used in film.
She said that the film unit and field trip make the class even more of an exciting opportunity.
"We're [also] going to the Ohlone Theater Festival and that's a really great experience because we will get to submit a movie we make in class to be a part of festival," said Wade.