Students make an impact with dance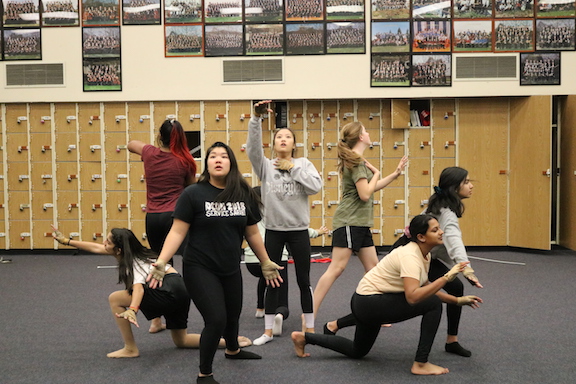 Gina Wu, Editor in Chief
February 12, 2019
Behind the vibrant colors, rhythmic music and contagious smiles are countless bruises and hours of hard work.
It is early February and a new season of winter guard is about a month in. The season spans from the start of the new year to April, with championships usually taking place on the first Saturday of April.
A typical week for a member involves long practices during the week and weekend competitions.
Unlike color guard, winterguard is not accompanied by the live performance of marching band and has a sharper focus on the dancing aspect.
"It is very difficult and time consuming to get the techniques down," said junior Kendra Hoang, who has been involved with Cal's color guard and winter guard programs since her sophomore year.
Agreeing that winter guard is a physically demanding sport, junior Stephanie Young said thatshe has found that it is dif cult toplace oneself into the mentality of performance and work with the music.
Color guard involves fundamentals of dance, the manipulation of different pieces of equipment, including flags, rifles and sabers, and theatrical performance.
During practice, the members of the team twirl swiftly around the band room while tossing colorful flags up and down effortlessly, each one of them embodying the perfect balance between athletic strength and artful elegance.
Luis Cardoza, one of the three instructors of Cal's color guard and winter guard programs, has been involved in the sport for more than 10 years. He thoroughly enjoys the activity because of its diversity in style and uniqueness.
"Some people de ne it as asport of the arts, some peoplede ne it as a compilation ofdifferent sports," Cardoza said. "Nonetheless, it is its own thing and it's very rare and you don't see it very often."
Each season, the coaches collaborate to come up with a theme for the performance. This year, the focal point is Angel Island, a place in San Francisco where Chinese immigrants re- sided in the early 20th century.
By telling an uplifting story about how Chinese immigrants overcame hardships, the winter guard team strives to inspire others through music and dance.
"I think one recurring trend that kind of came into light when we were developing the theme and what the show could be about is the idea of hope and the idea of being able to persevere," Cardoza said. "As high schoolers, you are going to witness and live through things that are easy and aren't easy. It's about not what is done to you but how you live through it and how you overcome those difficulties."
This season, the winter guard team is relatively small, consist- ing solely of nine members, two of whom are completely new to the sport.
Sophomore Mia Rosellini decided to join the team this winter after seeing the wonderful performances by color
guard during the fall season. With a background in dance, Rosellini integrated herself into the team quickly.
"Everybody is just very nice and supportive," Rosellini said. "The coaches understand that you're new and they try to help you."
The dynamic of the team is friendly and welcoming. The members share a tight, unique bond and are constantly encour- aging one another, both during and outside of practice.
The coaches also take every member's skills and physical abilities into consideration during training in order to make every person feel comfortable and content.
"I think the beauty in it is no matter what level you are at, no matter how young or oldyou are, you can always nd agood place in this activity and once you are in it, you are in it for life," Cardoza said.
"And you are always going to remember the memories you make here at Cal High or once you go on with the rest of your life. You become part of the family."
About the Contributors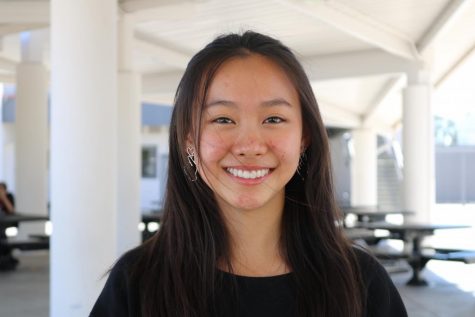 Gina Wu, Editor in Chief
Senior and second-year newspaper student Gina Wu joined The Californian with a mission to explore the community around her and uncover fascinating stories....