Niners make a clear choice, Raiders…not so much
Staffer grades all NFL teams' first round draft picks.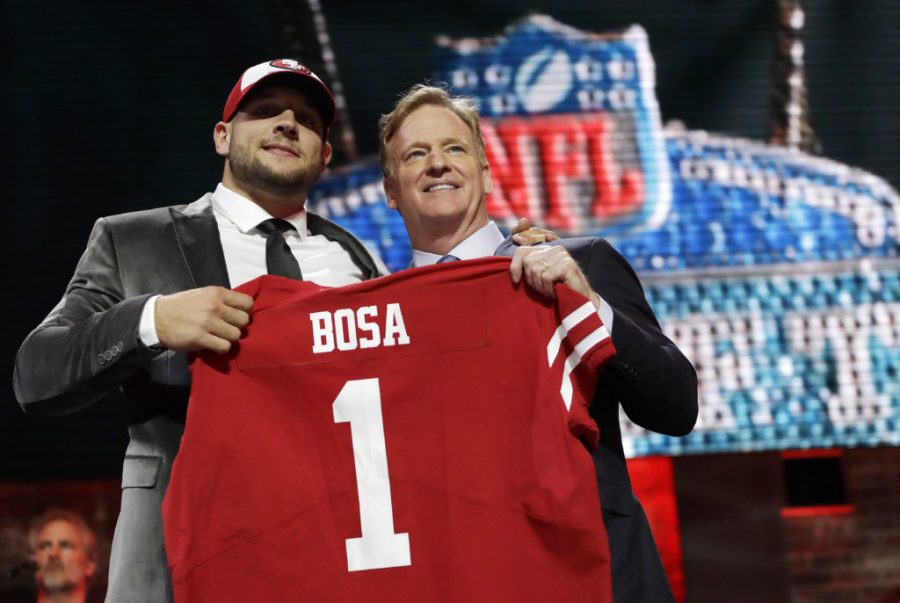 The first day of the NFL draft is in the books, and the Raiders did it again with another head-scratching pick at No. 4 overall, but recovered with two other solids first round selections. The 49ers took the safe, and expected, pick with Nick Bosa, who was considered the top pass rusher and overall prospect in the draft.
Here's my grade for each team's first round selection. Rounds two and three are today, followed by rounds four to seven coming on Saturday.
AFC West
Oakland Raiders
Grade: C
This would be an A if the pick was Josh Allen or Devin White, but Clelin Ferrell is a total reach with the fourth overall pick and so many top pass rushers available. Josh Jacobs and Johnathan Abrams are redeeming factors though, as both will play big roles in next year's wild card push.
Denver Broncos
Grade: B
Noah Fant will play a big role in catching 4 yard check downs from Joe Flacco and his elite arm.
Kansas City Chiefs
Grade N/A – No first round draft pick.
Los Angeles Chargers
Grade: A-
The Chargers took Jerry Tillery. A simple and pragmatic pick that gives them the best available player at their pick. Well played.
AFC East
New England Patriots
Grade: B
N'Keal Harry will be a very strong player in New England's offense. Grade would be higher if the pick was that dude named Drew Lock. Hard to understand why they passed on him.
New York Jets
Grade: A
Quinnen Williams will slide into his role nicely alongside Leonard Williams. The Jets D Line will be something to fear if everything goes as planned.
Buffalo Bills
Grade: B-
Ed Oliver will be a very good replacement to Kyle Williams, but it seems like they will eventually need to get Josh Allen some weapons.
Miami Dolphins
Grade: C+
With Haskins, DK Metcalf and other needed skill players on the board, the Wilkins pick just doesn't have that home run feel.
AFC North
Pittsburgh Steelers
Grade: A-
Trading up for Devin Bush was a wise move for the Steelers. Adding a linebacker to solidify the front seven makes a whole lot of sense and Bush should come through in Pittsburgh
Baltimore Ravens
Grade: A-
Marquise "Hollywood" Brown will give Lamar Jackson another speedy weapon to play with. His biggest issue will be his health and durability with his small frame.
Cincinnati Bengals
Grade: B
Jonah Williams will give Andy Dalton one more second to find the open cornerback. Enough said.
Cleveland Browns
Grade: N/A – No first round draft pick.
AFC South
Houston Texans
Grade: D+
Who is Tytus Howard? The world may never know!
Tennessee Titans
Grade: C+
Jeffrey Simmons is a solid pick, hopefully his temper can stay on the sidelines while his skills stay on the field.
Jacksonville Jaguars
Grade: B+
Would be an A+++++. If they actually needed Josh Allen. Who is Nick Foles throwing to this year?
Indianapolis Colts
Grade: N/A – No first round draft pick.
NFC West
Arizona Cardinals
Grade: B-
Which QB are you taking next year? This year it was Kyler Murray. Last year it was Josh Rosen. How many first round quarterbacks does one team actually need?
San Francisco 49ers
Grade: A
Nick Bosa, that pre draft Twitter ravaging and exposing couldn't help you escape this franchise. I ask again, which defensive lineman are the 49ers taking next year?
Seattle Seahawks
Grade: F
L.J. Collier? He's like 60 on the big board. You reached worse than the Raiders!
Los Angeles Rams
Grade N/A
NFC East
Philadelphia Eagles
Grade: B+
The Eagles found their replacement for Jason Peters in Andre Dillard. The problem is that they pass on a certain tackle from Florida…
Dallas Cowboys
Grade: N/A – No first round draft pick.
New York Giants
Grade: B-
Why Daniel Jones? Because one Eli isn't enough. The Dexter Lawrence and Deandre Baker picks are nice defensive foundations, though.
Washington Redskins
Grade: A+
The future is here, in the form of a Heisman deserving QB. Haskins and Sweat were two phenomenal picks and I honestly think the Skins' may be on track to do something great.
NFC North
Green Bay Packers
Grade: D
Why help Aaron Rodgers? He can do everything himself! Let's do defense! The Packers addressed the defense with Rashan Gary and Darnell Savage Jr. above helping prolong the life of A-Rod. Poor job, Pack
Minnesota Vikings
Grade: B+
The Vikes did a boring thing in accordance with team need by taking OL Garrett Bradbury. Yawn.
Detroit Lions
Grade: B+
The only way for the Lions to win is to give Matt Stafford a billion weapons, and they've just found one. T.J. Hockensen will provide a spark from day one.  
Chicago Bears
Grade N/A – No first round draft pick.
NFC South
Atlanta Falcons
Grade: A+
The Falcons did a good job taking OL's Chris Lindstrom and Kaleb McGary. Helping Matt Ryan stay unscathed makes sense to increase the amount of time until the impending tank.
Carolina Panthers
Grade: C-
Cam Newton will be throwing to a bunch of local high schoolers next year, but at least you got Brian Burns!
Tampa Bay Buccaneers
Grade: A+
Devin White is the make-sense perfect pick. The heir to Kwon Alexander and a future boom or bust star. Solid, Arians.
New Orleans Saints
Grade: N/A – No first round draft pick.
About the Contributor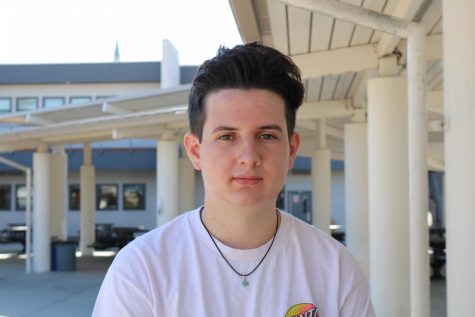 Josh Nichols, News Lite Editor
Josh Nichols, a member of the class of 2021, is in his second year at the Californian, currently serving as the News Lite editor. He loves cats, traveling...