Fall Film Previews
One of the most highly anticipated movies of the year hit theaters last weekend when "Joker" was released.
Todd Phillips, the director known for his films like "War Dogs" and "The Hangover" trilogy, brought the silver screen a brand-new version of the crown prince of crime.
Instead of being featured alongside other DC Comics characters, this time the Joker, played by Joaquin Phoenix, is in his own solo movie. This film also marks the first time a single comic book villain is the main character.
This movie is an origin story for the Joker, so it's a different type of comic book movie than most people are used to. The film is rated R for strong bloody violence, disturbing behavior, language and brief sexual images.
The film received much  critical claim at the Toronto and Venice film festivals , and a 9.5/10 on IMDB.
With all of this praise, there is also some controversy about the violence being portrayed in "Joker". Some critics said it was too similar to things that people have done in recent months and showcases behavior that is plausible to real life.
Phillips responded to the backlash in an interview by saying, "I think movies are often mirrors of society but never molders. We wrote it (the movie) in 2017 so inevitably certain things find their way in. It's not a political film, for some I think it depends on the lens which you view it through."
This movie looks like it could be the best DC movie since 2008's "The Dark Knight", which had possibly the most iconic Joker in Heath Ledger, who won the Oscar for Best Supporting Actor posthumously for his performance.
Phoenix's chilling portrayal may live up to Ledger's performance based on what critics are saying.
"Gemini Man"
"Gemini Man" opens on Friday and is a drama/thriller directed by Ang Lee of "Brokeback Mountain" fame.
Will Smith plays Henry Brogan, an elite assassin, who is being targeted by his most dangerous foe: himself. The operative who knows Brogan's every move and is stronger and faster than him because it is a clone of his younger self.
"We do the whole body, not just the face," Lee said in an interview about the challenge of de-aging Smith. "We do it from scratch. That's why I don't like to call it de-aging. It's not just brush up. Age does more mysteries than just wrinkles. It's kind of sad what life does to you. Every layer of skin, bones, it's how you age, your eyes, the enamel on your teeth. Just the subtle changes."
The movie was in development since 1997 and has gone through many possible directors and possible lead actors, such as Harrison Ford, Clint Eastwood and Nicholas Cage.
Maybe it will be worth the wait? Well according to the first reactions it seems like it was. One review went as far as to say it's "a movie that's going to change cinema."
The movie also features co-stars Mary Elizabeth Winstead and Benedict Wong.
"Zombieland 2: Double Tap"
Director Ruben Fleischer, who gave us 2018's "Venom", is making a sequel to his horror/comedy 2009 film, "Zombieland".
Jesse Eisenberg, Woody Harrelson, Emma Stone, and Abigail Breslin are all reprising their roles as Columbus, Tallahassee, Wichita and Little Rock, respectively. This time they are joined by Zoey Deutch, Avan Jogia, Rosario Dawson and Dan Akroyd in all new roles.
We don't know much about the story of "Zombieland 2: Double Tap", which comes out Oct. 18, other than what the trailer has shown. Little Rock runs away from her home with the rest of the cast of main characters, who meet an identical team with each person of the other team acting exactly like them. It seems like this movie is going to be funnier than the first one.
Besides that, fans of zombies or action movies in general will probably like this film.
About the Contributors
Ethan Thieme, Staff Writer
Ethan Thieme is a reporter for The Californian newspaper. He joined newspaper as a sophomore because he enjoys writing. In his spare time he likes to read...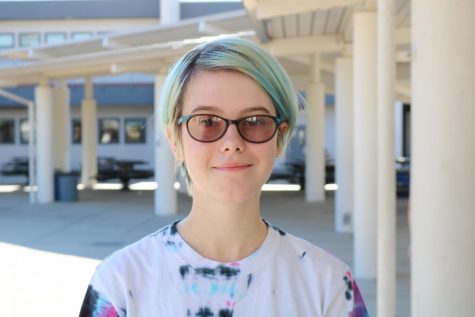 Jay Warren, Artist
Jay Warren is a junior and this is his first year as an artist for the Californian. He has been drawing seriously for five years and his hobbies include...