NBA teams prepare for new season
With the NBA preseason already underway, and opening night getting ready to tip off Oct. 22., here's a look all 30 teams heading into the 2019-20 season.
Western Conference
Golden State Warriors:  Many believe that the Warriors are no longer contenders since the loss of Kevin Durant.
But Draymond Green, Steph Curry, and Klay Thompson are excited to start this season as  underdogs as they try to reach their six straight NBA Finals.
The Warriors picked up young and rising star D'Angelo Russel, as well as center Willie Cauley-Stein. Despite all their losses in the offseason, the Warriors will prove that the their dynasty is far from over.
Dallas Mavericks: The Mavs won't have much to look forward to this season other than seeing how Kritsaps Porzingis and Luka Dončić play together.
Denver Nuggets: The Nuggets have one of the best young cores in the NBA, made up of Nikola Jokic, Gary Harris, and Jamal Murray. They also have Michael Porter Jr. returning from injury.
Houston Rockets: The Rockets traded for star point guard Russell Westbrook to pair with James Harden and should give Western teams a run for their money.
Los Angeles Clippers: With the addition of Kawhi Leonard and Paul George, the Clippers have become title contenders.
Los Angeles Lakers: LeBron James and Anthony Davis will be a duo to contend with. The move by the Lakers to bring Davis to LA was one of the biggest of the summer, and puts the Lakers in  a position to seriously contend.
Memphis Grizzlies: Things are beginning to look up after drafting Ja Morant, but Memphis is still in a rebuild.
Minnesota Timberwolves: Despite holding on to Karl Anthony-Towns, the Timberwolves still won't have much of a chance in the West.
New Orleans Pelicans:  They scored top draft pick Zion Williamson, and traded Anthony Davis to the Lakes for Lonzo Ball and Brandon Ingram to give the Pelicans their most promising team in almost a decade.
Oklahoma City Thunder: After losing Russel Westbrook and Paul George, the Thunder are officially rebuilding, even with Chris Paul joining them.
Phoenix Suns: They still have Devin Booker but not enough firepower elsewhere to be a good team.
Portland Trail Blazers: Through the crazy offseason, the Blazers kept Damian Lillard and CJ McCollum and will be a good team again. But they will have to have a spectacular season to reach the NBA Finals.
Sacramento Kings: After years of mediocrity and poor play, the Kings have built a good young team that has a chance to make a splash in the NBA.
San Antonio Spurs:  It will be tough for the Spurs to make the playoffs in the stacked West, but if DeMar DeRozan and LaMarcus have a great year they will make it interesting.
Utah Jazz: With the stellar addition of Mike Conley, the Jazz have made themselves very relevant in a packed Western Conference.
Eastern Conference
Atlanta Hawks: After seasons of losing, the Hawks are looking up by drafting young talent in DeAndre Hunter and Cam Reddish. Trae Young and John Collins are also proven players for the Hawks.
Boston Celtics: With newly acquired Kemba Walker, the Celtics will be a playoff team  again, but they will likely not reach the finals.
Brooklyn Nets: The Nets made some big money moves this summer, signing Kyrie Irving, Kevin Durant, and DeAndre Jordan. Unfortunately, Jordan is getting old and Durant is out for the year with an Achilles tear.
Charlotte Hornets: There is not much to look forward to as a Hornets fan. With the huge losses of Kemba Walker and Jeremy Lamb, they're starting to rebuild.
Chicago Bulls: With the drafting of Coby White and the return of young stars Zach Lavine and Lauri Markkanen, the Bulls see the light at the end of the rebuilding tunnel.
Cleveland Cavaliers:  Ever since LeBron James left, there has been little promise in Cleveland. The Cavs do have  a good young point guard in Collin Sexton, but that's about it.
Detroit Pistons: With superstars Blake Griffin and Andre Drummond, the Pistons should be a better team but they need to live up to their potential.
Indiana Pacers: With Victor Oladipo returning from injury and a very positive offseason, the Pacers will have a sleeper year this season. Key pickups Malcom Brogdon, T.J McConnell, and T.J Warren will help the Pacers surprise some people.
Miami Heat: With the acquisition of star Jimmy Butler, the Heat will be decent, but Butler does not have much help around him.
Milwaukee Bucks: With Giannis Antetokounmpo locked up for two more years, the Bucks will be Eastern Conference favorites along with the Sixers. With additions of Wesley Matthews and Robin Lopez, expect more great basketball from the Bucks.
New York Knicks:  The Knicks are a complete and utter mess. Still. They had big hopes for free agent signing in the offseason, but struck out with Kevin Durant and Kyrie Irving. It's not looking good for Knicks fans (if there still are any).
Orlando Magic: The Magic expect to have a decent team this year after resigning star Nikola Vucevic to a multi-year contract, but they will not be contenders in the East.
Philadelphia 76ers:After losing Jimmy Butler to Miami, the 76ers signed Al Horford and Josh Richardson. These moves make for a very intimidating starting lineup alongside Ben Simmons and Joel Embiid, two of the best young stars in the game. They are among the top three teams in the East and should contend to win the title.
Toronto Raptors: Being possibly the biggest move in free agency, Kawhi Leonard left after leading the Raptors to the 2019 NBA Championship.
Despite losing their best player, Toronto has not lost all hope. The Raptors still have Pascal Siakam, Kyle Lowry, Marc Gasol, and Serge Ibaka, a core that should help them contend in the East again.
Washington Wizards: With John Wall still hurt there is not much hope for Wizards. track for another disappointing season.
About the Writer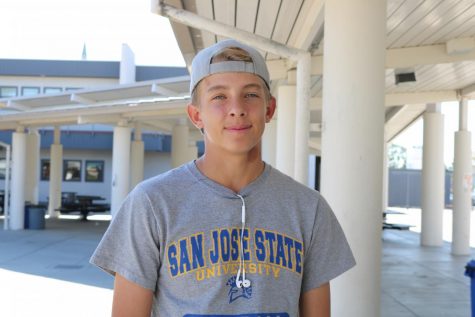 Max Hove, Staff Writer
Max Hove, is a sophomore and a reporter for The Californian student newspaper. It is his first year writing for the newspaper and he is excited to write...