Rolling Loud Gathers Music Fans
OAKLAND – Despite delayed performances and technical issues, Bay Area Rolling Loud still had many highs for local fans.
The annual two day hip hop festival rolled through the Oakland Coliseum parking lot on Sept. 28-29, and was met with enthusiastic fans who seemed to enjoy themselves despite a watered down lineup and other problems.
Headliners Migos, G-Eazy, Future,YG, and Lil Uzi Vert each gave great performances in unique ways.
YG headlined Saturday night in a matching sparkly outfit while performing new and old hits like "Big Bank" and "Left, Right". YG even opened the set with a tribute video to the late Nipsey Hussle, which seemingly touched the crowd.
YG was junior Maya Denise Gaskin's favorite performance during the festival. 
"He hyped up the crowd, I'm a huge fan," Gaskin said.
The highlight of the set may have been when YG performed "Stop Snitchin". During the song, a picture of fellow rapper 6ix9ine appeared on the screen with the words "Stop Snitchin". It appeared as a message to 6ix9ine for his controversial "snitching" of names related to gang activities. Overall, YG's performance was full of energy and good vibes.
Arriving 45 minutes late, Lil Uzi Vert took the stage for Sunday night's headline set,  performing songs like "XO Tour Llif3" and "New Patek".  Lil Uzi Vert's set was full of fireworks and mosh pits. 
Several people lost their phones or belongings during the set because the crowd was so crazy. Even worse, several people fell inside the mosh pits, including this reviewer.
"One more? I got ten more," Lil Uzi Vert told the crowd after a song.
As Migos wrapped up their set on another stage around 10 p.m., Lil Uzi Vert kept going and more people joined the crowd.  Eventually, Lil Uzi Vert's set was cut off and the festival came to a close around 10:30 p.m.
While the sun was setting on Sunday, Playboi Carti took the stage, and the rapper best known for his song "Magnolia" was met with an energetic crowd.
"The Playboi Carti mosh was fun and I even crowd-surfed," junior Ryan Patel said of one of his favorite festival moments.
But not everyone was a fan of the performer. Junior Guilianna Romero said it was one of her least favorite parts of the festival because of all of the mosh pits.
Hot girl summer was still in full swing at Rolling Loud. With performances from Megan Thee Stallion, Saweetie, and Rico Nasty, it was hard to overlook the upcoming female rappers.
Megan Thee Stallion gave a confident but prompt performance on Saturday of "Cash Shit", "Hot Girl Summer", and "Big Ole Freak".
Bay Area Native Saweetie performed on Sunday, playing her hits "My Type" and "Icy girl". Saweetie was even moved to tears by the local crowd when they started chanting her cousin's name who recently passed.
Rico Nasty gave a stunning performance of "Tia Tamera".
Other stand out performances included Tyga, Dababy, and Ski Mask the Slump God. Tyga played a collection of hits like "Rack City", "Ayo", and "Taste".
Having just released his album "Kirk", Dababy brought enthusiasm to the Bay Area. Ski Mask the Slump God's performance was so energetic he had to ask the crowd to "stop pushing each other".
The "Faucet Failure" rapper paid tribute to his late friend and controversial rapper XXXTentacion throughout the concert. He performed "Take a Step Back" featuring the late rapper.    
21 Savage's performance was disappointing because his  music kept cutting out during his set. 
Prior to the festival, there was controversy surrounding the Bay Area lineup. Rolling Loud, which boasts to be the largest hip hop festival in the world, featured a weaker Bay Area lineup than the festivals in Miami, Los Angeles, New York, and Hong Kong.
"I feel like it could be better for the amount of money we pay," said Gaskin, who wanted to see a headliner such as Travis Scott.
Patel felt the same.
"We don't have Travis," Patel said. 
Scott previously headlined Rolling Loud Bay Area in 2017 and 2018, and is headlining in New York Oct. 12-13.
About the Writer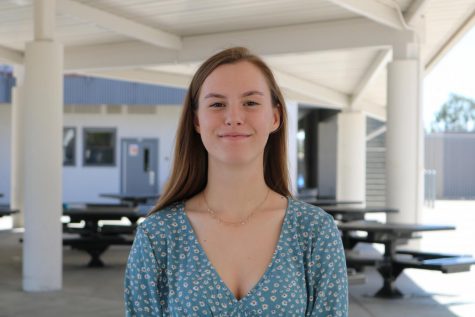 Sophia Puentes, Staff Writer, Photographer
Sophia Puentes is a 1st year photographer and reporter for the Californian Newspaper at California High. She is currently a junior. She enjoys hanging...