School Cancels Powderpuff Game
Because of concerns for student safety, Cal High's annual powderpuff flag football game, which pits senior and junior girls against each other, has been cancelled.
The decision was made by former Principal Christopher George and assistant principal Andy Briggs at the end of the previous school year after last year's game in late May.
"The main takeaway is that the game's physical, the emotions are high, and it's a safety concern," leadership adviser Ross Dautel, whose program sponsored the event, said.
Even though students signed school safety waivers, the school can only go so far when it comes to protecting people, especially in a very competitive and possibly dangerous situation.
"It was just violent," new Principal Megan Keefer said, who spoke to George about the decision. "Too many people [were] offended, too many complaints, lots of downsides."
Two of the district high schools that Keefer previously worked at as an administrator, San Ramon Valley and Monte Vista, did not have powderpuff, which is one reason she agrees that Cal needed to this change.
"It was not a healthy culture," Keefer said in regards to the nature of powderpuff at San Ramon Valley.
Despite many schools still hosting an annual powderpuff game, only three out of four high schools in San Ramon Valley Unified School District host the event.
Dougherty Valley is now the only high school in the district that still has a powderpuff game.
"This is the direction the district is hoping to move [toward]," Dautel said.
There were also worries that the game could be exclusive to only those who identify as female.
"[The issue with gender exclusivity in powderpuff is] not something that everyone sees, but it's something that enough people feel is important," Dautel said.
This is why many schools have rebranded the event to be more inclusive and specific.
According to Keefer, the decision was made to replace powderpuff with WIFF, Women's intramural flag football, at Monte Vista, in an effort to be more inclusive.
Many Cal students are not happy about the cancellation.
"I feel like it brought our class together," said senior Tara Ruschell, who participated in the game last year.
Some girls believed that powderpuff was a long standing tradition that had the ability to bring senior and junior girls together in a friendly competition.
Many seniors who played in the game last year said they had a great experience and are sad that future classes won't get the same opportunity.
"I loved bonding with people I wouldn't have talked to," senior Shelby Williams said. "It's sad that freshmen won't get the experience."
Senior girls who were planning to play in the game this year wanted to be able to spend time with one another because they view it as one of their last chances to all be together before they graduate.
"I'll really miss when we all got to hang out," senior Halle Lindstrom said.
Many junior girls who were looking forward to this year's game are disappointed that they'll never get the opportunity to play powderpuff.
"I just wanted to have fun with my friends," junior Bella Campos said.
Some seniors who chose not to play last year were also excited to do so for their last year in high school.
"[It was] good class bonding between the different friend groups because everyone came together on one team," senior Frances Scanlan said. "[It would have been a] fun activity to do senior year."
But this event was still a competitive game that brought out intense emotions in many of the players.
"There was a lot of drama within [the game]," Williams said.
Last year, there were multiple fights throughout the game, forcing administrators to step in to break them up. This possibility of violence was another safety issue contributing to the school's decision.
In the end, administrators and leadership felt the school could benefit from focusing on other safer events.
"Our resources can be better dedicated elsewhere," Dautel said.
Powderpuff generally occurred in late May along with many other events, meaning there are only so many adult supervisors who can help out. Last year, the powderpuff game and the annual Mr. Cali event were on the same day.
"If you have so many events at the same time, then it runs people ragged and then those events are all watered down," Keefer said.
To host the event, leadership spent money to hire professional referees and enlisted the help of football players to coach the girls.
"I'll miss yelling at people, because I play football and it feels good to yell back," said senior Sean Miller, a kicker for the varsity team who helped coach the junior girls last year.
Although the event has been canceled on campus, Williams said some students are making plans to have the game outside of school.
Leave a Comment
About the Contributors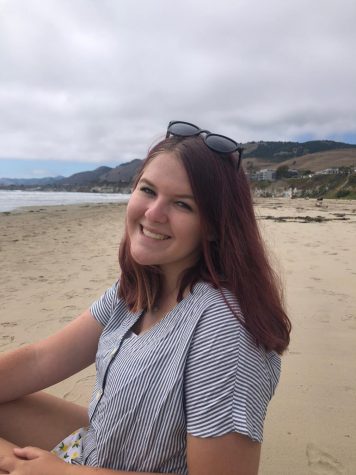 Emmy Burrus, Co Editor-in-Chief
Emmy Burrus is a senior at California High School, and is entering her third year of being a part of the Californian staff as Co Editor-in-Chief. Last...