Sharks Hoping to Take a Bite Out of Their Western Conference Rivals
Around this time every year, San Jose Sharks fans all seem to say the same thing: This is the year. As in, this is the year we finally bring home the Stanley Cup after over a decade of being so close. 
Last year, in yet another cup let-down, the Sharks lost Game 6 of the Western Conference Finals to the Saint Louis Blues, ending their run for the cup in what some people thought was their "last chance", considering their lineup of old, near-retirement talent. 
The Sharks also were the butts of many jokes about being carried through the playoffs by referees who just wanted to help them win a cup. On behalf of all of San Jose, ouch (maybe Las Vegas should try penalty kills). 
This year, some fans are skeptical about the Sharks' chances to win the Stanley Cup, especially after they went 1-4 in the exhibition games. According to an Article on NBC sports, they lost 20 percent of their goal-scoring totals when previous captain Joe Pavelski, Gustav Nyquist, and Joonas Donskoi all left on free agency contracts, and defenseman Justin Braun was traded to the Philadelphia Flyers. 
Additionally, starting goalie Martin Jones is ranked 23rd of all NHL starting goalies, and many people worry about defenseman Brent Burns getting too old and slow to do his job as well as he used to. 
But I still believe that the Sharks have the talent to pull out a cup win, or at least a solid run in the playoffs. 
As a typically older team in terms of player age, the Sharks have been focusing on bringing some youth to their roster. As of Sept 26, there were seven fresh faces still fighting for a spot on the team. 
Probably most notable of all the prospective rookies is forward Lean Bergman, an aggressive player, who people may know as the guy that started an all out brawl during the summer prospects scrimmage (all of the guys that played in that game were, technically, on the same team). 
Surprisingly, denied from the NHL team were  forwards Ivan Chekovich and Sasha Chmelevski. There had been significant buzz speculating that they would make the team since they had seemed capable of doing some serious damage to opposing teams with their size and aggression. 
Even with all these new potential faces, San Jose's veteran lineup is, quite frankly, already stacked. With the return of beloved veteran Joe "Jumbo" Thornton, the Sharks community has been absolutely electric, more so than usual. 
In addition to Thornton, the Sharks have held onto superstars Logan Couture (the new team captain), Brent Burns, Tomas Hertl, and Erik Karlsson, just to name a few. With them, the Sharks secured younger talents like Kevin Labanc, Evander Kane, and Timo Meier, adding a little kick to the typically older team. 
Every line has a significant amount of talent, and the absence of some big name players leaves the door wide open for players looking to make a career breakout. 
I haven't heard many people talking about Marcus Sorensen, but he's poised to be a big player this year. As an aggressive forward with quite a bit of speed, he's capable of going on the first offensive line with Thornton and hitting the back of the net pretty often. 
Similarly, Kevin Labanc deserves some attention. For much of the postseason, he didn't really show up and caused a lot of frustration with the team. However, when he was hot, he was hot (think end of the Vegas series and game one versus the Colorado Avalanche), and if he can maintain his composure on the ice (maybe next to a veteran like Thornton), he's capable of making big waves. 
One player to watch closely is Evander Kane. He's a forward with incredible speed and some good moves, but in the postseason he failed to live up to his record in the regular season (although, some of it can be excused by a "mid-body injury" he suffered near the end of the regular season). 
Based on team reports, Kane's not as cooperative as the others on the team and lacks the chemistry with other players that makes the Sharks a powerhouse team year after year. This is only further highlighted by the 10-game suspension he's facing for taking a swipe at a referee during an exhibition game against the Las Vegas Knights, according to ESPN.
And of course, all of this talent means nothing if Jones can't remain consistent in goal. Last year, he allowed the second highest number of goals of any goalies in the postseason, and his series of first-minute allowed goals almost cost the Sharks their season against the Las Vegas Knights during the first round of the playoffs. But if he stays hot (and watches his five hole), I'm sure he'll be able to boost his ranking and bring home more wins for the team. 
Really, the Sharks could have won the Stanley Cup last year, but a series of unfortunate injuries and two game seven series just wore them down. This year, though, as long as everyone remains consistent, the Sharks will remain a dominant team and may have a shot at a cup win. 
I don't know about the rest of Cal High, but when the puck drops tonighty in Las Vegas, I'll be in front of the TV, lucky Sharks hat on my head, and ready to watch my team fight for their title (and maybe yell at some refs while I'm at it).
Leave a Comment
About the Contributor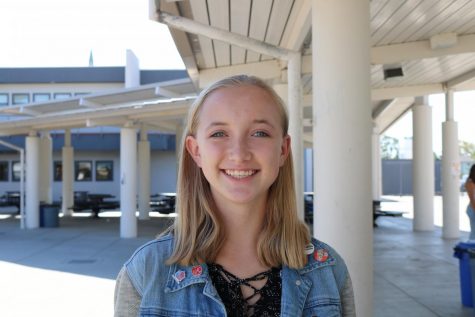 Shannah Saul, Staff Writer
Shannah Saul is a senior at Cal High, and this is her second year in newspaper. She's also a self proclaimed theater freak in Cal's Play Production...