Feast your eyes on these slices of pumpkin pie
Everyone knows a good pumpkin pie is a must for this time of year. But not everyone has a great pumpkin pie recipe in their back pocket, so knowing where to go to buy the best pumpkin pie is a must.
So where is the best place to get a pumpkin pie that tastes like the one grandma serves up every Thanksgiving? Well, I've got your answer right here.
Buttercup's 
This little corner diner in Walnut Creek and Concord has been known for its exemplary pies for 30 years, their waiter uniforms proudly declaring "I <3 Pie" on the back. The atmosphere is friendly, the waiters treat you with a homestyle warmth and charm, much like the energy of the whole restaurant. 
You say the word pie, and they'll serve you a thick slice, whipped cream included. You can take a pie to go or eat it there. The pumpkin pie itself is soft with a thin crust, the spice mixture gives unique tang to each bite. 
I personally found the pie to be a little too wet for my taste, but overall it is good. Depending on your preference, it may be better without the whipped cream. 
Black Bear Diner 
This cute bear-themed restaurant makes customers feel as if they've stepped right into the woods, with its rustic decor, comfort food menu and welcoming wait staff. 
On top of their typical bear curtains and paws on the waiting benches, during this season they're decked out with bats on the windows and a little outlet by the bar selling thanksgiving trinkets.
The portions here are bear sized, and the pumpkin pie is no exception. As for the actual pie, it's very creamy and served with fresh whipped cream. The crust is crumbly, made fresh but a bit lacking in flavor. This pie certainly has a distinct spice to it-cloves, possibly. This is the kind of pie that would be washed down excellently with a steaming cup of coffee.
There are nearby locations in Danville and Pleasanton.
Nation's 
Ah, the famous Nation's and their famous pie. Trust me, there's a reason Nation's pie is famous. It has a lovely orange color, a soft, flaky crust and comes to the table cut directly from the whole pie. I would suggest ordering a milkshake with a slice of pie, as it makes for a sweet combination.
The place itself gives off a little-American-truck-stop feeling, mixed with a homely 1950s diner. The service is quick and casual, but the food is of a quality one might expect from a more formal restaurant.
The pies are displayed front and center in a glass case so customers can drool over their piece before they order it. 
Safeway Bakery
Although it may not seem it at first glance, the Safew bakery pumpkin pie is a quality investment. It's a good size and has a balanced flavor. If you're looking for a firm pie and a chewy crust, this is the pie for you. It is dense but not very filling. So if you're not in the mood to go back for seconds, get yourself a big slice. 
One can tell it's freshly made by the taste. On top of that, it is a visually appealing pie, with a smooth top and even coloring. This pie is my favorite so far in this category, so if you're looking for a quick and well-made pie, stop on over at Safeway.
Sara Lee   
Everyone loves Sara Lee's frozen cherry pies. They're a holiday staple, and the pumpkin lives up to the Sara Lee name as well. While it's not her best pie, it's still very good. It's soft with a pleasant mix of flavors. 
The dome of the pie is firm and keeps it intact. I will warn against putting this pie in the fridge before its all the way cooled down, though, because the condensation will gather on the top and leave you with a layer of water on top of the pie, which no one wants.
 I found the crust of my pie to be a bit dry, and there wasn't very much spice to this pie. If those are deal breakers for you, I'd look elsewhere. 
Pumpkin pie is a national favorite for fall. Different brands and bakeries always have their own interpretation of the wonderful, sweet treat. Remember to buy one early for Thanksgiving or you will be missing out. 
About the Writer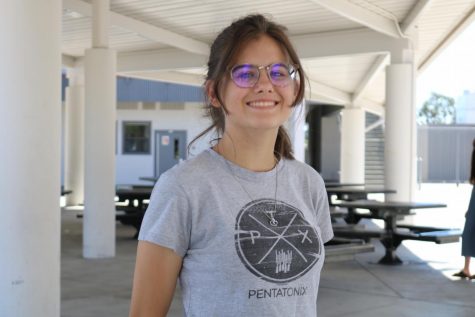 Miranda LeGate, Staff Writer
Miranda LeGate is an aspiring young writer and journalist. She is currently interning at McSweeney's Newspaper in San Francisco, where she does a lot...