New Esports Club scores with gamers
For the first time in school history, Cal High will be featuring a competitive esports team.
Students who joined the new club will be able to compete against other students through the High School Esports League, an esports program designed for high school kids to highlight their skills.
"The Esports Club enables people to play competitive esports in the area," said junior Jack Borovitz, one of the founders of the club.
Through the club, students are able to select a different games that they wish to play, including League of Legends, Rainbow Six Seige, Fortnite, and Minecraft. 
After students choose a game, they get assigned to teams and compete while representing Cal.
"It's pretty fun meeting new people interested in the same game as me, and I've met some new friends through it," said sophomore Ben Kessler, who is playing on Cal's "Counter Strike: Global Offensive" team.
Students play competitive esports against other people in the area. If they perform well enough, they can earn prizes, such as headphones and gaming equipment. 
If they perform well in matches and tournaments, they can even get the opportunity to compete in state matches, and eventually compete nationally.
"We faced schools from even further than I expected, and that makes me all the more excited to compete" freshman Kean Flanigan said.
Students in the club have said there are many benefits to participating in the club.
"Some benefits are improving at whatever game you join as you're playing against pretty good players, and it provides motivation to get better," Kessler said. "Also, you can earn money."
In the future, the team aims to play against other schools in the district. 
Borovitz said Monte Vista and Dougherty Valley are in the process of getting their own esports teams in the next year or two.
Through esports, players can receive recognition from colleges and, if they're good enough, even scholarships for collegiate esports, just as any standard athlete would.
"Colleges scout these players, and those who are really good can receive scholarships and get to play on collegiate esports teams," senior AnishLathker, another founder of the club said.
In the future, the club intends to have a designated room at Cal  for esports players to practice and prepare for upcoming competitions.
"We want to create attraction for the club and esports in general," Lathker said. "And through revenue, set up a gaming center right here at Cal, where players can come after school and practice for their upcoming tournaments and matches."
While the deadline to register for High School Esports League have passed, Cal students can still participate in the club. 
The club intends to host tournaments for some of their featured games, which anybody at school can attend and participate in. The club currently meets monthly in the theater.
"We will be hosting tournaments that anybody can join, if they have the game of course," Borovitz said the club."
The club intends to hold a Super Smash Bros. tournament around mid-November.
Students interested in joining the club can still do so by contacting Borovitz at [email protected], or Lathker at [email protected].
About the Writer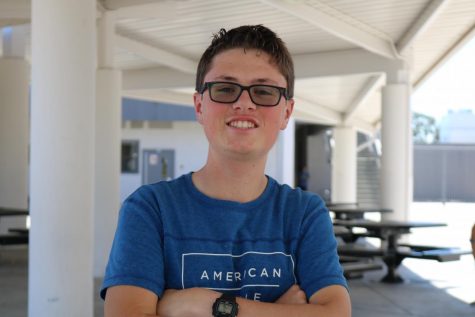 Andrew Sousa, Sports Editor
Andrew Sousa is a second year reporter for The Californian. He is a junior at Cal High, and he serves as the sports editor for the newspaper. He enjoys...