Pumpkin spice and everything nice
Fall is here and the pumpkin flavored drinks are rolling out! 
Pumpkin-flavored beverages are one of the highlights of the fall season, and these five drinks will surely make you warm as the chilly autumn breeze blows. 
Pumpkin spice has been growing in popularity over the years, and now there's a plethora of products. In this piece, I will be reviewing the most popular of pumpkin spice items: drinks. These are the best in seasonal pumpkin drinks.
Starbucks Pumpkin Spice Latte 
The king of cafes, Starbucks, never fails to please its customers by coming out with seasonal drinks. 
The first Starbucks pumpkin spice lattes were released in the fall of 2014 with the pungent aroma wafting through its cafes. The drink screams cinnamon, and the presence of fall flavors is well defined. 
The pumpkin spice latte provides a warm and cozy feeling as it travels down your throat, and a boost of energy at the same time. It comes at a reasonable price of $4.95.
Peet's Coffee Pumpkin Chai Latte 
Peet's pumpkin chai latte is very different from Starbucks'.The drink has an unexpected kick of vanilla, followed by a mild nutmeg, fragrant pumpkin, and espresso taste.
Peet's take on this drink doesn't provide a punch of pumpkin that many look for, but is perfect for those that want a milder tasting drink. Costing only $4, it is at a decent price for a drink.
Dunkin Donuts Cinnamon Sugar Pumpkin Signature Latte 
 Dunkin Donuts takes a different approach to the pumpkin season with its signature drink that boasts a name that's just way too long.
This drink features a ton of cinnamon-sugary goodness and like Peet's latte, a pumpkin flavor. There's just the perfect trace of pumpkin spice, enough to fill you up with the feeling of fall. This drink is on the cheap side at only $3.69. 
Paris Baguette Spiced Pumpkin Latte
 Once again, another pumpkin spice latte. After all, these drinks are the craze these days. Paris Baguette in Dublin recently unveiled its new fall menu, featuring the spiced pumpkin latte, which would go perfectly with their spiced pumpkin bisque. 
       Their take to the pumpkin spice latte is unique. It's almost like a spiced cafe mocha. 
       The drink features a rather nontraditional pumpkin spice flavor, and you can really taste the variety of spices like cardamom and ginger, and it has a nice velvety aftertaste. 
Godiva Pumpkin Spice Chocolixir
Godiva is a company known mainly for its fancy chocolates, but recently it has joined the cafe business and been doing a great job. 
With their cafe success, they plan to open 2,000 more cafes, and a few have already popped up in the area, such as the ones ins Pleasanton and Livermore. 
This drink came out last fall, and lured many with its sweet treat appearance. The pumpkin spice chocolixr consists of a heavenly white chocolate vanilla soft serve mixed with pumpkin pie spice and salted caramel.
This drink is perfect for kids and younger people, as it has no caffeine, but comes at an expensive price of $6.95. 
This year's pumpkin spice season presents a wide range of drinks to choose from. Be sure to try out these pumpkin spice drinks, and remember that they are all special in their own ways. 
About the Writer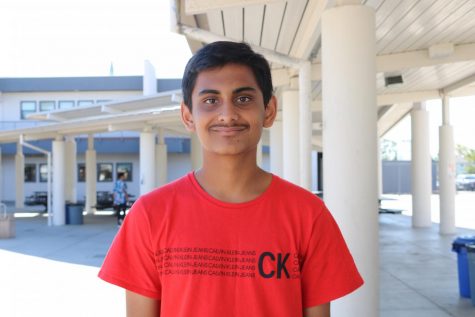 Abhyudaya Srivastava, Staff Writer
Abhyudaya Srivastava is one of the few freshmen in the newspaper class at Cal High. He chose this class because of his interest in writing and his previous...