Tik Tok brings out student stars
More than 500 million people worldwide are active tiktokers. 
Whether these people create or just watch videos, they all share the fun experience of Tik Tok. 
Many Cal High students are constantly on the app. One of them, sophomore Matt Hanson, started his Tik Tok a year ago and has been creating videos ever since. He has more than 100,000 followers.
"I wanted to do Tik Tok because it's addicting," Hanson said. 
One of his most popular videos are viral memes and trending tags. He has up to 1.7 million views and 345k likes. Because of his viral videos, most of his videos hit around 10,000-20,000 views and he now has 2.0 million likes overall. 
Hanson said he comes up with his Tik Tok videos all on his own.
"I am no thief," Hanson said.
More students like Hanson have had their fair share of viral videos. Sophomore Abbey Cullen got 460,000-plus views and received around 60,000 likes on a comedic video about high schoolers. 
"I didn't think it would blow up and when it did I was shocked," Cullen said. 
Another sophomore, Mikayla Grumley, has nearly 21,000 likes and up to 361, 000 views on her video about meeting actor Asher Angel at Comic Con.
Grumley also received 138,000 views on a recent Tik Tok about meeting actress Peyton List. 
She did not expect her occasional time on the app to become a hobby.
"I joined as a joke but then I accidentally got addicted," Grumley said. "I didn't think I would blow up." 
With her two viral videos, her followers went up to 6,215.
Tik Tok has created an atmosphere where people can video tape funny or emotional clips of themselves that can be up to 60 seconds. According to Sensor Tower, this app has been downloaded more than 1.2 billion times, becoming the world's fastest-growing social media platform.
With famous movies lines or viral challenges, Tik Tok is a place for people to show off their creativity and talent. 
Tik Tok star Sarah Magusara shows off her talent by dancing, while Seth O'Brian is a makeup star and creates viral videos with his sassy energy. 
The app has also made a warm welcome toward sports. NBA, WNBA, NFL, as well as the ESPN have created their very own accounts.
 NFL posts about live games and the viewers seem to enjoy this with NFL having 22.7 million likes overall. 
Tik Tok originally started as Musical.ly, a platform of lip syncing and choreograph dances in short videos up to 60 seconds. 
Musical.ly is the same app as Tik Tok, but with the recent name change in August of 2018. Tik Tok has created an atmosphere to let the goofy side of people come out. Both apps have the emotional component to it. 
Cal English teacher Eghosa Obaiza has brought in an emotional component to her classroom as well, and he's a Tik Tok star in his own right.
Kairo, an emotional support dog, was given to Obaiza by her husband, who got her the dog after having a difficult past year. 
After extensive research, Obaiza got Kairo approved for the classroom. Kairo's daily appearance in the classroom has created a happy atmosphere.
"Students walk right past me and say hello to him instead of me," said Obaiza jokingly. 
Students are always excited to come to class.
"The sophomores get a little more excited than the rest," said Obaiza, who teaches English 10 and 12, social justice and sociology. 
But Kairo isn't just popular in the classroom. He's become popular on Tik Tok as well.
Senior Christine Deshler videotaped Kairo in the classroom and added "The Cuppycake Song" by Amy Castle as the background music and it went viral. The Tik Tok has more than 144,000 likes, about 526,000 views, and 528 comments.
"I really never expected any of my videos to go viral, but Kairo is a cute dog so it makes sense," Deshler said.
Most of the comments mention Kairo's cuteness and song choice, which is one of the contributing factors to why it went viral. 
"Dogs have a way of making people feel happy," Deshler said. 
Tik Tok was an app Deshler never expected to find herself constantly on, but she feels it's truly addicting.
 "It's cute and seems like a mix of Vine," Obaiza said about the app. 
Tik Tok has given students at Cal an opportunity to show off their dance skills, makeup talent, or their funny side.
About the Writer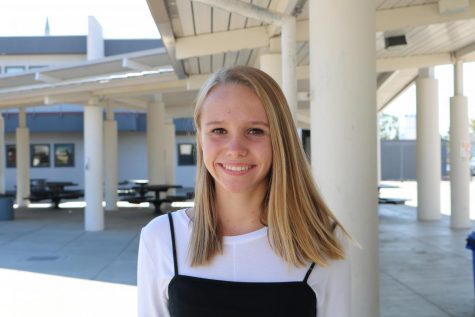 Ella Johnson, Staff Writer
Ella Johnson is in her first year in newspaper. In the eighth grade, she was in yearbook which inspired her to do newspaper sophomore year. She plays soccer...