Grizzly runners race to school history
History was made in Fresno last month for three Cal High cross country runners.
Sophomores Matthew Alm and Madison Chavez and senior Mia Marsh stamped their place in the school's record books on Nov. 30 at the CIF State Cross Country Championships at Woodward Park in Fresno.
In the five kilometer race, Alm, Chavez and Marsh set the school's second, seventh, and 10th best times, respectively, for that distance.
All three runners advanced to state by finishing in the top 12 in the Division 1 race and among the top five individuals on a non-qualifying team at the NCS Championships on Nov. 23, coach Nick Shea said.
Cal's women placed fourth overall at NCS, while the men were fifth.
Alm earned the second best time ever for a male runner with a mark of 16:24 at state, coming within 14 seconds of Jacob Millen's record time of 16:10, set in 2018.
"It's pretty cool, not going to lie," Alm said. "It's awesome to be a part of Cal's history."
Alm advanced to state by finishing 12th in the NCS Division 1 race. It was the last spot to qualify.
"He [Alm] lucked out, he finished 12th," Shea said.
Chavez achieved the seventh best time ever at Cal in the women's race at state, finishing with a time of 18:52. 
"All the people at every part of the race were screaming," Chavez said. "That was definitely my favorite part of states."
Chavez qualified for state by placing 10th at NCS. This isn't the first taste of success for Chavez, who qualified for state as a freshman last year. 
At last year's state meet, Chavez finished with the ninth best time, 11th best now, with a time of 19:42.
Marsh earned the 10th best time, completing the state course in 19:21 in her final cross country race.
"There are some really fast runners in Cal's history," Marsh said. "So to be able to make it on the list is really amazing."
Marsh qualified for state by placing fifth at NCS in the Division 1 race. She also owns the 15th best time in Cal's history, running a time of 20:59 in 2017.
Colleen Lillig still holds the top women's time at 18:11, set in 2009.
The runners attribute their success to their hard work and their commitments to improve.
"We began working and preparing for cross country almost right after school got out," Marsh said. "And we worked at a cross country camp in Humboldt University."
After such an impressive performance, all the runners are motivated to keep improving.
"I want to keep working and get better, and hopefully get the best time ever next year," Alm said.
Marsh is using her success to prepare for the upcoming track season.
"This meet really motivates me for track," Marsh said. "We're all really excited for it."
Shea is very proud of all the hard work his runners have put it, and to see that their dedication has paid big dividends.
"The fact that they ran a really smart race and finished in the top 10 list for the school is pretty remarkable" Shea said.
Staff writer Sophia Puentes and Isabelle Coburn contributed to this story.
About the Writer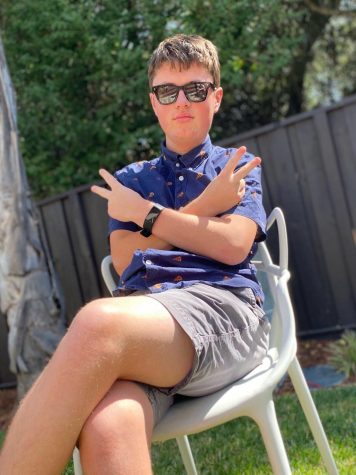 Andrew Sousa, Sports Editor
Andrew is a senior and a third year member of The Californian, and is serving his second year as the Sports Editor. He enjoys cooking, tutoring, gaming,...