YouTube Rewind goes from bad to worse
Every year since 2010, the most popular video sharing platform in the world, YouTube, has uploaded a video known as YouTube Rewind in early December.
This is a video produced by YouTube itself, recapping the year's viral videos and its most popular creators on the platform that year. 
But the video has become less of a fun way for YouTube to show off all of the interesting work that their top creators have done, and has become more of a meme in the YouTube community for being cringey and featuring YouTubers whose content just isn't relevant.
"I thought the 2018 YouTube rewind was bad because it didn't have any of the relevant YouTubers in it, and was turned into propaganda for YouTube to please its advertisers," sophomore Kevin Tsao said.
It wasn't always like this though. Many of the older rewinds had the relevant YouTubers and memes in it. 
Unfortunately, all that ended in 2017 when the YouTube "Adpocalypse" as it was known happened, and numerous big advertisers  pulled advertisements from the site because of an incident where popular YouTuber Felix Kjellberg (screen name "Pewdiepie") made some anti-semitic jokes. 
And some big companies' ads were shown before that video, which led lots of advertisers such as Hasbro, Nestle and AT&T to  pull all ads in protest because they didn't want their ads to be on videos that might devalue or make their brand look bad.
 So YouTube had to make a choice. Either pull ads from even remotely offensive videos and upset creators, or continue what they did before and provide an open and free platform where everyone is welcome.
 YouTube, being the big corporate entity that it is chose the side of the advertisers. Shocker.
This meant that creators whose content that is not "advertiser friendly" lost a ton of money from not getting advertisements on their videos. And since YouTube rewind is made by YouTube, the company got to choose who it wanted on the video. 
So in effect, creators whose content is not squeaky clean were not invited to be featured in the video for fear that advertisers would retaliate and pull ads from the platform as well.
"I think the problem with YouTube Rewind, at least how I see it, is pretty simple actually," YouTuber Marques Brownlee said in an interview with The Verge. "YouTubers and creators and audiences see it as one thing, and YouTube, who's in charge of making it, sees it as something completely different."
With the 2018 YouTube rewind being the disaster that it was, many were expecting the 2019 rewind to be an improvement. But instead of YouTube creating a new rewind with all of the creators that the viewers of YouTube wanted, it just made a weird Top 10 countdown list.
This completely changed the video. While it is considered to be better then the 2018 rewind, it still isn't the video that everyone was hoping for. And the like to dislike ratio proves it.
With 7.2 million dislikes and 2.9 million likes, 2019 rewind is a failure in viewers' eyes.
This shows that people overwhelmingly agree that YouTube still hasn't created what they want, and that this new "Watch Mojo" style of rewind video isn't liked.
So while the 2019 rewind video might be a step in the right direction, it isn't good enough. Only time will tell if this becomes an annual disappointment. 
About the Writer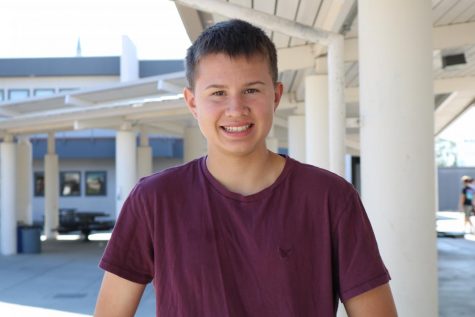 Jake Gerbracht, Photographer
Jake Gerbracht, is a sophomore at Cal High and is in his first year taking photos and writing for the Californian. Jake is a registered drone pilot with...