Basketball, soccer teams prepare for NCS
Cal High's women's basketball team has been on fire as of late, and it just might launch the team back to the North Coast Section playoffs.
The Grizzlies defeated Dougherty Valley 78-42 on Feb. 4, improving to 15-8 on the season.
Cal faced Monte Vista last Friday. Results were not available before The Californian went to press.
At 15-8, 8-1 in league, all Cal has to do is close out the season on a strong note and the Grizzlies will make NCS for the sixth straight year.
After a highly successful season last year, finishing 22-6 overall and  10-1 in league, the Grizzlies were expected to continue their dominant play with many returners, as well as some fresh legs. 
But Cal got off to a rough start, going 3-3 in their first six games, and just 9-7 around midway through the season.
It's been nothing but greatness since.
The team has won seven of their last eight games and reestablished themselves as a contender for a high NCS seed.
As it currently stands, Cal is second in the EBAL behind San Ramon Valley and is ranked 64th in state.
Should Cal win out, they would likely win EBAL and get a high seed in NCS, given how competitive EBAL is.
Cal finishes their regular season against Cardondelet on Thursday.
If Cal beats Carondelet and wins EBAL, it would be a huge motivator for the team going into playoffs. Carondelet has won the last three NCS championships.
"I think we can really go far and improve on last year," junior power forward Sara Leirmo said in an interview earlier this year.
While the team has pushed for an NCS spot, it has quietly had a solid season. The team has had many memorable moments, to go with some major victories.
Cal earned one of its most impressive victories in school history on Jan. 22, beating Livermore 86-29. In the game, the defense was on lockdown, giving up just five points in the second half.
They also earned a blowout 77-54 win over rival Monte Vista Jan. 9.
Going into the season, the team knew that they could be great, and have done everything they can to live up to their lofty expectations.
Even if the team falls short of winning this year, they will still have a great shot next year. Many of the players are in line to return next year, as well as the freshman on the team learning from their first time experiences.
"I was on the team as a freshman as well," junior center Claire Hinds said. "So I'm trying to give support through a long season of ups and downs."
While the season has had its rough spots, the team has fought through these hardships, developing a strong bond on and off the court.
"Our chemistry is locked down this year," senior point guard Erica Adams said. 
Going into the most important part of their season, the team is focused on the task at hand, and are ready to bring a championship back to Cal.
"It's fair to say we'll surprise people," Leirmo said. "We want to put a banner up on the wall."
– Staff writer Jett Gold contributed to this story.
Women's Soccer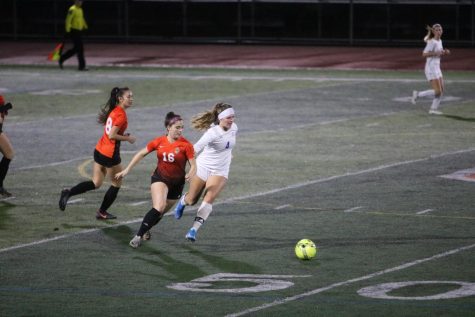 As the season is well on its way, the Grizzlies have been showing their true potential. 
Led by coach Edgard Vidrio, the women's soccer team has started out the season with an overall record of 7-4-6. 
On Feb. 6, Cal dominated Dougherty Valley, 6-1.
"It's been a good season, we are improving," Vidrio said. "We have a strong team defense and six or seven people are contributing to offense." 
Cal still has a chance of making it into the NCS playoffs, as their league record is 4-4-3. 
"If we can win some more games we can clinch a playoff spot," Vidrio said.
Throughout EBAL, there were definitely some difficult teams that had to go up against. 
"Monte Vista was a hard team, so were San Ramon Valley and Carondelet," freshman midfielder Christina Denno said.
When playing Monte Vista, the defending NCS champion Mustangs prevailed 3-1.
Games with Carondelet tell a similar story, as Cal lost 1-0. 
"Carondelet and Monte Vista have good individual players that can disrupt  what you are trying to do as a team," Vidrio said. 
Cal tied two league games to Granada and Dublin the week of Jan. 20. Both games ended in 1-1 ties.  
The Grizzlies played Berkeley on Jan 18 and held their ground against the Yellowjackets before the game ended in a scoreless tie.  
Cal played Amador Valley on Jan. 16 and lost a heart-breaker when the Dons scored the game's only goal in the second half. 
This year, Cal came with a new mindset-teamwork. 
"I feel like it's much more of a team environment and working together and I feel like that helped a lot," junior Vanessa Von Sosen said.
Using this helped Cal win against San Ramon Valley by a score of 2-1 on Jan. 11. At the end of the first half, the game was tied 1-1, but the Grizzlies scored the winning goal in the second half. 
Last season, San Ramon Valley beat Cal in the NCS quarterfinals, so the Grizzlies were definitely seeking a little revenge in this game.
"We came out swinging and I think they sort of underestimated us and we scored around the last five or 10 minutes," junior midfielder Kaeli Tembrevilla said.
As the season has progressed, the team is continuously working hard to get better.
"[We are working on] how to attack as a team and how to get more numbers on the attack," Vidrio said. "Our transition from defense to offense is starting to improve but now its just to finish it." 
Throughout the season, Von Sosen and senior forward Angela Filosa have been big contributors to the team's success. Together, the duo has been responsible for a lot of the team's offense.
Senior goalkeepers Davia Howard and Isabella Mendoza have also done exceptionally well this season. 
The Grizzlies started off the season strong, and they're on their way on finishing strong as well.
– Angela Zhang
Men's Soccer
As the season comes to an end for the men's varsity soccer, Cal is hoping it has done enough to reach the NCS playoffs. 
Cal is 9-6-5 overall, 5-3-3 in league, and tied for third in EBAL. With only two games remaining in the regular season, the Grizzlies look to win the next upcoming games to try and reach the playoffs.
"We need to stay focused and keep intensity at 100 percent," senior Bryson Kouns said.
The Grizzlies' most recent match was a 3-1 victory over Dougherty Valley on Feb. 6. The win came after a tough 3-0 loss to San Ramon Valley on Feb. 4.
On Jan. 18, the team earned an exciting 2-1 victory over Heritage.
In the first half of that game, junior Gavin Navarro put the Grizzlies up 1-0. Later on in the second half, junior Julian Mena sealed it for the Grizzlies by slipping one right past the keeper for the winning score.
"I outpaced the defender and put the ball in the lower right corner," Mena said.
Looking back on the season, the team set many goals their still hoping to reach.
"We haven't met our goals quite yet," senior goalie Sean Miller said. "We need to have more of a positive season. Even though we are [around] .500, we want to win more games to secure a playoff spot." 
With Senior Night approaching Thursday against De La Salle, some of the players are understanding that this could be their last time suiting up for Cal. 
Looking back, the players realize some great memories have been made.
"My favorite memories over the years were beating De La Salle my sophomore year and also crashing a go-kart into the wall at K-1 Speedway which was a team bonding trip," Kouns said.
Seniors Quincy Poynter has also really enjoyed the winning culture and mindset that's been part of Cal's program.
"Beating teams that underestimated us and making the playoffs my sophomore year [were my favorite memories]," Poynter said.
And who knows. Maybe some new memories will be made Thursday at Senior Night.
"We are going to practice like we play in games before Senior Night so we will be prepared for De La Salle," said Poynter.
The Grizzlies are prepared to finish the season strong and hope to get above the line and get into the playoffs. 
For the seniors, after looking back on the years that they played here, the memories will last forever from team bonding to huge wins for the program. The 2019-2020 season is almost done and the men's varsity team is taking full advantage of what time's left. 
    – Greg Warrington
Wrestling
Some of the star players of Cal's wrestling team have a good season ahead of them that may extend into NCS later this month.
Senior Dan DeSoto, who also plays varsity football and lacrosse, is the standout on the team this year and has the best chance to  place high in NCS. 
Last year, De Soto placed fourth at NCS in his weight class.  After being successful last year, De Soto will be ready for another shot at it and he already has his eyes set on making it to the state finals.
Junior Itay Udler also has his eyes on extending his season into NCS as well.
"We have a couple tournaments left before NCS and I feel confident and ready to go," Udler said. 
The other returning NCS wrestlers include Connor Gabe, Mikael Melaku, Alex Van Diggelen,and Jason Abu Ghazaleh. 
The team will know which individuals qualified for the NCS Championships after the seeding meeting this Sunday.
    – Max Hove
About the Photographers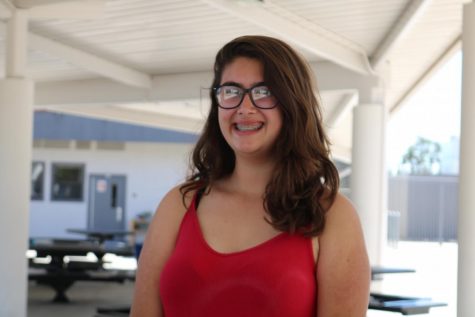 Miriam Sanchez-Mora, Photographer
Miriam Sanchez-Mora is a first year photographer for The Californian. She is currently a sophomore. She is a middle child and the only girl in her family,...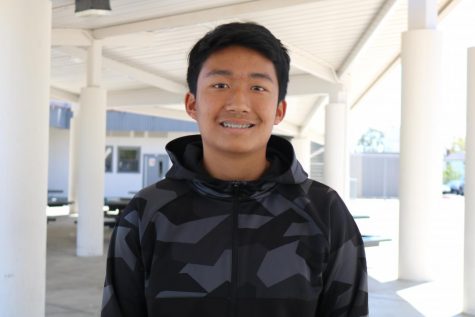 Anthony Austria, Photographer
Anthony Austria is a sophomore and is serving as a photographer for the Californian. Besides photography, he enjoys biking around town with his friends...