Dublin High copes with losses
Tragedy struck Dublin High over winter break when five students were involved in a terrible car accident that left three dead and two hospitalized on Christmas Day.
The five teenagers were in a car driving south on Foothill Road near Castlewood Drive in Pleasanton around 10 p.m. when their car swerved into the other lane, losing control and hitting a pole before colliding with a large tree, according to the Mercury News.
Javier Ramirez and twin brothers Mark Urista and Michael Urista were pronounced dead at the scene. All three boys were 16 year-old sophomores at Dublin High.
Samantha Vargas and Jared Reynoso, the other two teenagers hospitalized, are on the road to recovery, according to a close friend of Vargas.
"You never want to believe it's true when it's someone you know. I was shocked and in disbelief,"said Abraham Gonzalez, the youth minister at the church that two of the students in the accident attended.
A candlelit vigil took place` at Dublin High on Dec. 29 to mourn the deaths of the three boys. Hundreds of people gathered around on this cold, rainy day as they wept quietly for their loss.
"I didn't know the boys personally, but when I found out about the incident, I thought it was really sad, and I wanted to pay my respects, and I wanted to be there for those who were affected," Cal High junior Diana Castaneda said, who attended the vigil. "I wanted those who were affected to feel the support of the community."
Friends and family shared funny and heartwarming stories that all ended with how the boys were "full of life" and were taken away too soon.
At the end of the vigil, Father Lawerence, a priest from St. Raymond's parish, prayed for the boys, and the crowd fell in a somber silence letting those who were religious pray as well.
Along with the vigil, Rameriez and the Urista twins had separate services.
"I was still in disbelief," Jackie Martin, a Dublin High junior, said. "I couldn't wrap my head around what had happened. It all felt like a dream. I never thought I'd be attending the funeral of my friends."
As the news of the boys' deaths spread, their friends shared pictures and posted on their stories, starting the hashtag #longlivemmj. The hashtag has more than 100 posts on Instagram, all in loving memory of the teens.
"Michael was the guy to always pay attention to the little things about you and how your day was going. He would smile and your day would just get better," said Alejandra Remolina, a Dublin High sophomore and close friend of all three boys.
"Mark was so funny and loved to make people smile and laugh," Remolina said.
"Javier was literally the best friend you could ask for, he always had your back no matter what and he cared for you endlessly," Remolina said about Ramirez, who was her best friend.
All of the loving words said at the vigil and services of the boys reflect what Remolina said. These boys made the lives of those who had the privilege to know them better.
As school went back into session, Dublin High provided grief counselors for those who needed them, according to the school district's superintendent's written statement.
"I've just been spending my time with friends and remembering the good days," Remolina said about how she is coping with the tragic loss. "I'm also doing stuff the boys would do for others to keep all of my friends' spirits alive."
Leave a Comment
About the Contributors
Sabrina Contreras, Co Managing Editor
Sabrina Contreras is a senior at California High School. She is one of the managing editors of the Californian, and she loves to write. Along with writing,...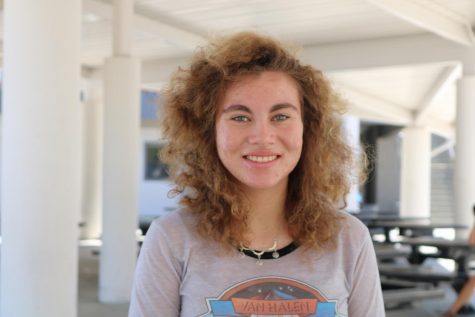 Olivia Haley, Photographer
Olivia Haley is a first year photographer for the Californian Newspaper. She is a junior this year at Cal High. Olivia is also involved in the music program...