Seven is the lucky number for BTS
On the seventh day of the seventh year since their debut, the seven-member group BTS announced their seventh album, "Map of the Soul: 7". 
Along with the announcement, Big Hit (their label) released a schedule showing the dates certain releases drop. 
This album follows "Map of the Soul: Persona," which topped the charts and allowed BTS to join the Beatles by having three number-one albums within a year. 
"Map of the Soul: Persona" also sold over 3 million copies during its pre-order session. Meanwhile "Map of the Soul:7" has already reached more than 4 million pre-orders weeks  before the album's release on Feb.21. 
"Map of the Soul: 7" continues to explore Carl Jung's principles of psychology. Three days after the announcement came "Interlude: Shadow", a continuation of "Intro: Persona" from their previous album. On Feb. 3, "Outro: Ego" was released, the final trailer for the new album.
"Interlude: Shadow," performed by BTS member Min Yoongi, whose stage name is Suga and one of the group's rappers, talks about the commonly ignored dark aspects that come with fame and success. "[Suga] confronts his fears and responsibilities following BTS' worldwide success in a literal hall of mirrors," Claire Shaffer wrote in Rolling Stone. 
Meanwhile, "Outro: Ego", performed by fellow rapper J-Hope, with his peppy disposition, goes through a throwback with the music video hinting at several shots of  BTS's past. The lyrics reveal what struggles he and his fellow members went through to appreciating it because it has led to hs current self as he does his best to move forward, no matter what it may entail. 
On Jan. 17, the group released the first single "Black Swan" with a video performed by MN Dance Company between the release of  "Interlude: Shadow" and "Outro: Ego". 
The song itself can be interpreted as BTS's fear of potentially losing their love for all forms of art, but eventually realizing it's OK for the flame and passion to flicker as long it doesn't get put out. 
To show the importance of art in their newest album, they created "Connect, BTS". This global art event features a variety of 22 artists and a series of exhibitions in five different cities around the world. 
The first was on Jan. 14 at  London's Serpentine Gallery, where Jakob Kudsk Steeson revealed "Catharsis," a virtual simulation of nature completed with visuals and sounds. 
The following cities that were included within the schedule are Berlin (Jan. 15), Buenos Aires (Jan. 21), Seoul (Jan. 28), and finally New York City (Feb. 5). 
All of these experiences are free as BTS connects the diversity of all these different art forms while following through with conveying a positive message through art. 
Each city has a different focus, unique to their culture and their environment. This allows fans to learn about different forms of art.
"We're hearing words that the world doesn't need art and art cannot change the world but we believe in the power of art," the group's leader RM said during a press conference at the first exhibition in London.
 Through events like this and through their lyrics, BTS has always connected with their audience. 
"My favorite part of BTS is the thought and effort they put in to make their music," junior Fiona Xu said. "The music they produce has deep meanings that allow their ARMYs (fans) to connect with them easily. 
"Because of this, their music is able to provide comfort for so many people. Not only that but also their songs teach ARMY to always love themselves no matter who they are." 
The same can't be said during ticket sales. On Jan. 21, all hell broke loose when BTS confirmed tour dates and registration for presale. Fans with memberships have the chance to get tickets earlier along with a second option for those who didn't have the memberships. 
For local fans, BTS will be coming to Levi's Stadium in Santa Clara on April 25-26, as the first stop in their North American tour. 
"I remember the sense of community was so strong," senior Kate Huang said after seeing the band's last tour. "Fan chants were so loud and together. Everyone was having fun and being nice to each other. The performance stages were also mind-blowing."
Fans are extremely excited about this upcoming tour, since this is rumored to be the last tour before the members eventually start their mandatory military enlistment in South Korea.
About the Contributor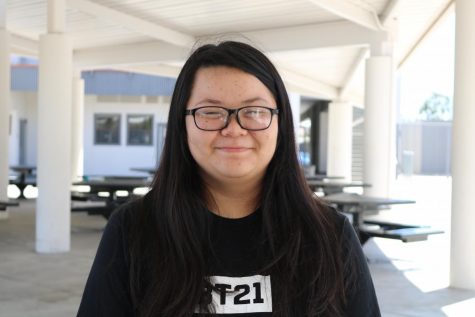 Michelle Nguyen, Features Editor
Michelle Nguyen is a senior at Cal High and is features editor for the Californian Newspaper. She's also the publicist for Cal High Interact, Interact...