Robotics state canceled
Cal robotics teams qualify for state championships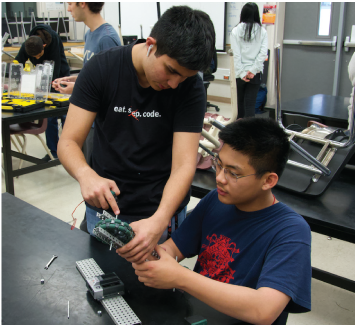 For the first time since 2008, both of Cal High's robotics teams have made it to state competitions.
Officially, the teams are known as the Fighting Grizzlies. The two teams, known as 1516A and 1516B in VEX Competitions, were expected to compete at the state competition at a Google building in Mountain View on March 14. But because of recent health issues and concerns associated with the coronavirus pandemic, the tournament was relocated to Dublin before eventually being cancelled.
The teams made states at different times, with Team 1516A making states in December 2019 and Team 1516B qualifying for states in February of this year. Both teams participated in the same competitions throughout the year.
The teams are headed by their respective senior captains: Sunaad Gurajada and Jernail Dhaliwal for team A, and Shaun Bhide and Rahul Deshpande for team B. They have all done robotics for four years or more.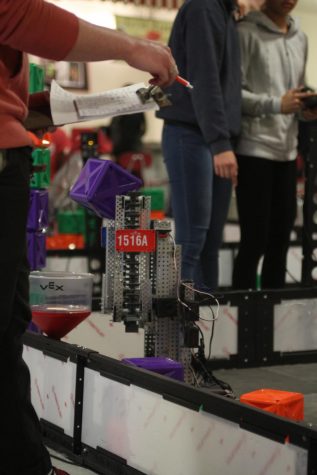 Team 1516A has ten members and Team 1516B has seven members from a variety of different grades. The VEX Robotics Competition has a limit of 10 members per team which is why there are two teams.
"Robotics is finding a way to get a machine to accomplish a task that makes it do what you want it to," engineering teacher John Reed said.
To others, robotics is also a great way to connect with other people.
"I like working with a team to build something," senior Kendra Lin said. Lin has been involved in robotics since her freshman year.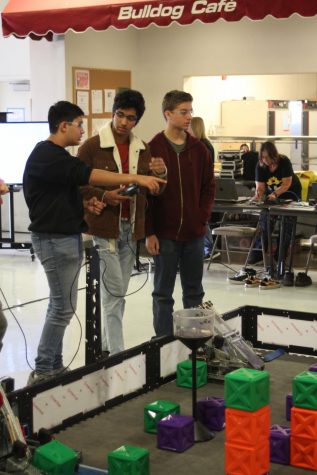 The robotics club, advised by Reed and physics teacher Deborah Sater, is mostly student-run. Many members find this creative freedom appealing.
"Robotics is a student-led program which means there is no curriculum built," Gurajada said. This helps Gurajada treat robotics like a game, making it even more enjoyable.
Their teams competed against 35 to 60 other teams in various competitions this year.
The Cal High teams both competed in the VEX Robotics Competitions in multiple locations throughout the year such as Ukiah High School in Mendocino County, Ceres High School in Stanislaus County, and Dougherty Valley High School.
In competitions, every team pairs with another, competes six times, and gets ranked in qualifiers. The top 8 teams go into a playoff bracket until a team is crowned the winner.
During each match, every team has their robot complete a task for two minutes. The robot must work by itself for 15 seconds with a driver controlling it for the remaining time.
There is also a skills aspect, with one minute allotted for each trial. Each team gets three trials to achieve the highest possible score, which is used in the case of a tiebreaker.
The Fighting Grizzlies have put in a lot of effort into their competitions.
"Every day after school for two hours, I practice driving the robot," Bhide said.
Preparing their robots for the competition is a lengthy process. Once their designs are finalized, they must spend endless hours on training, repeated testing, driving control, and more.
"We spent over 300 hours on programming alone," Gurajada said.
Both Gurajada and Bhide agree that robotics can be challenging and time-consuming, but rewarding as well.
"I enjoy the challenge of coming up with creative solutions," Gurajada said. "The competitive aspect drives you."
Although the team won't be able to compete in the state finals this year, they hope to be able to work hard and cement their legacy as master engineers at Cal.
Leave a Comment