The Weeknd's 'After Hours' is another hit
       Two new platinum certified hits, another hit single, and a new album and tour. What more could fans want? 
       Abel Tesfaye, known by his stage name The Weeknd, has been spoiling his fans recently, and released "After Hours" today.
       His fourth album has been anticipated by many fans since his last album, "Starboy", was released in 2016. He released an extended play in 2018, but it only showcased a few songs and was a rather slow and melancholy piece.
       The Weeknd also gives his fans another reason to be excited. He announced tour dates, his first since 2018. He will be traveling all across the US as well as Europe and Canada. He'll have special guests on as well, such as Don Toliver and Sabrina Claudio.
       Based on the feel of the three released pieces before today, "After Hours" seems to be upbeat and gives off lots of '80's vibes. The songs make use of vintage drum sounds and synthesizers, which add to the effect.
       Cal freshman Piya Devidasani enjoys this different style along with many others. 
       "I've always loved the '80s regardless, so I'm loving his take on bringing the old generation into this generation, however I love both his styles," she said. "I think the songs are great, they have a really smooth flow to them, especially 'After Hours'." 
       But the new sound isn't for everybody.
       "I prefer his normal style just because I am more into more modern music," Cal freshman Nathan Verdis said.
       The Weeknd also revealed before today the artwork for the album cover, which features a portrait shot of himself with blood covering his face. He is seen with the same apparel and look in the "Blinding Lights" video.
       The old sound effects along with the bloody cover art gives a rather eerie and creepy feel. 
       Many fans are hoping to see another popular Toronto artist, Drake, on the album as they have collaborated on multiple pieces before.
       Fans are also keen to see Travis Scott, since the two have also come together before to produce some bangers, such as "Power is Power". 
       The Weeknd performed "Blinding Lights" on the Late Show with Stephen Colbert on Jan. 6, and more recently performed on Saturday Night Live on March 7.
       His album was available for pre-order as the new "After Hours" merchandise on his website.
       The Weeknd also released an "After Hours" five-minute short film. The fans called the short film "gory" and "disturbing". This gave the fans a closer feel for the album. Fans have figured that everything The Weeknd releases before the album is a piece of a larger story .
       In an interview with CR MEN, The Weeknd said, "I feel confident with where I'm taking this [new] record. There's also a very committed vision and character being portrayed and I get to explore a different side of me that my fans have never seen."
       "After Hours" is expected to be one of the biggest albums of the year. Despite the album not being dropped until today, it's already listed at number 10 on the US Billboard 200 chart.
About the Writer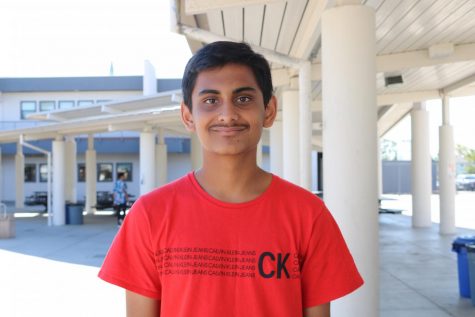 Abhyudaya Srivastava, Staff Writer
Abhyudaya Srivastava is one of the few freshmen in the newspaper class at Cal High. He chose this class because of his interest in writing and his previous...