My Chemical Romance is back
Punk band was starting much-anticipated reunion tour before coronavirus pandemic halted all concerts
The internet was hit with a tweet that would break hearts on March 22, 2013. The beloved punk rock band My Chemical Romance was splitting up. 
They spent six and a half years apart, and devoted fans were convinced they'd be gone forever, but that was not the case.
Believe it or not, My Chemical Romance is back together. The four members have reunited and they're coming back strong. 
At their very first show since 2012, the band tore through a 22-song set in Los Angeles on Dec. 20. They had a variety of tour dates set up all over the world before the coronavirus pandemic hit and put an end to all concerts. My Chemical Romance was set to play Oakland on Oct. 6, but it's unknown when concerts will be permitted again.
"I was shook. I didn't think they were going to get back together," freshman Lilian McNally said. "Gerard Way has a daughter. I didn't think he'd still want to get back into that group, but somehow they're still selling out stadiums, so I mean, good for them."
In 2013, the band broke up in order to restore their mental health after being on tour so frequently wore them down, both physically and mentally. 
"When things start to succeed and go really well, that's when a lot of people start to have an opinion and that's when you run into struggle," lead singer Gerard Way said to Loudwire.
The band knew they were going to return since 2017 before they got back together on Halloween of 2019.
At first, many fans were reluctant to believe it, as they'd heard rumors that turned out to be false before. In one specific interview in June, Joe Jonas shared with KISS, "I've got some dirt. My Chemical Romance were apparently rehearsing next to us in New York recently, which, I thought they broke up? So… that's the gossip!" 
Jonas had no idea of the buzz this simple statement would create across the internet. Many MCR fans, "The Killjoys" as they call themselves, united in their glee only to have to wait on the fence for four more months.
The band originates from Newark, New Jersey, and consists of lead guitarist Ray Toro, rhythm guitarist Frank Iero, bassist Mikey Way, and his brother, Gerard Way, who was inspired to start the band after witnessing the 9/11 tragedy on his way to work. They have five studio albums Including "Conventional Weapons" (2012), "Danger Days: The True Lives of the Fabulous Killjoys" (2010), "The Black Parade" (2006), "Three Cheers for Sweet Revenge" (2004), and "I Brought You My Bullets, "You Brought Me Your Love" (2002).
"The Black Parade" is widely regarded as their best album, and perhaps their best song, (at the very least their most famous).
"Three Cheers for Sweet Revenge" is also highly beloved, with many great hits such as "I'm Not Okay, (I Promise)."
In some ways, now is the perfect time for an MCR comeback. Between Fall Out Boy and Green Day's Hella Mega Tour, Panic at the Disco's album "Prey for The Wicked", and the anniversary tour of band Dashboard Confessional, the "Emo Revival" is hitting the music scene hard.
At the same time, in the years apart, the band members have laid their roots in other places.
In the past years, Gerard Way has been an executive producer for the Netflix hit, "The Umbrella Academy", as well as fronting DC Comics Young Animal Imprint. The Future Violents, led by Iero, has been dominating the music scene.
A full reformation of My Chemical Romance would likely mean band members either stepping back from or fully abandoning these other projects, making it a costly decision for everyone involved.
Many local fans already have their tickets for the Oakland show and are ecstatic to see the band live. One would think the tickets would already be sold out, but there are some still remaining. 
Fans intent to see them should visit the My Chemical Romance website. "I really like their music," freshman Melanie Reisner said. "I grew up with My Chemical Romance, and I'm just excited that they're coming back!" 
It's more than fair to say this is an opinion shared by many. Whether you're an MCR fan or not, the next time you turn on the radio, chances are you'll be jamming to "The Black Parade"right along with the rest of us.
About the Writer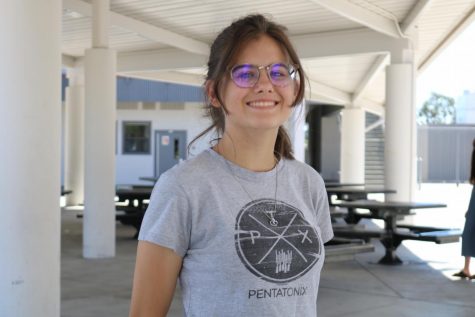 Miranda LeGate, Staff Writer
Miranda LeGate is an aspiring young writer and journalist. She is currently interning at McSweeney's Newspaper in San Francisco, where she does a lot...