SRV Celebrates 110 Years of School Pride
District's oldest high school boasts some unique classes, successful athletic program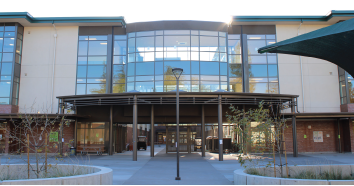 EDITOR'S NOTE: The Californian is profiling the San Ramon Valley Unified School District's four high schools after a series of stories earlier this year that focused on the drastic increase in intra-district transfers over the last few years.
California, Dougherty Valley, Monte Vista and San Ramon Valley high schools all feature different programs and cultures that could appeal to different students and encourage them to stay or transfer schools. The Californian is featuring each school on a different day this week. 
Today: San Ramon Valley High School
Opened: 1910
Principal: Jason Krolikowski
Mascot: Wolves
2010-11 Enrollment: 2, 059
2019-20 Enrollment: 2,068
State ranking: 331
National ranking: 2,164
AP Classes offered: 22
As the only school in the San Ramon Valley Unified School District that has been open for more than 100 years, San Ramon Valley High School has a century of tradition to offer students. 
When it opened in 1910, the high school originally had 30 students, two teachers, and offered six classes: "commercial" (agriculture and business), English, German, history, physical geography, and math, according to the Museum of the San Ramon Valley.
Today, San Ramon Valley has far more than six classes, including the only auto shop and Advanced English 10 classes in the district. It also boasts a highly successful athletic program and a spirited student body that is known for its passionate school pride.
"Our school had to hire four extra security guards for football games because our fans are too rowdy," San Ramon Valley junior Danny Raney said.
The home of the Wolves is well-known throughout the area for its levels of school spirit in other events as well.
"During [student events] you'll often see students carrying speakers around blasting music and wearing ripped shirts with their own writing," San Ramon Valley junior Izabella Ge said. "Face paint and sparkles are also frequently seen."
One opportunity for San Ramon Valley students to show their pride is the Greek Games, where students are randomly placed on teams and have to compete against other teams in a variety of games, including tug of war, jousting, and obstacle courses.
Many of San Ramon Valley's students enjoy these types of activities and the school in general because of its kind student body. 
"I like how everyone is welcoming," SRV freshman Gracie Rieber said. "I like how it's a welcoming environment and how everyone is so happy all the time." 
In the classroom, students enjoy a variety of classes, including Auto 1, Auto Technology, and Auto 2, all of which provide a unique opportunity for students to learn in a hands-on classroom environment. This year, the Auto 1 class worked on fixing an old, broken truck owned by Wyatt Slanec, the teacher of all three auto classes.
"I like working on hands-on stuff," said Emma Rusnak, a freshman at San Ramon Valley taking Auto Shop 1. "I like seeing what I'm working on instead of doing math problems." 
Rusnak said most of the parts for the truck needed to be made, not purchased, adding another element of hands-on work for students. The hands-on aspect of Auto Shop is something that really appeals to students.
"It's more of a self-motivated class," Slanec said.
San Ramon Valley also is the only high school in the district to have Art of Video Production 1 and 2, giving students the opportunity to create small video projects, create storyboards and write scripts.
These types of classes certainly were not offered when the school opened 110 years ago. And  thanks to  a recent three-year renovation, the campus looks as modern as the classes it offers.
A new three-story, 105,000-square-foot building opened  just before this school year after three years of construction disrupted campus life and forced many students into portable classrooms. The $64.5 million project was the largest one funded through Measure D, a $260 million school facilities bond passed by district voters in 2012, according to DanvilleSanRamon.com, a local news provider.
"[The new building] is really nice," said junior Julia Piccioni, who believes more than 60 percent of the school's classrooms are in the building. "There are huge windows all over the building and you can see Las Trampas and Mt. Diablo."
In addition to the newly renovated campus, students said they enjoy the high school's unique location in the heart of downtown Danville.
"It's pretty nice," SRV sophomore Madhav Patel said.  "After school or practice you can just go downtown and get food."
San Ramon Valley is also known for its athletics programs, including standout lacrosse, water polo, football and soccer teams, to name a few.
The school's men's lacrosse team has won the North Coast Section championship three times in the past decade, while the women's lacrosse team won last year's championship. The girls' and boys' water polo teams both reached the NCS semifinals in the open division last year, while the footbal team won the Division I NCS title in 2018.
The girls soccer team has won six NCS titles in the past 15 years, while the boys won the NCS title in 2015, was runner-up in 2016, and reached the semifinals in 2017-18.
"On social media, people find out you go to SRV and tell you that your school is good at sports or that you must be athletic," Rieber said.
San Ramon Valley, however, does have a the least diverse high school campus in the district. The school's ethnic make-up is 73.8 percent white, 9.7 percent Hispanic or Latino, 7.3  percent Asian, 6.8 percent multiracial, 1.3 percent Filipino, .9 percent African American, and .1 percent Pacific Islander, according to 2018-19 Data Quest statistics provided by the California Department of Education. The three other district high schools boast a student body with at least 40 percent non-white students.
Some students see this lack of diversity on campus.
"It seems that everyone here is scared of acting different [sic]," junior Alexander Katona said. "They believe that they need to be wearing the same things: Jordan shoes, designer shirts, and nice pants."
Some SRV students said their classes could be more consistent when it comes to difficulty.
"A lot of teachers have trouble finding a balance for their students," Piccioni said. "Harder teachers make it so it can be really hard to pass without a tutor or outside help."
In 1910, San Ramon Valley High School opened for students who previously attended schools in Concord or Oakland to receive a secondary education, according to "Schooling in the SRV" from the Museum of the San Ramon Valley library. In the early days of the school, the calendar year varied because the dirt roads in town often would be washed away in the winter.
"[The school] opens early each year as a mid-term vacation of two months is taken each year during the heavy rains of the winter when students residing in the rural sections are unable to attend," according to a story in the July 23, 1921 issue of the Contra Costa Gazette.
Over its 110 year-long history, San Ramon Valley has transformed from a rural school with 30 students attending class in a rented cottage to a large suburban high school with more than 2,000 students.