Esports booming during pandemic
Gamers, spectators increase even as events go virtual
A global pandemic caused most of the world to go into quarantine on March 13, causing most sports to shut down and postpone their seasons.
But not esports.
Esports – which are multiplayer video games played competitively typically by professional gamers and often in front of thousands of spectators – has exploded worldwide.
"The video game industry continues to see an impressive jump in both revenue and attentiveness to esports from major media companies as coronavirus-related restrictions roll into May, keeping millions of people at home and searching for new forms of entertainment," Washington Post reporter Noah Smith wrote in an article last spring. "When Riot Games's 'Valorant' entered beta in early April, it seemed to be on a path that would enable it to stand out as more people stayed home."
Cal High sophomore Ben Kessler, who is secretary of the Cal High's Esports Club, said he has spent a lot of time playing video games like "Valorant" and "Escape from Tarkov" since Shelter in Place (SIP) began in March. He used to stream only two to three times, but not only did his playing time increase during quarantine but so did the number of viewers he got.
He's not alone. Esports, and video games in general, have provided many Cal students a release from the high stress and isolation that SIP brought, even after the stay-at-home order was lifted during the summer.
"Video games made quarantine bearable," sophomore Rithik Baral said. "It helped me pass time and make new friends."
Baral said that he used to play five to six hours a week, but when quarantine started he started spending 20-plus hours a week. Now that school is back in session, his playing time has dropped to about eight hours a week.
Cal High sophomore Carl De Vera streams almost daily on Twitch under the name Muji. De Vera, who mostly streams "Valorant" and "Fortnite" said that the amount of video games that he plays daily has increased because he hasn't had much to do. He also says that streaming on Twitch during quarantine has increased the amount of viewers he gets.
In the article, How COVID-19 Virtualized Gaming Events and Local Communities, reporter Stella Chung wrote, "The spread of COVID-19 has forced numerous physical gaming events like E3 and PAX, as well as esports tournaments like Overwatch League, to go entirely virtual".
Gaming companies quickly adapted to the effects of COVID-19 because video games are streamed and anyone can watch with apps such as Twitch and Mixer.
Because people started getting bored of TV shows and movies, video games have been a major source of entertainment.
Video game companies such as Riot Games have taken advantage of the coronavirus. When people become bored, these video game companies released a new game so gamers and fans would have a new source of fun. According to TwitchTracer.com, League of Legends had 160,000 viewers before quarantine. That number nearly doubled to 300,000 viewers in August.
Every year League of Legends has a tournament called Worlds, held in September, where teams from all around the world play for $2 million and glory. Last year's tournament had about four million viewers. Imagine how many viewers League of Legends will be getting this year during Worlds, which began last week and runs through October.
While physical sports have been badly affected by COVID-19, esports continues to have a large presence, and should be sustainable for many years.
About the Contributor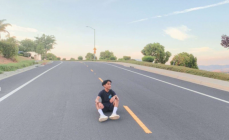 Sri Kotipalli, Staff Writer
Sri Kotipalli is a sophomore now at Cal High. His hobbies are playing tennis, piano, and videogames. He also hangs out with his dog and family. This is...