Student athletes find a way to train, stay in shape during the pandemic
While club sports are returning to action bit by bit, high school sports have been almost non-existent since March.
But despite this nearly eight-month hiatus because of the coronavirus pandemic, Cal High's student athletes have found their own ways to train and stay in playing shape so they're ready to go once prep seasons get rolling again next month.
"I went to the fields by myself to train since they were still open," said junior Noah Nguyen, who plays for Cal's soccer team.
The reason sports have not been brought back completely is because Contra Costa County health officials have struggled to find a safe way for sports to be played while minimizing the risk of spreading COVID-19. The California Interscholastic Federation also postponed the fall sports season to December or later.
As a result of the decision, football, cheer/song, cross country, water polo, and volleyball have been moved to the winter season and will be allowed to host their first practices on Dec. 14. Women's golf, which is generally a fall sport, has been moved to the spring with men's golf and will begin on March 15.
But these setbacks have not stopped students from training, Nguyen is among the many athletes who have been going to public fields at Central Park or Sycamore Valley to practice by themselves or in small groups. Some students have even received professional help to stay in shape.
"My teammate and I went to a personal trainer once a week for two months, " said Nguyen
Other students had to be more creative since they didn't have access to a personal trainer.
"I do drills in my backyard and go on runs to stay in shape" junior soccer player Nick Taticek said.
Weight lifting and physical training has been hard as well because the gyms have only just started opening at a limited capacity. For a sport like football where it is crucial to workout and lift weights, students have had a very hard time getting in their workouts.
"To stay in shape I just started to go to the gym again, and while it was closed I had workout equipment at home," junior football player Jason Duggs said.
Some students have gotten exercise bikes and weights and kept them in their houses, doing their best to replicate their typical gym workout routine from the safety of their own home.
"I have some gym equipment [bicycle and elliptical] in my garage, so I've been using that more than anything to stay active," senior rugby player Diana Castaneda said. "Also in my garage I do a bit of cardio on this step platform to also work on footwork, and I'll also do some basic strength training workouts."
Recently some clubs have started to allow teams to practice again, with many precautions.
"Since I have come back to soccer my team has been split up into two groups of 11 and we are not allowed to have any contact while we play," Nguyen said. "We also have to wear masks to and from the field, and keep our bags six feet apart during water breaks."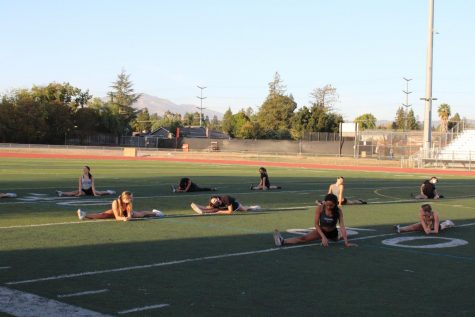 Practices have been held in small groups for some sports at Cal, including soccer.
"I've actually had team practices so I've been going to those," junior soccer player Naya Pollack said. "I also run on my own time to stay in shape because we haven't played games."
School sports have started to return in a limited fashion. While formal, full-team practices can't begin until December, the San Ramon Valley Unified School district approved in September Small Group Activities (SGAs) that allow a maximum of 12 players to work with one coach for up to four weeks. The SGAs format and rules allow for these units to work exclusively together and not intermingle with any players or coaches from other groups during that time.
"We have a conditioning camp every Monday and Wednesday," Duggs said.
Football can be a hard sport to maintain social distancing while playing so just doing conditioning seems like the smartest and safest way to keep the athletes in shape.
"We are put into small groups of eight or nine and wear masks coming and going to practice," Duggs said.
The most common strategies seem to be breaking people off into small groups so that it is easier to social distance. Since it is harder to be active while wearing masks, most coaches don't require them while playing, making it even more important to social distance.
Some athletes have not been so lucky and they haven't had a return to their sport yet.
"I don't get to play baseball until we have open fields in January," junior Dylan Allen said.
While not everyone has gotten to come back to play the sport they love, they are on the road back. And as long as coaches and athletes follow proper safety guidelines, high school sports will be able to return in this difficult time.
But until then, these student athletes will continue to find new ways to practice and stay in playing shape.