Letter from the football gods
Dear Football Fans,
It is our favorite time of year. So many healthy ACL's to feast on. A seemingly endless bounty of untouched, Achilles tendons. So many unbruised hip flexors. Can you smell it?
It is football season, and we, the football gods, demand blood.
The 2020 NFL season may be well underway, but we have been working extra hard since the offseason. This year, we got our work underway in Denver. Von Miller, a former Super Bowl MVP and the man who was to anchor a resurgent Broncos defense, was our first victim. A dislocated peroneal tendon, our weapon of choice. But we couldn't be satisfied with Miller, oh no. In fact, we decided to hang around because the picking was ripe in the Mile High. Jurrell Casey, a key addition to the defensive line in March, was our next target. A torn bicep should do.
And with that, we left Denver, as the tears of Broncos fans flooded the streets.
Our next stop was Los Angeles, a gem of a city, and a favorite of us football gods. You see, we have signed a contract with Satan himself to ensure that the Chargers stay mediocre for an eternity. We honored this tradition by fetching superstar defensive back Derwin James' meniscus.
Onwards we went, zig-zagging across America, sending your favorite players to IR. But then we hit Philadelphia. We, along with everyone else in America who is not from Philadelphia, hate Philadelphia. So on two separate occasions we quenched our cravings for misery from wretched Eagle fans by knocking out two of their starting offensive lineman. On the menu for us, Andre Dillard's bicep and Brandon Brook's Achilles. On the menu for Carson Wentz, getting sacked over 50 times this year. Cope.
The offseason was bountiful, but for us, the real excitement started during Week 1. And thanks to a shortened offseason training period, combined with the lack of a preseason due to COVID-19, souls were ready to be snatched. We danced a jig in the heavens as we began our process of destroying your fantasy teams. Marlon Mack, David Njoku, Le'Veon Bell and Blake Jarwin were all sufficient to quench our thirst.
Week 2 was a bloodbath. A bloodbath that we masterfully orchestrated. Forty Niners fans may want to skip this paragraph. We did our dirty work in New York, or to be accurate, East Rutherford, NJ. Not one, not two, nor three or four but five starters mercilessly struck down by our wrath.
We hit Nick Bosa with the classic, but never old, torn ACL. Solomon Thomas was not spared any mercy, and also received the dreaded ACL tear. Jimmy G? Oh yes, we did account for him, delivering a high ankle sprain via the "Metlife turf".
It's so peachy when people forget that we exist and relegate our duties to artificial grass. We also got our hands on Raheem Mostert, Tevin Coleman and Dre Greenlaw. And that was just the 49ers. When we say it was a bloodbath we mean, a bloodbath.
Our hobby of destroying fantasy teams nationwide was never so fun as this week,  as we sent Saquon Barkley, Christian McCaffrey, Drew Lock, Courtland Sutton, Parris Campbell, Brandon Scherff, Malik Hooker and others to the medical tent. Our personal favorite job was a creative piece we did to the Chargers. Remember the contract we have? Yeah, so did we. In an attempt to get fancy, we gave the team trainer butterfingers, which in turn led to him accidentally puncturing starting quarterback Tyrod Taylor's lung while trying to administer a pain killer injection.
That's right, we did that.
As the season chugged on, we began to coast a little bit. Easing off the major injuries to star players, we began to flip on the switches to enable the minor, pestering injuries. We unleashed a tidal wave of ankle sprains, bruised ribs, twisted knees and sore shoulders. Nagging injuries to Chris Godwin, Chris Harris, Denzel Ward and Jamal Adams will do to keep us appeased.
And then there was Week 5. We were having a productive day, claiming Kelechi Osemele, Sammy Watkins, DJ Reader and Lane Johnson. But then we lost our lunch. Dak Prescott was not on the list. We wanted him to play well, so that one of our arch nemeses, Jerry Jones, would have to fork over hundreds of millions of dollars to him. But sadly, we could only sit and watch as he too, fell victim to the plague of injuries that we have set off in the NFL.
You best believe we poured out a non-alcoholic water for our boy. Our sadness was short lived as we came for Dalvin Cook just hours after, and yet again, putting fantasy owners across the land on suicide watch.
Just a week later, we were back. We watched as the Steelers beat down their awkward step-brothers in the Browns, taking Devin Bush's ACL as compensation in an effort to watch Pennsylvanians squirm. Who would have thought that Devin Bush being out for the year would be the only thing keeping Pennsylvanians squirming, as I write this on a very normal Nov. 4, when nothing of importance is happening in Pennsylvania.
And then we went into Weeks 7 and 8. Odell Beckham, who we previously visited for the purpose of ankle snatching, feeds us his ACL. That so Browns. But enough with the tendon tears, and now for the cracked bones.
George Kittle, his mullet-mohawk is ours. A broken bone in his foot to spite the 49er Faithful as well as a rerun of a previous ankle injury to Garoppolo will keep people talking.
So with that, NFL fans,  we remind you, only blood and bones can fulfill our hunger. The future holds so much potential, with so many spots on IR to be filled. Stay tuned.
With Love,
The Football Gods
About the Contributor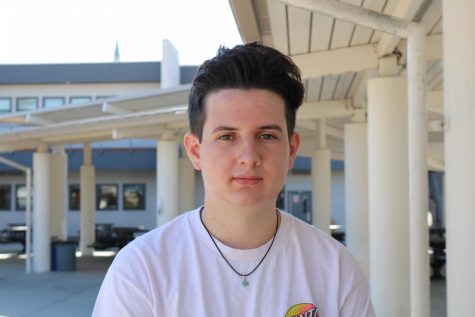 Josh Nichols, News Lite Editor
Josh Nichols is a student at Cal High, and is the News Lite Editor for The Californian. Josh loves sports, specifically basketball and football, and to...