Giving credit where it's due
Cal High teacher band Partial Credit is still rockin' – just remotely now that most members are working from home while campus is closed to students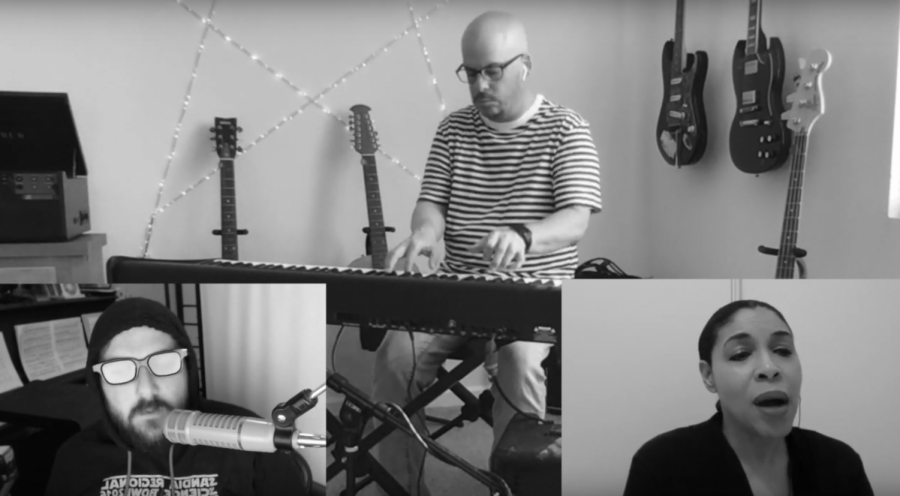 When the lockdown from the coronavirus pandemic first hit Cal High and the school district in mid-March, all teachers scrambled to figure out the ropes on how to convert their teaching curriculum to suit online schooling. 
But for the teachers in Cal's legendary band, Partial Credit, there was something else they needed to save in order to salvage their escape: the band.
"They are creative, fun and talented," Principal Megan Keefer wrote in an emaill.   
The band initially started up about two years ago when AP United States History teacher Scott Hodges and English teacher Anatoly Alexeeff each began playing their guitars and fiddle together. After a few jam sessions, AP Government and World Geography teacher Brandon Andrews finally decided to pull the trigger on starting their own school band. A brief talk with Hodges led to a quick recruitment of musically talented teachers on campus. 
In addition to Hodges, Alexeeff, the guitarists in the band include Global Studies and freshman leadership teacher Hannah Cheng, biology and marine biology teacher Jacob Martin, and AP Biology teacher Andrew White. Alexeeff and White also play the fiddle and banjo, respectively. 
The singers/vocalists are English teacher Kalise Ahern, English and Global Studies teacher Regina Lyon, current choir teacher Lori Willis, and former choir teacher Nick Patton. Lyon also plays the ukulele. 
Besides the guitarists and vocalists, the band also has counselor Jon Sawyer on drums, World History and United States History teacher Ben Anderson on bass guitar, counselor and Rachelle Goldenberg on cello, chemistry teacher Dave Sandusky on the saxophone, and Spanish teacher Scott Tinetti on keyboards.
"That first year was more of a traditional band," said Andrews, who plays the drums and is the video/music producer.
The band would initially meet on Wednesday mornings, but as the schedules changed with quarantine and more teachers were being recruited throughout the year, Andrews knew going virtual was the move.
When the band was forced to move online, the teachers had to find an efficient way to plan, create, edit, and upload their videos and music. And what better way to do this than using YouTube, the ultimate platform for rising creators?
The process of creating a Partial Credit YouTube video lays predominantly in the hands of Andrews. His responsibilities consist of producing the video and music as well as reaching out to fellow band members for clips of whatever he needs to build his vision of the video in his head. When other teachers come up with ideas, they too are free to make it a reality. The content they make together is interactive and constantly makes connections. 
"The larger the band gets, the more ideas are out there," Andrews said. 
There are a variety of instruments and music styles that each teacher plays, creating a multitude of possibilities for them in both videos and style of music. While there are many teachers involved in the band, Andrews makes sure everyone gets featured. 
Currently, the band performs only covers, but some members do write their own music, so there is a possibility for them to start performing their own songs eventually.
A pandemic band isn't quite the same as a band in a normal situation, though.
"We can't feed off of the energy the same," said counselor Sawyer, noting the band now meets during lunches for 30-45 minutes through Google Meets and Zoom. 
But some teachers do come to teach remotely on campus, allowing them to interact in real-time with bandmates while social distancing.
"Sometimes when I'm free I will hit up [Andrews] and we will jam," Cheng said.
Their YouTube channel also gets promoted through their Instagram page, @expandingthestage. The account is run by Lyon.
"I take the amazing videos that Andrews has put together, and use still shots and stories to promote them on the Insta," Lyon wrote in an email.
Recently in one of their videos, senior Andres Arrizon was featured playing his guitar. 
Arrizon is the first student to be showcased on Partial Credit's YouTube channel. He was scouted out by Andrews during his AP Government class. Andrews often saw Arrizon holding his guitar during class and asked him to play a song for the class, leading to a seemingly random, yet exceptional performance of "Eruption" by Eddie Van Halen. 
Afterwards, Andrews approached Arrizon and asked him to record himself playing the song.
"My experience was good," Arizzon wrote in an email. "I have experience recording so it wasn't anything too crazy new for me." 
But he said it was a little different for him as he had to record the audio and video at the same time since his performance of "Eruption" always varies, while he typically records them separately on his own.
Arrizon is also a fan of the band and its channel.
"They are really good," he wrote. "Their latest video and song 'Ordinary World' is amazing! I thought it was super cool."
So the next time students are thumbing through YouTube to find something interesting to watch, they should remember to take a peek at Partial Credit's hard work and dedication into keeping the band going through these unprecedented times. They won't regret it.
About the Writer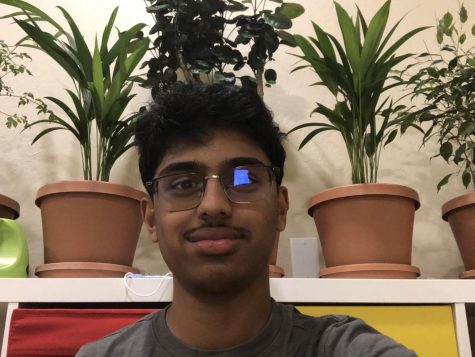 Pranav Sannaasi, Staff Writer
Pranav Sannaasi is a sophomore. He hopes to become a better writer in his role in this class. He enjoys playing video games, spending time with those close...