Trio of underdogs crash NFL Divisional Round playoff party
Do Rams, Browns and Ravens have what it takes to beat another favorite? Sports writer Ben Olson says only Baltimore will win.
Ben Olson, Photographer, Staff Writer
January 15, 2021
And then there were eight. 
After a Super Wild Card weekend saw three underdogs (Rams, Brown and Ravens) topple higher seeds, the Divisional Round of the NFL playoffs is upon us. Four potentially good games await fans this weekend, with spots in the AFC and NFC championship games on the line. This is where stars are born.
No. 6 Los Angeles Rams at No. 1 Green Bay Packers
Saturday 1:35 p.m. on FOX
Quarterback Jared Goff will be the starter in this game for the Rams as they head into the chilly temperatures of Lambeau Field. Packers quarterback Aaron Rodgers will most likely win the MVP this season at age 37, putting up the best season of his career and one of the best of all time. He tossed 48 touchdowns against five interceptions, with a passer rating of 121.5. Rodgers' top weapon wide receiver Davante Adams will be guarded all game long by All Pro corner Jalen Ramsey, who has allowed the fewest receiving yards against in the league. With Goff still having pins in his throwing thumb and Rodgers being at home, this should make for a good game for the Cheeseheads as the Packers will cruise to the NFC Championship game.
FINAL SCORE: Packers 24-17 
No. 5 Baltimore Ravens at No. 2 Buffalo Bills
Saturday 5:15 p.m. on NBC
Lamar Jackson and the Ravens stingy defense head to the tundras of Buffalo to take on Josh Allen and the Bills. While the Bills' offense has looked fantastic this season with the edition of superstar wide receiver Stefon Diggs, the Bills' leading rusher, Devin Singletary, only picked up 687 yards on the ground, and the offense has been one-dimensional in 2020. With Buffalo relying more on the pass game, it should be a very good combo for the Ravens' lockdown secondary and their powerful rushing attack, which will keep Allen on the sidelines. Don't be surprised if the game comes down to a last second field goal.
FINAL SCORE: Ravens 27-24 
No. 6 Cleveland Browns at No. 1 Kansas City Chiefs 
Sunday 12:05 p.m. on CBS
No one should count the Browns out after last week's thrashing of the 12-4 Steelers, but Cleveland comes into this one as resounding 10-point underdogs. Plain and simple, the Chiefs dominate the Browns on every single position. The Browns' 21st ranked defense has to face perhaps the best offense in the league behind quarterback Patrick Mahomes after a few weeks rest. I don't think this game will be close at all.
FINAL SCORE: Chiefs 30-14
No. 5 Buccaneers at No. 2 Saints
Sunday 3:40 p.m. on FOX
Brady vs. Brees: Part 3. This playoff matchup has been circled in Tom Brady's head for a while now, after getting blown out by the Saints twice in the regular season. Don't expect a similar result this time around. After all, it's Tom Brady in the playoffs. But this very well may be Brees' last season. This will be a matchup for the ages, guided by two high flying offenses with determined quarterbacks. This matchup should come down to who can make the important defensive stop. Because both teams have elite run defenses, it will be a heavy passing matchup here. This game could easily go either way, but with this likely being Brees' final season, the Saints come out of the shootout on top.
FINAL SCORE: Saints 35-31
About the Writer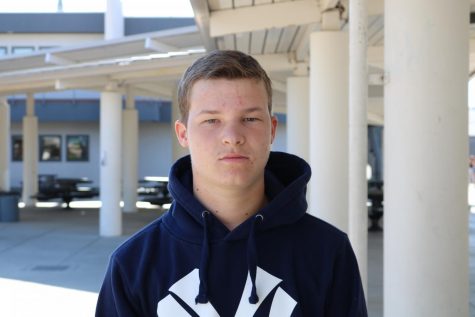 Ben Olson, Photographer, Staff Writer
Ben Olson is a senior at Cal High, and is entering his second year in the Californian. Ben is a photographer and sports writer for the paper. He has a...