"Let Them Play" rally draws split reactions
Students and parents speak up to push for the start of high school sports
With four months left in the school year, time is running out for high school sports to make a return. Some students are making this known.
Dozens of Cal High students and parents marched outside of Cal's campus on Jan. 15 to protest the pause of school sports. Named "Let Them Play", the rally called for school sports to return immediately, while keeping students safe during the COVID-19 pandemic.
"I think it's important for us to play, we only have four short years at Cal and I think we should maximize all of them and do the most we can for each year" said sophomore Natalie Wilson, who plays softball and cheers at Cal.
Wilson and others who support the return of high school sports will be heartened to see tryouts beginning this week and next for sports that state public health officials deem safe to play in the most-restrictive purple tier. Swimming and dive tryouts began this week, while golf and tennis are slated to begin next week. Cross country and track and field are also permitted in the purple tier.
Additionally, Specialized Small Groups, or SSGs, have started on campus for several teams, including football and track. Even indoor sports like basketball are planning outdoor activities to get players on those teams involved.
Purple tier sports will be required to take extra precautions to protect the students.
"Masks will be worn at all times during competition as one of the rules" said Mike Pottengier, who coaches golf at Cal.
The last time sports were played at Cal was on March 13, 2020. Three days later the COVID-19 pandemic closed school campuses all across the country. Since then, fields and gyms at Cal High and throughout Contra Costa County have been empty, aside from small group practices for sports like football and track.
California has been one of the hardest hit states for COVID-19. With more than 3 million cases, California has the most COVID-19 cases in America, likely due to having the largest population of any state.
In Contra Costa County, cases have exceeded 57,000, with 530 deaths as of Feb. 3. These large numbers in COVID-19 have been the main factor in the lack of sports being played at Cal and throughout the San Ramon Unified School District.
While school sports have been largely suspended in California and in Contra Costa Country for months, many other states which have not been hit as hard by COVID-19 have been playing, much to the disappointment of many local athletes.
"I really want to start playing," said freshman Kayla Caskie, who was looking to do cheerleading for Cal. "It's hard sitting at home and watching other states play."
The Jan. 15 rally drew complaints from many students at Cal, who say that students and parents gathering for the rally was reckless, and that sports should not return during the county's current situation.
"I believe that students should not be playing sports especially since our county is still in the purple tier," junior Joanna Ho said. "Also, the athletic department probably does not have enough money to afford rapid covid testing for all the athletes."
She expressed concern that while the athletes might not be affected, vulnerable family members might.
" I feel the most important factor as to why sports should not reopen is for the safety of our people," Ho said. "Many athletes have strong immune systems, so they feel that the virus won't affect them whether they contract it or not, but it does not guarantee that other people in the community will be able to survive it."
Those who wish to see the return of sports say that sports are more than just running around, and say that sports provide a way for students to escape the everyday stress of school and life, which has only been magnified by lockdowns for COVID-19.
"I think it's important for us to be able to play, especially seniors and us spring sports who didn't get to play last year due to covid, as well as people who depend on sports as an output for stress" said senior Riley Stiner, who plays softball at Cal.
With the end of COVID-19 hopefully in sight, activities previously taken for granted will soon be returning, and for those at the rally, they can't wait for sports to be one of them.
About the Contributors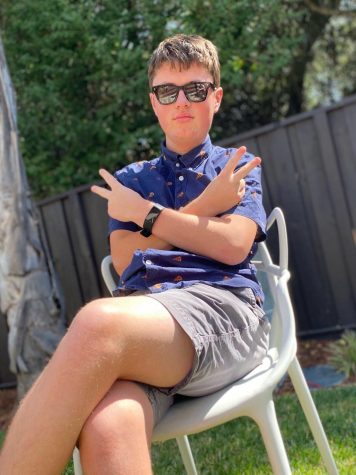 Andrew Sousa, Sports Editor
Andrew is a senior and a third year member of The Californian, and is serving his second year as the Sports Editor. He enjoys cooking, tutoring, gaming,...
Nima Pendar, Co Photography Editor
Nima is a senior at Cal High. This is his third year in the Californian and his second year as a Photography Editor. He has a passion in the biological...