Cal High's American Cancer Society nationally recognized
Cal club places 4th in the country for a fundraising challenge in its first year
Cal High's American Cancer Society has reached great heights in their inaugural year.
Through the American Cancer Society (ACS) "Fund the Mission Challenge", Cal's ACS gained national recognition by placing fourth in a three-day drive to raise money for cancer research.
"These donations will go toward increasing funds for groundbreaking cancer research, treatment, and prevention," said ACS co-president Julianna Ho, who founded the club with her twin sister, junior Joanna Ho. 
"One of the main reasons why starting this club was important to us was to honor our grandpa, who lost his battle to cancer, and our dad, who is a cancer survivor," Julianna Ho said.
Despite being in its first year, Cal's ACS was able to raise more than $2,700 during the three-day span. This was all possible because of hard work and successful advertisement by the club members.
"Joanna and I were so proud of our club," Julianna Ho said. "I can't even put into words how amazed I was that we were able to raise that much money."
That wasn't the club's only accomplishment during the fundraiser. Two members of the club, Julianna Ho and junior Diya Madhok, placed seventh and ninth, respectively, for individual donors on a national scale. Julianna Ho raised $807, while Madhok brought in $696.05.
"Honestly, I was super surprised to be one of the top 10 high school donators," Madhok said. "My initial goal was only $100 and at first I thought it was super unrealistic to achieve."
But Madhok was shocked as the donations began to flood in. 
"I had to keep raising my goal and managed to raise almost $700 in a single day," Madhok said.
Madhok attributed this massive success to her close-knit neighborhood, which she said is very supportive and generous. She said her neighbors wanted to help her raise as much money as possible.
Julianna Ho, on the other hand, started her own business in order to raise money for ACS. The outpouring of support helped her surpass her personal goals and lift the club to a very high national ranking.
In order to receive donations, Cal ACS had to follow the school's strict fundraising guidelines, which includes a fundraising approval form to be completed two weeks in advance and a detailed club budget. 
Two dozen club members worked hard to spread the word and raise money for the challenge, according to Cal's ACS fundraising page.
"Each member [of the club] has an account on our fundraising page so they can individually donate to ACS," Julianna Ho said.
In addition to the "Fund the Mission Challenge", the club does a variety of other activities to help their cause.
"For Valentine's Day the club did a service project where they made Valentine candy-grams for local hospital staff and patients," said chemistry teacher Sarah Gipson, who serves as the club's adviser.
ACS also reaches out to local restaurants and food chains in order to raise awareness and money. 
"We partner with restaurants like Chipotle and Panera," junior Maddie Goldsmith, the ACS vice president, said. "A portion of the proceeds goes toward the American Cancer Society." 
Goldsmith is one of many who has been impacted by cancer on a personal level.
"One of my close family members is a cancer survivor and throughout their entire diagnosis and treatment process, I really saw the impacts of cancer on an individual and a family," Goldsmith said. 
Having gone through this experience, Goldsmith decided she wanted to contribute and help make a difference through the ACS.
The club has made their impact on a local and national scale, and shows no signs of stopping. 
"Moving forward, we really hope to engage as many people as we can to fight against cancer," Goldsmith said.
If more people are involved, the future looks bright for those who could be affected by cancer.
"If the funds are there, I think the science and research will be able to progress so that maybe one day we will be able to live in a world without cancer," Gipson said.
About the Writer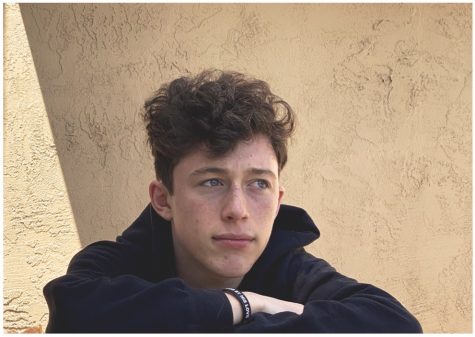 Eli Mayerson, Staff Writer
Eli Mayerson is a junior at Cal High and is excited to begin his first dive into the world of journalism! Eli's loved reading and writing since he was...