2021 NBA playoffs set to be a wild ride
With the new play-in tournament wrapping up Friday night with the heartbreaking Warriors' defeat to the Memphis Grizzlies, all seeds are finally set, and the NBA playoffs will finally begin this weekend. Here's a look at the opening round matchups, with my predictions for each one and a look ahead to which teams should duke it out in NBA Finals later this summer.
Western Conference
No. 1 Utah Jazz vs. No. 8 Memphis Grizzlies
Although the Grizzlies won a hard-fought match against the Warriors to make it here, they just don't have enough to overcome Utah. The Jazz have both a top-5 offense and defense in the league, and they truly earned the top seed.
The Grizzlies, on the other hand, needed career-best performances from Ja Morant, Xavier Tillman Sr. and Grayson Allen to barely nudge past the Warriors in a win-or-go-home play-in game. Although they have a young and scrappy team with solid overall shooting and defense, it won't be enough to overcome the Jazz.
Prediction: Utah in 5 games.
No. 2 Phoenix Suns vs. No. 7 Los Angeles Lakers
This matchup is likely to be the best of the first round. If there is one must-watch series, it's this one.
Never before has the No. 7 seed been favored by so many to upset the second seed. But in this case, the Lakers absolutely are after defeating the Warriors in a fantastic play-in game on a desperation heave from LeBron James in the game's closing minute.
The Lakers are the defending champs, and many agree that this year's team is even better than last year's. The only reason they are even in this situation is because of late-season injuries to both James and Anthony Davis, causing them to slide.
The Suns, on the other hand, outperformed what most expected of them. Chris Paul, who will most likely finish top-5 in MVP voting, added an excellent veteran presence throughout the season that, alongside a surprisingly good bench, allowed Phoenix to jump to the 2nd seed.
Paul is a winner and the Suns are a very good team. Devin Booker is one of the most explosive scorers in the league, and it's all but guaranteed that he will break out for 30-plus points in at least one game in the series.
Regardless, the Lakers are just too good. LeBron has never lost in the first round of the playoffs, and there's no reason to think he will now. The Suns may have a great team, and would win nearly any other first-round matchup, but they got the unlucky draw. Prediction: Lakers in 7 games
No. 3 Denver Nuggets vs. No. 6 Portland Trail Blazers
A re-match of the 2019 Western Conference Semifinals, this series is going to involve lots of drama. In that series, the Trail Blazers were able to defeat the Nuggets in 7 games. It took a massive 37-point game from CJ McCollum in game 7 to lift Portland to the next round, where they were swept by the Warriors.
The critical difference between this series and that one is that Denver won't have their second option and borderline star in Jamal Murray. Murray went down with an ACL tear late in a game against the Warriors, and is out for the season.
The key to this series will be Nikola Jokic, this year's probably MVP. Even though Portland has one of the league's best backcourts in Damian Lilliard and McCollum, Jokic has been so dominant this year that it's near impossible to suggest that he'd be knocked out in the first round.
Pair that with the recent breakout performances of Michael Porter Jr., and the Nuggets are too good of a team with too many talented pieces for the Blazers. While it's not impossible to see Portland overcoming them, the Nuggets should win a thrilling series in which Jokic dominates the Blazers' lack of consistent inside defense.                                                                         Prediction: Nuggets in 7 games
No. 4 Los Angeles Clippers vs. No. 5 Dallas Mavericks
Yet another re-match, but this time of a first-round series just last year. The Clippers won that series in six games, and it featured several great performances, including a game-winner from Luka Doncic.
But the circumstances are much different this year. The Clippers don't have last year's Sixth Man of the Year Montrezl Harrel, and the Mavs' Kristaps Porzingis has been nothing if not inconsistent this year.
While the Clippers have had a reputation of choking, often associating that reputation with one of their two stars in Paul George,  Los Angeles had found a groove after the All-Star Game. They do enter the playoffs on a not-so-hot streak, but for a while there they were playing elite basketball.
Although the Mavs do have Doncic, and are a solid team, I still think the Clippers are too good to lose this series.         Prediction: Clippers in 6 games
Eastern Conference
No. 1 Philadelphia 76ers vs. No. 8 Washington Wizards
Unlike the Western Conference, where nearly every matchup is likely to go to at least six games, the Eastern Conference is a lot less competitive, and this series isn't going to be any different.
Joel Embiid, the runaway MVP candidate until he went down with an injury in March, is going to dominate this series. The Wizards have nobody to guard him, and Embiid will have one of the most dominant playoff performances in recent years.
Despite blowing out the Indiana Pacers in the play-in game Thursday to get here, the Wizards haven't looked particularly good recently. They started to falter when Bradley Beal went down with an injury. Although he's been able to play through it it's been pretty clear how it has affected him.There's a chance that Philadelphia lets the Wizards take a game, but it won't matter.              Prediction: 76ers in 4 games
No. 2 Brooklyn Nets vs. No. 7 Boston Celtics
Another series that will most definitely not go long, the Celtics could have had a chance if it wasn't for injuries. 
The Nets have had all three of their stars for only eight games this year, but have looked dominant in those games when Kevin Durant, James Harden and Kyrie Irving have been on the court together. Many favor them to win the championship, and the Celtics simply don't have enough to overcome them.
Jayson Tatum is explosive enough to win a game for the Celtics on his own, and Brad Stevens is an excellent coach that will be able to utilize his team's assets excellently. But Brooklyn will probably win most of these games in blowouts pretty easily. Prediction: Nets in 6 games
No. 3 Milwaukee Bucks vs. No. 6 Miami Heat
This is one potential matchup of the first round that is bound to be an excellent match. A re-match of last year's Eastern Conference Semifinals, the Bucks will be looking for revenge after going down in six to Miami in that series.
The difference between last year and this year is one name – Jrue Holiday. The Bucks traded for Holiday before the beginning of this season, and while the Bucks are worse off in the standings, they're probably actually better off for the playoffs.
The other key is if Giannis Antetokounmpo can finally perform at an MVP level throughout a whole series. His problem throughout his prime has been his tendency to get shut out of big games, and the Heat have experience doing just that.
The problem with the Heat is they lost a few key rotational pieces in Jae Crowder and Kelly Olynyk, and have been far less consistent this year. While Miami's Jimmy Butler is the epitome of winning basketball, the Bucks look far more reliable to make a deep playoff run this year.
I am a huge fan of Butler and the Heat as a whole, but the Bucks have proven they are good enough to advance to the next round. Prediction: Bucks in 6 games
No. 4 New York Knicks vs. No. 5 Atlanta Hawks
Probably the most intriguing of the first-round East matchups, this one is bound to be exciting for a number of reasons. Neither team's stars (New York's Julius Randle and Atlanta's Trae Young) have been to the playoffs yet, and both of these teams weren't expected to be nearly as good as they were.
Since the Hawks switched up their head coach early in the season from Lloyd Pierce to Nate McMillan, they have been quite successful. They feature a high-octane offense and excellent all-around play. They are excellent at getting to the free-throw line, but the problem is the Knicks' defense.
The Knicks outperformed expectations to the extreme, and this was built around a top-3 defense. While their offense is entirely heliocentric around Randle, their defense is capable of slowing any team down as they allow the fewest points per game.
This matchup is a good offense versus a stellar defense, and the X-factor is going to be if anyone besides Randle can bring consistent scoring for the Knicks. Overall, it's going to be a hard-fought series, but the Knicks should prevail in an exciting one. Prediction: Knicks in 7 games
The rest of the playoffs is going to be exciting too, but in the end there is no team that is strong enough to defeat the Nets at full strength. That is why my NBA Finals prediction is that the Brooklyn Nets will defeat the Los Angeles Lakers in 7 games, and it'll be one of the most exciting Finals in recent history.
About the Writer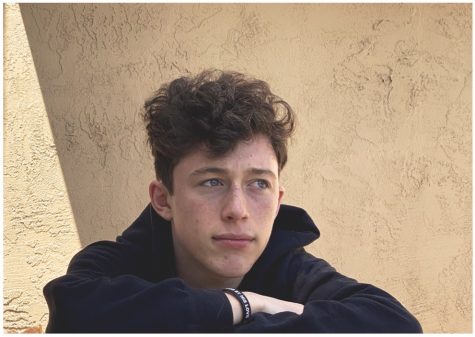 Eli Mayerson, Staff Writer
Eli Mayerson is a junior at Cal High and is excited to begin his first dive into the world of journalism! Eli's loved reading and writing since he was...