'Squid Game' isn't playing any games
Netflix's popular new series surpasses all records while reaching worldwide auidience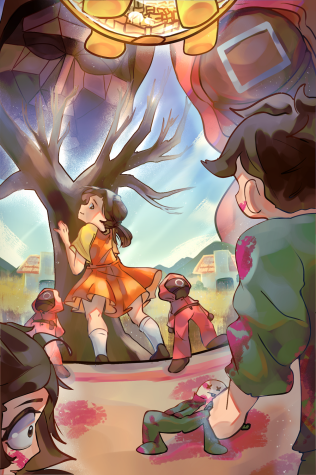 "Squid Game" is sweeping the nation.
Released on Sept. 17, the show became No. 1 on the Netflix charts in only four days. Racking up 111 million views in the first four weeks, "Squid Game" surpassed shows such as "Bridgerton", "Stranger Things", and "Money Heist" in popularity. 
The success of creator Hwang Dong-Hyuk's show lies in its unique plot. 
This South Korean thriller/drama follows a man desperate for money. Joining others with a similar situation, they play five children's games to win a total of 45 billion won ($38 million US dollars), allowing them to pay off their debts.
The popularity of "Squid Game" has brought massive amounts of attention to the actors. 
Seoul native HoYeon Jung portrays the character Kang Sae-byeok, Player 067, in her first ever acting job.
"Kang Sae-byeok is my favorite character," junior Sienna Lewis said. "The reason why I and so many others love her is because she has a great character arc."
Jung had around 400,000 Instagram followers before the show aired. After only two months, her likeable persona has pushed her following to more than 20 million.
Anupam Tripathi had small roles in TV shows before taking on the role of Ali Abdul, Player 199. He's credited in Netflix's "Space Sweepers" and the TV adaptation of the Korean webtoon "Hell Is Other People". 
Abdul moved to South Korea to pursue his acting career. His selfless and kind-hearted nature in "Squid Game" caused his character to become a fan favorite.
Additionally, the characters played by these actors have been a major part of the show's success as well. 
"I like how all the players had different backgrounds and different reasons why they were in the game," said senior Hana Snyder, whose favorite character is Ali. "He was the only one that treated everybody fair and didn't betray anybody." 
In an interview with The Hollywood Reporter, Hwang explains that his goal  as director and creator of "Squid Game" was to reach an international audience with the show, which he undeniably has achieved. The show discusses inequalities and the strain of money in the lower income households while the wealthy unfairly advance in affluence. 
This topic is one relatable to people around the world.
"I like the way that ["Squid Game"] kind of backhandedly represents the economy and how humanity comes into play when it comes to the economy," junior Bonisha Maitra said.
Hwang even based the show on some of his own experiences growing up in a lower income neighborhood of South Korea. 
"I had a time when I wasn't able to make any money and I was supported financially by my mother." he told The  Hollywood Reporter in an interview.
According to an article from Independent News, "Squid Game" has generated nearly $900 million for Netflix. Despite this revenue, Hwang hasn't made the amount of money most people would expect. 
"It's not like Netflix is paying me a bonus," he said in an interview with The Guardian. "Netflix paid me according to the original contract." 
"Squid Game" is still No. 6 on the US charts, despite the show being released two months ago.