Concerts are live again
Students flocking to shows now that more artists are touring
Since life started getting closer to normal after the height of the pandemic in 2020, more students have been attending concerts for artists they've waited too long to see.
Some of the latest artists who have performed around the Bay Area include Phoebe Bridgers, Pitbull, Weezer, Chase Atlantic, Maroon 5 and Harry Styles.
Junior Stephanie Hunt, who went to the Bridgers concert on Oct. 16 at the Greek Theater in Berkeley, said she was looking forward to the show for a while. Hunt mentioned that this was one of the favorite concerts she went to since Bridgers is one of her favorite artists.
Julien Baker was the opener to this concert and people who might have followed Bridgers for a while would know that they used to be in a band together called Boygenius so this was a fun surprise for fans.
"The end was also amazing because there was like four seconds at the end where the whole theater was screaming," Hunt said. "It felt almost spiritual."
Kaylin Datwyler saw Maroon 5 on Oct. 8 with her friends at the Concord Pavilion. She said there were a lot of people there, but there was still space for everyone to spread out. She said a lot of old hit songs were played even with their new album out.
This was Maroon 5's last concert in their tour, which was originally supposed to be in 2019 but only got to take place now. Datwyler described the concert as very emotional for her.
"[Lead singer Adam Levine] would stop for some of the parts and give us a story about how they came up with that song," Detwyler said.
Several juniors attended a Chase Atlantic concert on Oct. 8 in San Francisco. Abby Ramesh had VIP tickets and got to meet the band she has been listening to since late last year. She enjoyed the concert and mentioned how she really liked the set up and the lighting.
"It was fun," said Alina Jones, who attended the concert with Ramesh and other friends. "The speakers were loud."
Ramesh did note that VIP photos weren't as personal as initially thought because of COVID-19 protocols. Instead of one on one photos, a group shot was taken.
The Hella Mega Tour featuring Green Day, Fall Out Boy, and Weezer was rescheduled to Sept. 14, more than a year after its original date in July 2020.  This show at Oracle Park in San Francisco was packed with a lot of people with a wide age range compared to other ones that always have mainly teens and young adults.
"The crowd was really into it," senior David Castillo said. "I really liked how Green Day involved the crowd a lot."
At the Hella Mega Tour and Bridgers concerts, people were required to show vaccine cards and wear masks, but students said the atmosphere for Bridgers was more relaxed and there were spaced out seats so a lot of people ended up feeling comfortable enough to take their mask off.
A lot of Cal students ended up attending the Pitbull concert in late September at Shoreline Amphitheater. People went to his performance and sang along to his popular songs and unlike the other concerts with small artists as openers Iggy Azalea was an opener for this concert.
But the place was so big and packed that sophomore Lauren Grgurina said she could hardly see the stage. For Pitbull masks were just recommended and most people kept them off.
"I looked at the screens that he was performing on because there were so many people," she said.
Grgurina also mentioned how she was actually a little surprised with Pitbull's appearance.
"When he walked out I was like, 'Oh my gosh, he is so short, and he is also really bald'," Grgurina said,
She described the concert as really enjoyable and talked about how she had a lot of fun since she and her friends took a party bus and she said her favorite parts were listening to music and dancing with my friends.
At the Chase Atlantic one they required a vaccination or a negative test but this was an indoor concert so people kept their masks on throughout the event especially with it having higher security.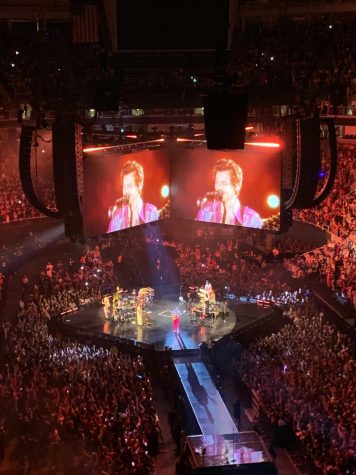 "If they saw you with your mask down more than once they actually kicked you out," Ramesh said.