Mock trial team wins county for fifth year in a row
Cal beats rival Miramonte to advance to state finals
Cal High's mock trial team had a daunting reputation to live up to at the virtual Contra Costa County Mock Trial championship.
Led by senior co-captains Cindy Zhu, Ami Baid, and Daniela Kuthy-Cervantes and coached by teacher Brian Barr, the team had won the county championship for the last four years. Trophy after trophy won by Cal's team in the past line a shelf in Barr's classroom. 
"The whole team was really trying to [win], especially all the seniors," senior defense witness Noelle Yamamoto said. "We were pretty good friends with last year's team when we won the four-peat, and with them gone, it was more of like, 'Do we have what it takes to carry it on?'"
It turns out they did. After pulling through in the finals on Feb. 15 against longtime rival Miramonte High, Cal's four-year win streak became five. This decisive trial was scored by Judge Joni Hiramoto and four other attorneys.
"We've won every single year since I've been on the mock trial team," Zhu said. "And it's really nice that my senior year we kept the streak going."
Miramonte placed second in the four-week competition that began Jan 25, while De La Salle finished third after defeating Dougherty Valley in the consolation round. 
Cal defeated Dougherty in the semifinals and Acalanes in the quarterfinals to reach the championship for the 10th time in the past 11 years.
The only precedent to the five consecutive county championships is Miramonte's streak from 2002-06. The two schools have won every championship for the past 15 years, with Cal claiming eight of these titles.
In addition to its current streak from 2018-22, Cal also won the county championship in 2011, and 2014-15.
Mock trial competitions revolve around a different criminal case each year. Every school has a prosecution and defense team, which are matched against other schools' opposing sides. Students take on the roles of attorneys, witnesses, clerks, and bailiffs that would be in a real trial.
This year's case was People v. Cobey, the trial of desert gardener Jamie Cobey. Cobey was charged with the first-degree murder and manslaughter of landlord Erik Smith, who died after not seeking medical treatment when he was bitten by a Mojave rattlesnake coiled inside his mailbox.
Prosecution teams alleged that Cobey placed the rattlesnake in Smith's mailbox with the intention of killing him because he contributed to the death of Cobey's mother. Defense teams argued Cobey didn't commit the crime, pointing out the likelihood that Smith's death was a coincidence and contending that Cobey had no intent to kill.
"Murder cases are my favorite,"  said Yamamoto, who played the role of Cobey. "I've always loved murder trials more than other ones, but this year is really interesting." 
Cal competed against 15 other schools throughout the county. The top eight schools from the four preliminary rounds advanced to the playoffs. Cal had a record of 2-2 in the preliminaries and was seeded seventh. But in the playoffs, where teams were eliminated after just one loss, Cal went undefeated. 
"The top eight is very stiff. It's not an easy league at all," Cal attorney coach Ken Mifsud said. "I'd say 12 of the 16 are very competitive schools."
Cal's mock trial team is trained by Barr and two attorney coaches, Mifsud and Larry Lowe, who have volunteered for the team for seven and 12 years, respectively. Mifsud is a criminal trial attorney and Lowe is a commercial trial attorney.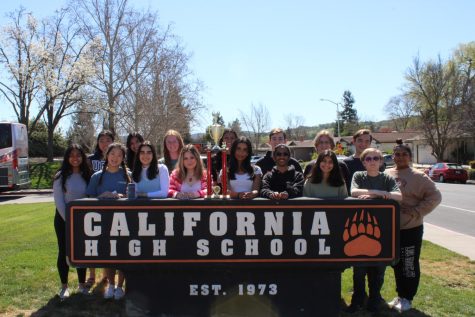 "[Our coaches] are excellent at what they do and they really know how to train us like actual attorneys instead of just students, and that makes a big difference in the courtroom," said prosecution witness Reeya Deshpande, a senior who has been on the team for four years.
Deshpande said she fondly remembers the prosecution team working together to brainstorm snake puns for their opening statement theme where they metaphorically referred to the defendant as a true snake.
Many students said this type of bonding really helps with the team's chemistry.
"We have really good friendships and chemistry, which is really important especially for witnesses and attorneys that need to have really good flow," Yamamoto said. "Having good team morale has always been important, and I think that's one of the things that helps us succeed, because we perform as a team."
To prepare, Barr, who also serves as The Californian's adviser,  helps members meticulously study the case details and practice applying them in their arguments and performances. Lowe and Mifsud each come in once a week to add their legal expertise. The team also scrimmages against schools outside of the county to prepare.
"We just have a really great support system, and we have really dedicated teachers that make the students really dedicated as well," Zhu said. "It's a combination of hard work and resources that we're super grateful for."
Lowe and Mifsud attribute the team's success to Cal's deep pool of strong and driven students and its consistent coaching.
"Once you establish a level of excellence, that tends to continue, as the older students pass it on to younger students," Lowe said. "It's easier to be dedicated to a program like mock trial when you feel that kids are equally or even more dedicated. It wouldn't work otherwise. And winning a lot helps." 
By winning county, Cal advanced to the state finals, which began Thursday and runs through Sunday.  Here, 32 county champions compete in four trials over three days for the right to represent California at the national championship in Michigan in May.
Senior Shiphrah Moses and junior Sathvika Sitaraman also advanced to state by placing second in the competition for courtroom journalist and artist, respectively.
"[The state finals are] definitely going to be very stressful but fun," senior Carter Soe said. Soe has been in mock trial for three years and will be competing in state for the first time as a defense witness. "You're going against the best teams in the state."
Zhu said that competitors at state have very diverse approaches to mock trial, pointing out that many Southern California teams are more dramatic and acting-based.
"It's always nice to compete against something fresh and something new," Zhu said. "There's a lot less pressure when going into states as well, because there's not like this tradition of winning or expectation that you really want to get all of state, it's just really to have a good time with your team."
One of the highlights of team bonding this year came when most of the team met at the City Center to watch the livestream of the county awards ceremony, when students learned they won.
"We actually met up [after winning the county competition] and we went to [the] City Center and we hung out at the parking lot. And I swear, I just know that we caused some kind of noise complaint somewhere, like there's no way [we didn't], we were yelling so loud," Deshpande said. "It was such an exciting moment for our team to sort of be together even when we've been so far apart."