SF Shakes shakes up 'younkers' with lively Shakespeare performance
Plays are a lot less fun when you have to read them. 
This is especially true when it comes to Shakespeare. How many times can someone read the words "wherefore," "thine," and "younker" (yes, that one is real, it means young person) before they go mad? 
Luckily, for Cal High students, madness might have been avoided as the San Francisco Shakespeare Festival, aka SF Shakes, put on a live performance of one of Shakespeare's most famous comedies, "A Midsummer Night's Dream", on March 22.
"A Midsummer Night's Dream" follows the stories of a comical cast of characters. The play's central conflict revolves around two lovers, Lysander and Hermia, struggling to stay together against all odds. 
"It's one of Shakespeare's most entertaining plays, I think," Yamini Jain, the actress for Hermia, said. "It was a big part of what got me into Shakespeare in the first place."
The performance was lively and entertaining. From the intricate props to the careful choreography, it was clear that the cast and crew spent a lot of time making the play come to life. 
SF Shakes' rendition of "A Midsummer Night's Dream" differed from the original in a couple of ways. Though the play is based in ancient Athens, the actors wore modern clothes and spoke with American accents. Such changes made the show more accessible to the general audience and more entertaining for students. 
"We really want to make Shakespeare more accessible for everyone," Charlie Lavaroni, who played Helena, said. "I've been working at SF Shakes for a while, and it's our biggest goal."
Audience participation was also a big aspect of this production, with the actors selecting a volunteer to fill in for the role of Snug the Joiner in a few key scenes. 
"I've been into Shakespeare for a long time," freshman Sophie Engelman, who volunteered to play Snug the Joiner in the afternoon performance, said. "Getting to be a part of this was a cool experience."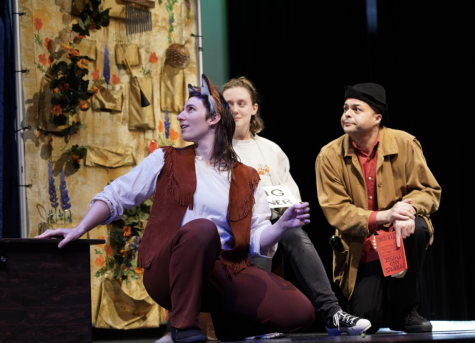 The enthusiastic inclusion of the audience coupled with the actors' lively performances brought the show to life in a way many Cal students may not have seen before. While reading Shakespeare in class is common, getting to watch a live performance can serve as a more captivating introduction to his work.
"I think, as a big Shakespeare fan, it's a great way to introduce students to [Shakespeare's] stuff," junior Tyler Hurley, the audience volunteer for Sngu in the morning show, said. "The actors really made it seem like a fairytale and drew the audience in."
Added junior Addison Erridge, "I'm not really into Shakespeare, but I still liked the show. It was a lot more entertaining than just reading his plays in class."
SF Shakes' rendition of "A Midsummer Night's Dream" brought to life something that many younkers in the audience had only ever read on a page. And it may have been the push they needed to enjoy Shakespeare's work to its fullest.