Sports attack
Hang on for a minute...we're trying to find some more stories you might like.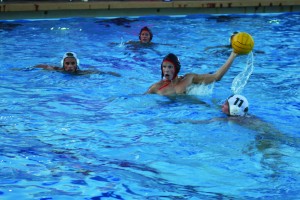 Men's Water Polo
2010 Record: 16-9 overall
Key Losses: Ron Schmucker, Brian He
Key Returners: Eric Hildreth, Austin Thomas, Jake Hoyt,  Alex Voloshko
Key Newcomers: Cameron Speltz, Adam Kimmel
Coach: Tony Tovani
Confidence is high this year for the men's water polo team. The experience of the returning players will boost the men's team to new heights.
"We will embarrass the other teams," said senior goalie Cameron Speltz. "Our goal is to try to make it into the NCS playoffs further than last year."
The team had a victory over Mission San Jose on Sept. 9 and a loss to San Ramon on Sept. 15.They are looking forward to the San Luis Obispo Tournament on Oct. 7-8.
After posting a 16-8 overall record last year, expectations remain high. Last year, the team failed to make it past the first round of the playoffs after losing to Foothill 9-7.
The men's team is preparing for key games against rivals De La Salle and Granada
"Our goal is to come in the top three in our league," said coach Tony Tovani.
-Eric Yee, online editor
Women's Water Polo
2010 Record: 1-6 EBAL
Key Losses: Shannon Pinion, Hannah Dittman
Key Returners:  Zara Juskalian, MacKenzie Larson
Key Newcomer: Maddie Hurd
Coach: Jenna Casady
The women's water polo team is looking forward to an uplifting season that will be led by a dominant group of returning seniors.
Last year, the tough lineups of other schools proved to be too much too handle. This year looks to be a fresh new start for the team after last year's disappointing 1-6 record in EBAL, with their only win coming against Livermore.
This year brings a handful of talented newcomers, which will hopefully lead to more wins. Freshman Maddie Hurd brings a lot of ability to the table, and is definitely a player to watch for.
"I'm looking forward to playing the other schools and beating them," says senior Mackenzie Larson. "I would like to step up and be a strong leader for the team."
The Grizzlies took a 17-5 loss to San Ramon Valley on Sept. 15.
In the game, senior Zara Juskalian scored three goals, while Maddie and junior Ellen Perfect added one goal each.
The team is preparing for big games against Amador Valley, Carondelet and Monte Vista.
-Eric Yee, online editor
Cross Country
2010 Record: 2-12 overall
Key Losses: Cory Chew, Elaine McVay
Key Returners: Charlene Chew, Sameer Patel
Key Newcomers: Rana Koussa, Christian Aldana
Head Coach: Dave Hill
Cal's cross country teams are hoping to run over the competition this year.
Both the men's and women's teams have a strong nucleus of runners this season.
Senior Sameer Patel and junior Charlene Chew are team captains looking to lead both teams to victory.
But the teams suffered key losses on both sides with Elaine McVay, and Cory Chew graduating.
The teams have some young players who are expected to step up. Junior Chris Jachowski said that Brian Paniagua is a candidate to break out this year because he worked really hard during the summer and has improved immensely.
At the recent Oak Hill Park meet, the team finished 11th out of 19 teams because Sameer and Charlene were sidelined with injuries.
Assistant coach Dina Anderson said the goals of the teams were to have the kids develop steadily through the season and peak around NCS and be injury free.
Overall, the cross country team expects to have a strong season.
– Alec Bandler
Women's Golf
2010 Record: 2-12 overall
Key Losses: Captains Madison Gerecke, Tara Burns.
Key Returners:  Angela McElroy, Madeline Schenk, Samantha Cookson, Claire Williamson
Key Newcomers: Jennifer Zhang, Chi Cheng
Coach: Mike Pottinger
With some new blood on the course, the girls are anticipating on building a stronger team this season. Last year's team captains Madison Gerecke and Tara Burns graduated, but two new freshmen, Jennifer Zhang  and Chi Cheng, look to help kick start the new season.
This year, the team has hit off on a rough patch with a league opening loss to San Ramon.
"Despite the first match's outcome,  the team's success this year will be attributed to more practice time and a positive outlook for rest of the season's performance," said coach  Mike Pottinger.
An optimistic spirit, the discipline to practice and to build sportsmanship is the formula to a well-rounded team, and it seems to be holding the Grizzlies together.
"We are looking to have fun and for some good sportsmanship between us and the other teams and to hopefully win a few matches," said senior captain Angela McElroy.
– Esther Lu
Womens Tennis
2010 place: 7-16 overall
Key Losses: Kellie Taylor
Key Returners: Shannon Hung, Michelle Kim
Head Coach: Kal Peters
Assistant Coach: Lori Radanovich
The women's tennis team is looking to crack the top four in EBAL this year after finishing fifth last year. But Cal will have to do this without one of its best players, Kellie Taylor, who graduated.
"Kellie's absence is a huge hole to fill," said assistant coach Lori Radanovich.
The team has five sophomores who are likely to break out this year.  Hopefully, one of these sophomores can fill the hole left by Kellie
Top player Shannon Hung, who has lost only twice this year, leads the team once again.
Shannon's goals are high as she strives to win the EBAL and NCS Championships this year.  She and Kellie teamed up to win NCS doubles championship.
– Alec Bandler
Women's Volleyball
2010 Record: 24-7 overall, 9-5 EBAL
Key Losses: Jessica Allman, Allison Simmons, Michelle Watt
Key Returners: Sabrina Clayton, Allison Good, Tess McConnell
Key Newcomers: Tracy Ogata, Mackenzie Stang
Coach: Todd Baham
After coming in second place last year, the Grizzlies are out seeking an EBAL title this season.
"We want revenge," said junior Tess McConnell.
Cal expects to win EBAL this year after last year's disappointing finish.
They are off to a good start with an 8-2 record, and 2-1 in league. The only league loss came to San Ramon after the Wolves took three out of the five games.
The Grizzlies are currently in second place only behind the 3-0 Monte Vista, which has yet to play Cal.
"We are good, we have a lot of experienced girls, and we are just experienced all around," said senior Lindsay Wood.
The ladies have won two league games so far, with Amador up next on the chopping block.
– Zach Stalcup