Grizzlies hot and cold with weather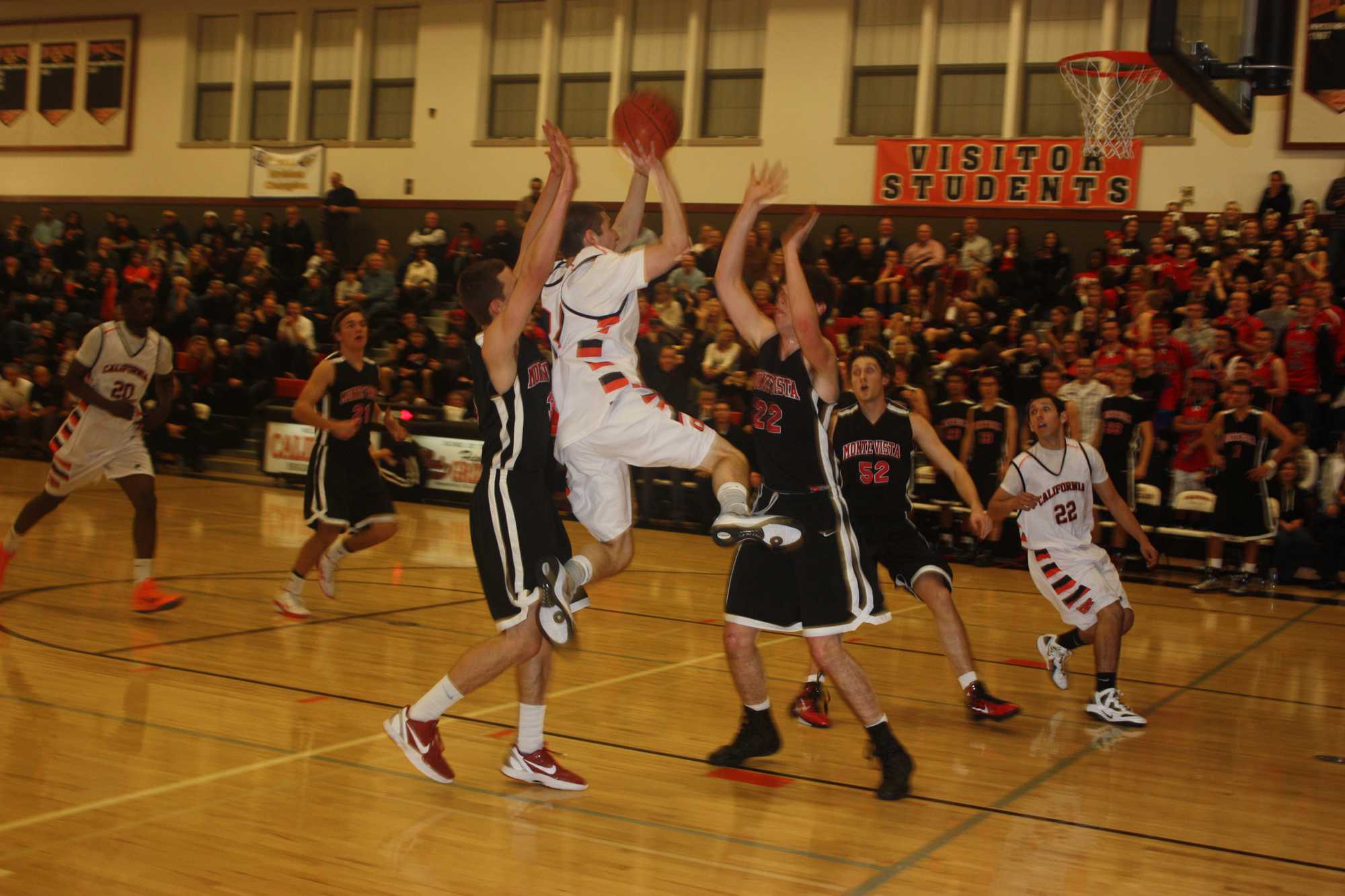 by John Sexton, Sports Editor
Men's Basketball
Cal High's hoopsters have had a rollercoaster of a season.
The Grizzlies opened league with a three-game winning streak, only to be hit with a five-game losing streak that the team finally snapped last Tuesday against Livermore by a score of 74-60.
San Ramon Valley was the latest team to take down the Grizzlies, 66-60 on Jan. 27.
Cal went 3-for-13 on shots in the paint in the fourth quarter, which led to the defeat.
De La Salle executed its customary Cal High beat-down on Jan.24, as it doubled up the Grizzlies 66-33.
Cal (4-5 EBAL, 10-11 overall) opened league play in early January with decisive wins over San Ramon, Livermore, and Granada.  These wins were followed by a string of losses that really shook the team's resolve.
"We're kind of inconsistent," said coach Bob Donovan. "Some games we play well, some we don't."
On top of Donovan's "must improve" list? Rebounding. The lack of rebounding was the Grizzlies' downfall in their OT loss to Foothill on Jan. 13.
"We just have to screen out and get rebounds," said Donovan.
He believes the team must also try and shoot their way out of their current slump.
The team must have a winning overall record to be eligible for an NCS berth.
Two players stand out so far this season – senior guard Ryan Hyrn and senior center Noel Frazier.
Hyrn has demonstrated the ability to put up points in bunches.  He scored 15 points in the win over Granada and  knocked down key free throws to seal the victory over Livermore.
Hyrn works well with the other guards, such as senior David Eplin, and sets up his teammates as well.
One of those teammates is Frazier, who has the ability to get the fans out of their seats with his spectacular dunks.
In addition to the flair, Noel has been able to get it done on both sides of the ball. In the Granada game, he had 15 points and three blocks.
The team has played more road games than home so far this season, so they hope for some success at home down the stretch.
Results from Friday's game against Granada were not available when The Californian went to press.
Men's Soccer
With a talented roster featuring 10 seniors, the Grizzlies are once again the team to beat in the EBAL.
For the second straight year, Cal is on top in the standings at 13-3-2 overall, 5-3-1 in league play.
Riddled with injuries, the Grizzlies suffered a heartbreaking loss on Jan. 12, when they lost 3-2 to visiting Monte Vista.
This was then followed by a 4-0 loss to rival De La Salle on Jan.17, and a 5-2 loss to San Ramon Valley on Jan.19.
The losses ended a 39-game undefeated streak, dating back to the 2008-09 NCS Championship game.
On a higher note, the team was featured in ESPN RISE, the high school affiliate for ESPN, the week of Jan. 8 as the 37th best team in the nation.
The team has been featured there since Week 3 of the year, dating back to Dec. 11.
"We work very well as a team, and often hang out outside of school," said junior forward Nate Grixti. "We are all good friends."
Nate leads the EBAL in goals scored with 17. Seniors Brandon Brown and Chris Nodhal have eight goals apiece.
The team has scored 31 more goals than its opponents this season.
"We've played well, but we're always looking to get better," said coach Chris Faidley. "Championships are created by paying attention to the details."
Coming off a terrific win at the Winter Classic, the men's team is on track to win the league and put themselves back in a great position to win and become EBAL champions.
Results from Thursday's game against Foothill were not available when The Californian went to press.
– Eric Yee
Women's Soccer
The ladies are off to a strong start, with only three losses so far this season.
Cal (6-3-2) is fourth in league after back-to-back 1-0 wins over Amador Valley and  Granada on Jan. 31 and Jan. 26.
Senior Morgan Collyer leads the team with seven goals on the year.
Close games have been an issue for the team, after suffering a 1-0 shutout at Foothill on Jan.10.
The team won a huge game on Jan. 17 against Carondelet, with a final  score of 3-1. The
ladies followed up with  a disappointing 5-2 loss to San Ramon Valley on Jan. 19.
"We work on ball possession and shooting at practice," said junior goalkeeper, Lauren Holden. "The overall team chemistry has improved."
Determination and hard work from these ladies is important to bring the team back to the playoffs, where they hope to go further then last year.
Results from Thursday's game against Foothill were not available when The Californian went to press.
– Eric Yee
Wrestling
Despite the team's poor record, the Grizzlies are making a big improvement over last year's team.
The Grizzlies lost two of the best wrestlers from last season after Rich Garwood and Cole Pricco graduated.
"I feel like our team is young, and have a lot of work to do to get better." said junior John Pricco, who wrestles in the 152 weight class. "But over the past few weeks we all have improved a lot."
With additions of freshman wrestler Jordan Manibusan (128), Cal should send more wrestlers to the EBAL Championships and NCS than last year.
Senior captain Shaun Lin predicted about six wrestlers to make it to NCS this year compared to only two last year.
The team also has a new attitude about winning this season, even though the Grizzlies are 0-4 in league so far.
– Luke Finkel
Women's Basketball
Livermore fell to the Grizzlies 45-43 on Jan. 31.
The win came on the heels of a satisfying 47-43 win over San Ramon on Jan. 27.
After a disappointing non-league start to the schedule, the ladies have a 4-5 EBAL record and hope to fare better as the season progresses.
The bright spots on the team are juniors Jessica Catson and Kwyn Cooper, and senior Shannon Villanueva, who has shown she has a sweet stroke from beyond the arc.
Results from Friday's game against Granada were not available when The Californian went to press.
– John Sexton