Formal dances are too costly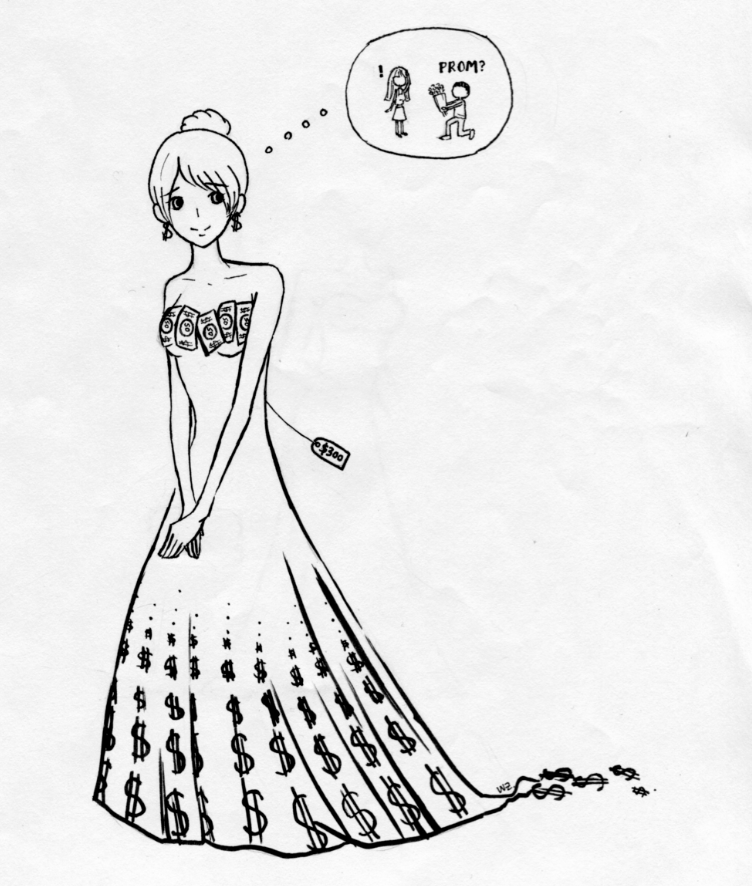 Big dances call for big costs.
But are these costs, which seem to grow each year, justifiable?
Prom costs can easily exceed $250 at the cheapest, and that's just covering a ticket, limo, dress, and shoes.  Throw in the price of going to a salon to get hair, makeup and nails done, as well as photos, a boutonnière or corsage, and a pre-dance dinner, costs can really skyrocket.
As prom and ball season is upon us – Junior Prom was April 5 and Senior Ball is May 10 – many families are spending extravagant amounts of money on these annual events. The average prom cost for families in California last year was $1,079, while the nationwide average was $1,139, according to ABC News.
It is not worth investing $1,000 on just a few hours for prom or ball. That is ridiculous. Spending less than $300 is far more reasonable.
Costs keep increasing each year because parents want their teens to feel special, so they spend a ridiculous amount of money to make their one night memorable.
"You don't want your kid to be the only kid who doesn't have what the other kids have," Kit Yarrow, a psychologist and professor at Golden Gate University, told USA TODAY.
This puts pressure on families to cash in excessive amounts of money for one night.
Teens are trying to get their night right by spending a ludicrous amount.
"Kids are fantasizing about their own stardom in a way," Yarrow said. "This is sort of their red carpet moment."
Spending a lot of money does not always make the night better. Using money wisely and knowing it was not flushed  away makes it worthwhile. The night can still be meaningful and remarkable without hitting four figures.
But families tend to overlook that factor. Many families believe that spending more money makes the night more special.
This is the one day parents let their teens splurge, second to their wedding day, says Marshal Cohen, a chief industry analyst at market research firm NPD Group telling Glamour Magazine's website.
"The thing that stuck out the most is that this trend is continuing to grow,"  Nat Sillin, head of Visa's US Financial Education, told ABCNews.com.  "Prom affects so many families in the country, and every teen has an experience, whatever it could be."
Many teenagers place these dances too high on the scale of importance.
Girls go to great lengths to make sure no one else gets their same dress by going to expensive boutiques such as Blossom's and Flare's here in the Bay Area that keep registries of the dresses that girls from area schools buy.
This is so no two girls from the same school show up as "twinsies."
Things seemingly trivial as those are what makes the night so overpriced. Knowing where to look at reasonably priced dresses from $50-$150 are possible when you take the time to go to the sales sections of department stores such as Macy's.
Also, teens are just thinking of extra stuff to get.
"They are now buying two pairs of shoes," Cohen said.  "One to go to prom and one to dance in."
These annual affairs alone are benefiting the industries. They rake in tons of money from teenagers' expenditures.
"Prom has become a very big production," Leigh Dow, owner of the marketing company Dow Media Group, told  USA TODAY.
Now, not only girls spend that much money. Boys included are spending a decent amount. Men's Wearhouse says boys are spending $60 to $200 on tuxedo rentals, according to USA TODAY.
There are many ways to save for the big night and the solutions are viable. Buying tickets early can definitely salvage a few bucks. They usually sell more expensively closer to the date. Also for transportation, getting a huge group and splitting the costs for either a party bus or a limo can be worthwhile.
Opting out of professional photography, and taking pictures with one's cameras and phones is also a good way to save money.
For girls, hair, nails, and makeup can be done at home or by a friend to save money, instead getting it professionally done at salons which can be expensive.
It is also recommended that setting a budget can be useful as money can be thrown around so quickly until $1,000 is somehow spent.
Prom and ball should each be memorable events, but spending $1,000 on them is  not justifiable.
Spending $300 or less for the night is more realistic.