A summer of blockbusters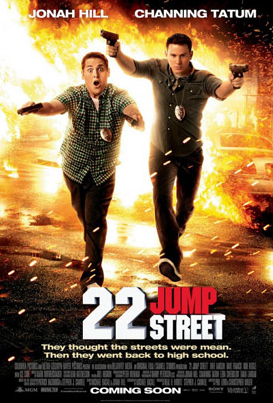 Julia Savage, Staff Writer
May 21, 2014
This summer – aptly named the summer of sequels – is going to be full of movies for everyone, from action-comedies to animation.
"22 Jump Street," starring Jonah Hill as Schmidt and Channing Tatum as Jenko, follows the same plot line as its predecessor, but this time these undercover cops are going deep into college territory.
In the first movie, "21 Jump Street," Schmidt and Jenko are sent back to high school to take down a synthetic drug ring led by Mr. Walkers (Rob Riggle) and Eric Molson (Dave Franco). Both Riggle and Franco, along with Ice Cube, as Captain Dickson, will be returning in this sequel which opens on June 13.
"22 Jump Street" was written by Michael Bacall, the same screenwriter for "21 Jump Street." It should guarantee laughs to anyone who found the original film funny.
Though fans of "21 Jump Street" only had to wait two years for their sequel, fans of "How to Train Your Dragon" had to wait more than four.
"How to Train Your Dragon 2" will also be released on June 13 with a pretty outstanding cast. Jay Baruchel (Hiccup), Kristen Wiig (Ruffnut), Jonah Hill (Snotlout), and Cate Blanchett (Valka) will all make appearances.
The original pairing of Hiccup and his dragon Toothless discovers a hidden cave full of wild dragons and the mysterious Dragon Rider. They find themselves in the middle of a battle when wild and tamed dragons meet.
Though not really a sequel, "Teenage Mutant Ninja Turtles" will be the cartoon-turned-movie that the child in everyone has eagerly been awaiting.
The same four Ninjutsu-trained turtles, Michelangelo (Noel Fisher), Raphael (Alan Ritchson), Leonardo (Johnny Knoxville), and Donatello (Jeremy Howard), take on The Shredder (William Fichtner). In this version of the Ninja Turtles, The Shredder is the mastermind behind the creation of the mutants.
Directed by Jonathan Liebesman, "Teenage Mutant Ninja Turtles" is going to be released on Aug. 8, the 30th anniversary of the original saga.
With a new take on the Transformers trilogy, "Transformers: Age of Extinction" follows Cade Yeager (Mark Wahlberg) and his daughter Tessa Yeager (Nicole Peltz) after they discover Optimus Prime in their possession. Their discovery brings the government, Autobots, and Decepticons down on them. Fans can catch "Transformers: Age of Extinction" in theaters on June 27.
After "Rise of the Planet of the Apes" was released in 2011, fans were ready for a sequel. In the 2011 film, Will Rodman (James Franco), a scientist looking for a cure for his father's Alzheimers, finds himself in the care of a genetically mutated ape, Caesar (Andy Serkis).
As Caesar becomes more intelligent, Rodman's world comes crashing down when he finds he cannot control his companion anymore. Caesar begins to lead an ape uprising.
In the sequel, the remaining humans begin a war with the army of apes, to see who will become the dominant species. Directed by Matt Reeves, "Dawn of the Planet of the Apes" will hit theaters on July 11.
"The Purge: Anarchy" will be released on July 18. It's a sequel to the original, "The Purge," which was about a 12-hour period in the future where all laws are restricted and all crime is legalized. "The Purge: Anarchy" follows a young couple trying to survive the annual purging of their society.
Featuring actors like Frank Grillo, Michael K. Williams, Zach Gilford, and Kiele Sanchez, this sequel directed by James DeMonaco will be sure to thrill fans.
This summer will be full of blockbuster sequels to fans beloved movies. It's good to know that when it's too hot outside to even think, a movie theater will be the perfect place to cool off and watch some great movies.