Don't jump ship on the Raiders just yet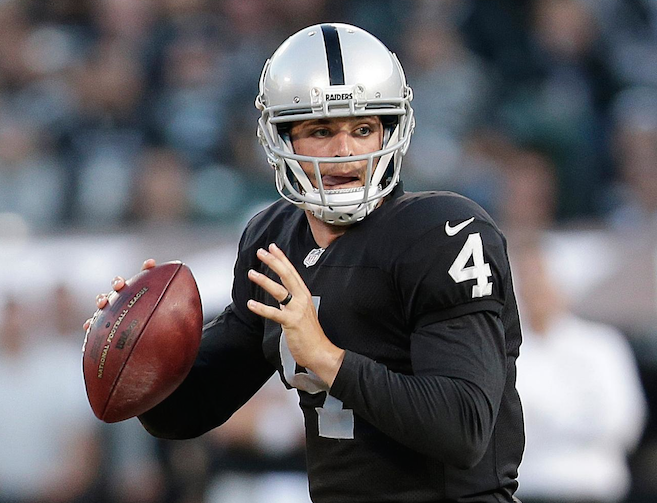 The Oakland Raiders 2014 season appears, on the surface, to be another sub-par disappointment.
But upon further review, there are clues pointing toward a revival of the hapless franchise.
Derek Carr is a savior. Given the circumstances, he has performed better than anyone could've possibly hoped. He threw for 21 touchdowns and 3,200. But what has to be really exciting about Carr isn't the numbers.
Carr is a leader. The camera will cut to him on the sideline and he is more fired up than anyone on the field. That is something that the Raiders have been sorely missing since their last playoff run in 2002. They have found someone who hasn't given up on their team and who isn't just there to collect a paycheck.
Carr is comfortable in the pocket. Many have said for years that the mobile quarterback is going to revolutionize the league, but I'm still waiting for it. Cam Newton took a big step back this year, Colin Kaepernick can't read the field at all, Russell Wilson has become a pocket passer, and Michael Vick couldn't hit the broadside of a barn.
A quarterback who can stay in the pocket and go through his progressions will always be a staple in the NFL.
The Raiders also hit big on linebacker Khalil Mack. This is another situation where the numbers don't pop out. But a look at the game tape will reveal a future beast in the NFL.
Raiders GM Reggie Mckenzie has drawn comparisons to Clay Matthews. While Mack isn't quite there yet, he could well be on his way. He has a nose for the ball and a relentlessness on the defensive line that should be applauded.
Although this young talent is exciting, if the Raiders don't find some sort of continuity soon, it will become a wasted, undeveloped talent. The Raiders have had eight head coaches since they traded Jon Gruden to Tampa Bay after the 2001 season. Eight head coaches in dozen years is not a formula for success.
This offseason, the Raiders got off on the right foot by hiring as new head coach Hayward native Jack Del Rio, the Denver Broncos former defensive coordinator. Del Rio only other head coaching experience in the NFL was with Jacksonville from 2003-11, compiling a 68-71 record and a 1-2 record in the postseason.
The only question is if the Raiders are gambling by hiring a defensive-minded coach while they are at a pivotal point in Carr's development?
They cannot afford to waste Carr. The quarterback position has become the most important position in sports.
General Manager Reggie McKenzie was under great fire when the Raiders started out 0-11. There were talks to fire him mid-season, which is unheard of for front office positions. But it was rightly deserved.
At that point, none of the Raiders' offseason additions were panning out. The defense was a mess and Carr was struggling to keep this team afloat. McKenzie's 2013 draft was filled with huge disappointments in D.J. Hayden and Menelik Watson. The future was looking very dark for McKenzie.
But once Dennis Allen was fired, the team performed admirably, winning three games against playoff-contention teams. While it seemed unfathomable for McKenzie to return halfway through the season, it appears he will remain with the team for at least another year.
Whether McKenzie's tenure will be considered a success hinges on the upcoming draft. With the fourth overall pick, the Raiders are in a position to turn their luck around.
Amari Cooper of Alabama is an intriguing prospect at the fourth position. The Raiders need to build weapons around Carr, and a wide receiver is their top priority.
In his three seasons with Alabama, Cooper finished with 3,500 yards and 31 TDs. Whether that is a product of Alabama's system is yet to be seen but, the Raiders better do their homework as he is a very special talent.
The Raiders will need to hit big if McKenzie wishes to stick around for another year.
Another three wins will no longer be acceptable.
The Raiders have been mediocre for years. There is no denying that. However, there are beams of hope they haven't seen in over a decade. If they can find the right coach and develop their quarterback correctly, they may just be alright.