Keeping your burgers safe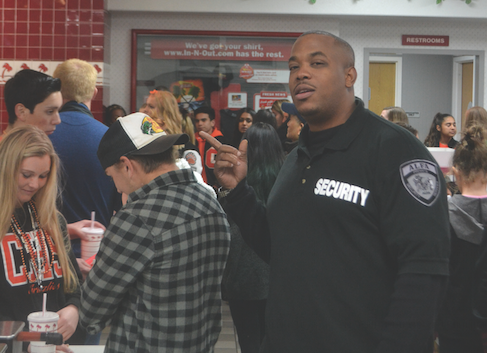 Hang on for a minute...we're trying to find some more stories you might like.
Introducing the new addition to In-n-Out's menu: the Hamburger Homies!
Are you tired of wild teenagers having territory disputes by throwing mediocre fries at each other? Do you want students to stop dumping water on your car? If so, the Hamburger Homies are here for you.
The San Ramon Police Department has recently decided to introduce the French Fry Friends due to an outbreak of poor teenage behavior after sports games. This addition has been critically acclaimed by those who don't remember what they did when they were teens.
The In-n-Out on San Ramon Valley Boulevard is a popular watering hole for the wild teenagers, hungry after cheering for their team or booing the opposition. But Cal students  are not the only ones who frequent this oasis of greasy food and suspiciously colored milkshakes after games.
Monte Vista students often populate In-n-Out, leading to tension between the two packs. This tension often leads to shows of power by each side, such as throwing food or chanting on tables.
The Shake Swat makes dining at the popular restaurant feel more like dining at a jail, minus iron bars over the windows and random stabbings. Those would make the dining experience even more authentic.
Besides these, the only things to make the dining experience better would be to give all of the workers orange jumpsuits and let the customers give each other prison tattoos. It would also be a hit if they gave free demonstrations how to make shanks out of household materials.Wouldn't it be great if  In-n-Out makes these changes to alienate their customers even further?
I don't understand why people are angry about the Beef Burger Buddies joining the menu. Who cares about meth labs when kids are throwing fries at each other? Sex trafficking rings aren't important when In-n-Out's suspiciously colored milkshakes are being wasted.
(Seriously, why are the vanilla, chocolate and strawberry shakes all an awkward shade of beige?)
Who cares about gangs running around Dougherty? Let them do whatever they want. There are more serious things to take care of, like students having fun. We can't have that, now can we?
Kids dealing drugs after school? Perfectly gross burgers are being splattered over the floor at In-n-Out. Vodka in water bottles at school? Who cares, let counseling take care of that. Huge amounts of students cheating in AP classes? Eh, doesn't really matter when food fights are happening.
The Cheeseburger Chums are here to keep us safe and make sure these more petty crimes go ignored. I'm so glad that this is what my tax money is going toward.
On a side note, I think I'm going to start eating at Taco Bell or Panda Express. Same stomachache inducing, overpriced trash, but a little more relaxation and less reminiscent of being in San Quentin.